Shure continues to innovate in the wireless instrument space, and we were thrilled to see that the SLX range of wireless products has finally made the leap from analog to digital. It sits in a place in the product line that is perfect for serious musicians and sound engineers who need the performance of Shure's professional ULX line but who don't require the large touring-focused management and related functionality.
For those of us that spent years relying on the analog SLX4, the new SLXD series delivers all of Shure's latest feature upgrades including exceptional sound quality and rechargeable LiON battery technology. And while you can get a traditional instrument system with one bodypack for standard electric guitars and basses, or a paired wireless microphone solution, we were thrilled beyond belief to see that Shure introduced the SLXD14D Dual Wireless Bodypack System, a 1U, dual receiver that includes a pair of bodypacks.
Some sound engineers will simply enjoy the convenience of two units in a 1U configuration, but for guitar players using instruments equipped with dual outputs including Piezo-outfitted guitars such as the Music Man JP-series instruments, various PRS and Kiesel guitars, and others, Shure now offers a practical and well-priced solution that can easily integrate into your dual-output guitar rig.
As a guitar player, tone and articulation are extremely important when considering going wireless. Digital wireless systems significantly improve upon older analog solutions because there is no need to compress the dynamic range of the instrument signal, and Shure's GLX-D systems delivered true wired guitar tone for the past decade, though the products were optimized more for pedalboard use and less for touring-level guitar rigs with rack-mounted gear. Now, Shure has filled a product line gap that will be a true lifesaver for many discerning guitar players.
Category

Value

Rating

Features

20%

Usability

25%

Sound

25%

Documentation & Support

10%

Price

20%

OVERALL RATING = 3.7 stars, which earns it a WIHO Award! 
3.6 stars or better: Outstanding, WIHO Award
3 stars or better: Worth considering
2 stars or better: Suited to specific needs
1 star or less: Not recommended
Features
Receivers:
The Shure SLXD14D digital wireless system is a self-contained 1U rack space configuration with independent dual receivers and accompanying (2) bodypack transmitters. It's protected by an aluminum shell measuring 5.9" x 15.5" x 1.6" and weighs approximately 3.2lbs. The receiver is powered by a single 18V DC power supply which is included in the box. A single power button is located on the front of the receiver controlling the entire unit.
From a system compatibility standpoint, the SLXD wireless systems have the ability to run 32 channels simultaneously per frequency band. The system frequency range is 470-514 MHz providing an operating range of 328 ft (line-of-sight.) The frequency response range is 20Hz-20kHz. Channel selection is controlled automatically to ensure best uninterrupted sound quality.

The detachable antennas can be mounted either at the back of the receiver for desktop use or front mounted for rack applications. Required connection cables are included for front mount applications such as when installed into a rack.
Each receiver contains its own independent, highly visible, LCD, front panel display. Accessing the menu functions and navigation of setup are managed by a Control knob, Exit button, and a Sync button for each receiver.
The output audio connections for each of the two receivers include both XLR and ¼" options. The receiver also provides an Ethernet connection for Data I/O.
Transmitters: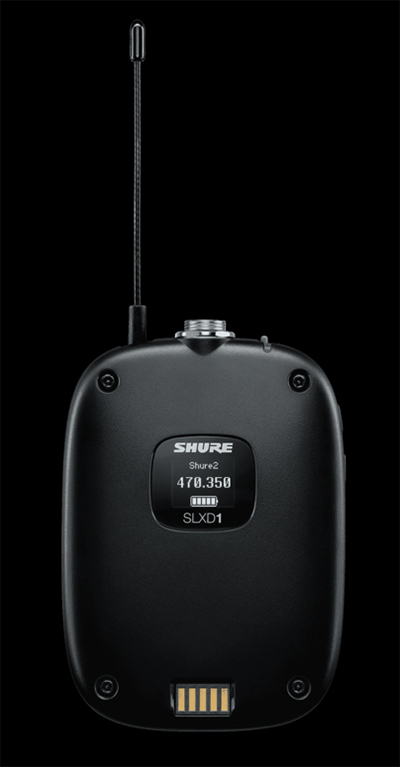 The Shure SLXD14D digital wireless system comes with two (2) SLXD1 bodypack transmitters. Weighing in at 0.20 lbs. each, the transmitter is housed in durable plastic with accompanying belt clip.
The SLXD1 transmitters have a TA4M connection port to connect your instrument cable—kind of like a mini XLR jack. You'll need two, quarter inch-to-mini 4-pin instrument cables, which are not included with the dual-receiver configuration since it is most often not used with guitar systems. These cables are commonly found at the big box retailers or directly from Shure.
To power the SLXD1 bodypack transmitters, each unit comes with two (2) AA batteries. At an additional cost, we recommend purchasing the optional SB903 Li-ion rechargeable batteries and SBC203 dual docking recharging station. Operating time at full charge is estimated at eight hours of service. A power on/off switch with status light is located on the top of the unit next to the cable connection port.
Each transmitter contains its own independent, LCD, front-panel display that is easy to see. Accessing the menu functions and navigation of setup is managed by deeply set (so you don't hit them accidentally) control buttons marked Edit and Enter on the side of each transmitter.
Usability
You might ask yourself, "Why a dual wireless system in one box?" Well for years, players who wanted to consolidate space and who needed multiple wireless systems were faced with purchasing extra hardware to connect two receiver units together to occupy one rack space. For others, having two wireless systems was a necessity for ease in rotating instruments, or in our case, the need to send two independent signals from a guitar via standard magnetic pickup output and separate Piezo acoustic pickup output for acoustic sounds routed to a separate amp or front of house.
Having a preconfigured, dual system made it extremely simple to plug-and-play without the hassles of two separate receivers. You also benefit from only needing one power supply to power the dual receiver as opposed to having two units requiring separate power supplies, and for large stage use, a shared antenna system proves convenient as well.
The Shure SLXD14D provides a number of menu options to get your particular setup operating at optimum performance. We found the menu very easy to navigate and provided all the important setting options to deliver top performance.
The menu listing within the SLXD4D receiver consists of Frequency Setup (scanning for best frequency and pairing of a transmitter), Channel Name (ability to name your specific Channel), Gain (+42db / –18db levels), Mic/Line level setting, Advanced Settings (Devise Lock, Network Config, Controller Access, Transmitter Preset, Device Preset, Factory Reset, Transmitter Firmware), "About," and Help.
The menu listing within the SLXD1 transmitter consists of Mic Offset (db. level adjustments), RF Power setting (low or high), High Pass filter (on or off), Battery type (Alkaline, NiMH, or Lithium), Auto Lock, Lock Type (menu only or menu and power), and "About," listing information regarding firmware, frequency band and hardware.
Initialization and setup of the system was extremely easy and hassle free. The self-guided menu within the receiver was very intuitive in walking you through each step, which included a scan to select the best frequency range in your immediate area and pairing of our transmitters to each receiver channel. We appreciate the Device Preset feature, which lets you save a "known good" setup that you can instantly recall in the event that the system is changed accidentally.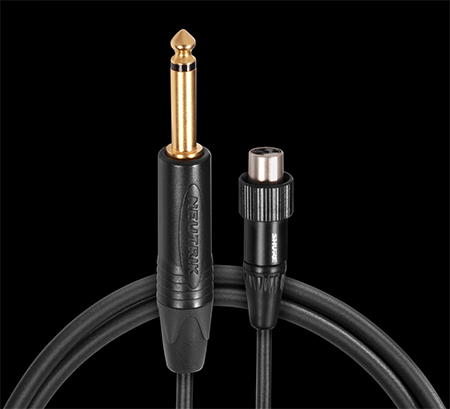 One very small, but much appreciated option was the ability to name each Channel. Having a dual wireless unit can get confusing when trying to identify which receiver is connected to which transmitter. By naming the channel on the receiver and then pairing the receiver to the transmitter, the name will update automatically on the LCD screen of the transmitter to eliminate any confusion. This takes away the need to apply ugly labels or marks on each unit as an added step (in our case, one labeled "Magnetic" and one labeled "Piezo").
Another small, but appreciated improvement was with the jack connection configuration on the power supply for the SLXD4D receiver. On the older units, you had to thread the wire trhough an eyelet and create a wrap which prevented the jack from being accidentally pulled out of the unit. On the new power supply, the jack has a threaded collar to secure it into place negating any chance of accidental disconnect. But then, you know you want to put this in a rack anyway, right?
Worthy of note and awareness, it's best to have spare transmitter cables on hand due to the mini XLR 4-pin to quarter-inch connection. We're sure it may help save on real estate within the internal guts of the transmitter by not using a ¼" to ¼" jack configuration, but this could leave you in a predicament should the cable go bad and you don't have a spare on hand. You can also opt to purchase right-angle cables as the included cables have straight jacks. It's just a matter of preference.
Rechargeable batteries are definitely the way to go with something used as often as your wireless transmitters. We highly recommend purchase of the SB903 Li-ion rechargeable batteries and SBC203 dual-docking recharging station. It's a no brainer when considering  the cost of standard batteries over time, and the docking station makes it easy – just drop the entire transmitter into the docking cradle and you'll be all set in a matter of hours depending on the amount of charge required. You don't have to remove the batteries to charge. Another great thing about a pro-level system like this: the battery time can be displayed on both the receiver and transmitters in HH:MM format, so you don't have to guess whether or not you're going to make it through the gig from looking at a few bars on a typical power level display.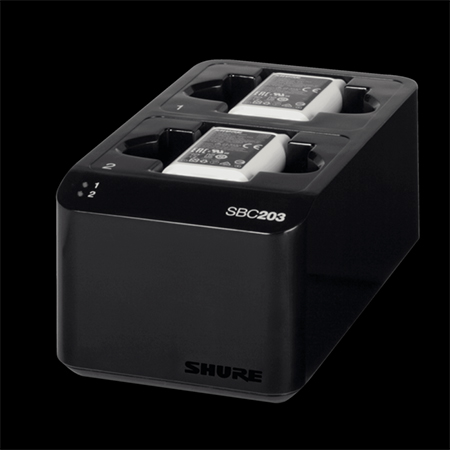 Being able to adjust the Gain level in the receiver is a huge advantage when you consider having to switch different instruments – especially going from a Strat with single-coil pickups to a Les Paul with hotter humbuckers. Or, going from a Piezo pickup guitar to an acoustic guitar with different output levels. You want to make sure to set the Gain level to its optimum setting in order to get the best signal to your amplification.
The only wish we have would be the ability to pre-program a few Gain levels for each of our different instrument types for efficiency in changing instruments on-the-fly during live performance settings.
The only thing that could possibly make this system better would be for Shure to introduce a dual-transmitter that combines the hardware into a single unit for your instrument strap.
Sound
For purposes of this review, we tested the unit in five different guitar configurations – a Stratocaster (single coil pickups), Les Paul (humbuckers), PRS for split signals (humbucker and Piezo for acoustic sounds), and last but not least, a Taylor acoustic guitar.
One can say there is always room for improvement… maybe so as new technologies are developed. And we all said at one time or other that there's no substitute for a great quality cable when trying to get the optimum guitar tone. But can the audience really tell the difference? Or, can you, for that matter?
The Shure SLXD14D Dual Wireless system provides its sound through high-resolution, 24-bit audio technology. And when questioning latency due to transmitting rates, the SLXD14D is reported to have a very minimal 3.2ms rate of latency. In use, we could not detect any latency during our review testing or actual live performance experience.
Much like great art is in the eye of the beholder, the same could apply to sound being in the ears of the beholder. In all seriousness, we were extremely satisfied with the performance and sound quality provided by the Shure SLXD14D Dual Wireless system. Every note, every chord, and every nuance of our playing transferred just as well as when compared to using a quality instrument cable. We did not lose any quality of sound due to compression (there is none with digital wireless), distortion, harmonic loss, latency, or sustain.
Documentation and Product Support
Shure provides excellent documentation in order to set up and operate the unit directly out of the box. The written documentation is also accompanied by visual illustrations making it simple to navigate the initial setup of the transmitter and receiver. However, if you need additional (more granular) information to help with a deeper dive into the unit, a more comprehensive User Guide and support can be found online at www.pubs.shure.com.
Price
The Shure SLXD14D Dual Wireless Body Pack system (MSRP $1,599) sells for approximately $1,280 street. There is a real savings in buying the dual unit compared with purchasing two single units, and implementation is much cleaner. The cost is comparative to other units (including single-transmitter units) and given the reputation of Shure technology, and their history in the wireless instrument space, it's well worth the value. We've waited over a decade for something like this, and we're happy to report that Shure got it right.
Contact Information
SHURE
www.shure.com