Category

Value

Rating

Features

20%

Usability

25%

Sound

25%

Documentation & Support

10%

Price

20%

OVERALL RATING = 3.6 Stars,
which earns it a WIHO Award!


3.6 stars or better: Outstanding, WIHO Award




3 stars or better: Worth considering




2 stars or better: Suited to specific needs




1 star or less: Not recommended
De ja vu? Quite possibly… the Meteora was first introduced in 2018 as part of the Parallel Universe series, but has been brought back as part of the Fender Player Plus family. What we found so intriguing and alluring is that the design pays tribute to a few very familiar classic Fender shapes while introducing a flare of futuristic nuance. There's no mistaking through touch, feel, and sound, however, that this is still a classic Fender guitar. But wow, is this one hot looking guitar or what?
 At first glance, it looks like a sports car ready to unleash its power. But with the newly designed Fireball humbucker pickups incorporating some S1switching, this guitar is far from a one-trick pony. For those skeptical of a Fender hanging out in the hard rock zone, well, the worlds have collided, and from the rubble rose the Meteora.
Features
Our review model of the Fender Player Plus Meteora HH came in the Belair Blue polyester finish with a Pau Ferro fingerboard. This particular finish is absolutely stunning and definitely an eyecatcher on stage. We never experienced more compliments and attention over a guitar as we have receiving performing live with the Meteora. If you're not a fan of the fade, color options include a 3-color Sunburst, Cosmic Jade, or Silverburst. And depending on your color selection, the guitar will have a Pau Ferro or Maple fingerboard. The body of the guitar is made of Alder wood.

The four-bolt, Modern C, maple neck is fitted with 22 medium jumbo frets. The back of the neck is finished in a satin urethane while the headstock face is finished in a gloss urethane. White dot position markers are provided on the face and side of the fretboard. The nut is made of synthetic bone.
Going right to the heart of this beast, the Fender Player Plus Meteora is configured with two Fireball humbucker pickups. Blood flow is throttled by a master volume and two tone knobs (one for each pickup.) Pickup selection is controlled by a 3-way toggle switch to select Bridge pickup, Neck pickup, or a blend of both pickups simultaneously. An S1 switch is loaded in the master volume knob giving you the ability to split the coils for that classic Fender single coil sound.
The Fender Player Plus Meteora is well fitted with premium chrome hardware: a two-point synchronized tremolo with brushed steel block saddles, Fender locking tuning machines, knurled flat-top knobs, and Fender strap buttons.
The Fender Player Plus Meteora is made in Mexico and ships with a Fender Deluxe Gig Bag.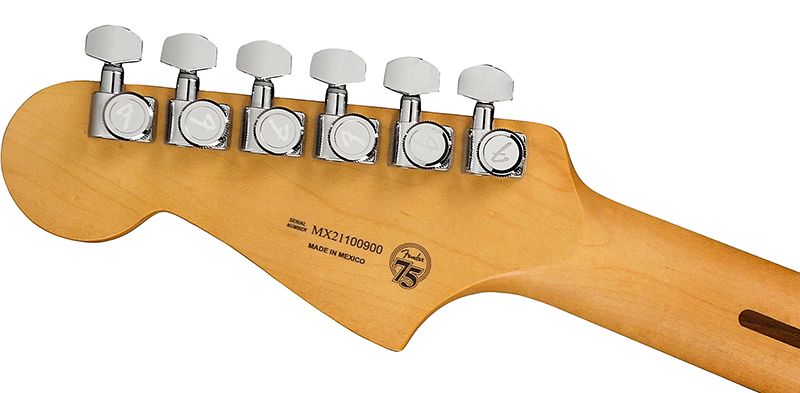 Usability
Having played Fender Stratocasters for decades, the Meteora has a very familiar feel, from the contoured body cavity to the modern C-shape neck profile. The medium jumbo frets with rolled edges really add to the comfort and playability of this instrument. The knurled volume and tone knobs are reminiscent of what you would find on a Telecaster… very easy to get a hold of and grip to make setting changes. Aside from the unique paint scheme and the futuristic body outline, if you closed your eyes and strapped this guitar on, you would instinctively know that you're playing a Fender.
The Fender Meteora comes with all the right stuff when considering hardware. The Fender locking tuners work beautifully at keeping the guitar in tune and are a perfect match for the two-point synchronized tremolo unit. They provide easy string changes and not having to mess with locking nuts at the bridge or making sure you have the right amount of wind around the tuner peg. The benefits of the two-point synchronized tremolo unit allow you to do everything from a slight vibrato to full-on dive bombs and wide width note bends. For heavy handed tremolo arm acrobatics, the synthetic bone nut allowed the strings to slide back and forth without initiating tuning issues usually caused by string binding or drag. There were zero issues from a playability perspective.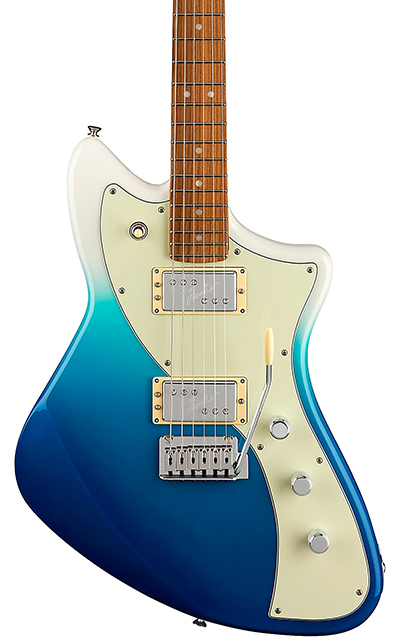 When we think of Fender guitars, most of the time we think of single-coil pickups. Marrying the Fireball humbuckers with the Fender S1 switch gives you the best of both worlds: full-on humbuckers or coil split to get you back to that classic Fender design and output. The S1 switch really comes in handy, especially playing those country or funk rhythm comps and then needing to switch to a humbucker setting for more soaring lead tones. You will definitely notice the boost in gain. Also, by having the push-push S1 switch embedded in the top center of the master volume knob, you can easily tell which pickup option you're in: Pushed in (coil spit,) you'll feel the slight indentation on the top of the knob. Pushed out or normal (humbucker,) the knob will look and feel like the other knobs – no indentation with a smooth top and rounded edges… a nice advantage to figuring out your settings on a dark stage or help you focus on your audience without having to look at your guitar to figure out what setting you're in.
One slight yet noticeable pickup adjustment feature is the 3-screw adjustment configuration. It not only enables you to adjust the height on the treble and bass side of the pickup, but you can also adjust the pitch of the pickup compared to the angle of the string. We could angle the pickup to be perfectly parallel to the strings, or higher / lower at the front or rear of the pickup.
Something so simple but worth making note, the truss rod adjustment is easily accessed at the headstock unlike the earlier Fender models where the adjustment was at the treble/butt end of the neck. No truss rod cover to mess with: just insert the provided Allen wrench and make your adjustment. (If you're not sure how to make this adjustment, leave the neck tweaking to a certified tech.)
The Fender Meteora includes a soft gig bag. With the offset body design at the bout of the guitar, standing the guitar up in its gig bag can be tricky. This is one time where we would have preferred a hard case, as we're not sure if there are any that will nicely accommodate the somewhat unique body shape.
Like most Fender guitars, the Meteora features standard Fender Strap buttons. In comparison to other strap buttons, the Fender buttons are a little wider on the outside edge making it harder for a strap to accidentally slip over and become separated. If you don't plan to install strap locks (the safest option), this is a nice subtlety.
Sound
In testing the Fender Player Plus Meteora, we used a few of our go-to amps including a Mesa Boogie LoneStar and a Bogner Ecstasy amplifier to hear the performance through moderate and high-gain setups. As one would expect, using the S1 coil tap to split the humbuckers provided that classic single-coil Fender tone: less gain and grit with just the right amount of compression. On the clean channel settings, we couldn't quite obtain the "quack" you would get from a Strat in the second position, but by adjusting the pickup tilt and height, we could enhance some of that sonic characteristic. There definitely was the ability to achieve more Telecaster type tones vs. Strat tones simply due to the pickup configuration.
What we were really hyped about was how the humbuckers performed—the newly designed Fireball pickups have been getting a lot of attention online. And not to take away from the coil splitting capabilities, as the humbuckers performed extremely well providing classic single-coil tones we're so familiar with.
The Fireball humbuckers provide all the tones you would expect from a dual-coil pickup. Overall, the tones are well balanced and full-bodied, with nothing lacking from a tone perspective. The bridge pickup was crystal clear, providing excellent attack and high-end clarity that cut through without being harsh or brittle—just an overall, well rounded clear, clean tone. Taking a trip through the tone control landscape, you could hear everything from that Fender glistening high-end percussive tone to the sound of a Telecaster and rockabilly sound.
Switching to the neck pickup provided a clear, clean tone as well with a well-rounded mid and bottom end. Using the tone control engaged very useful tones throughout the entire sweep—everything from R&B to a very rich and mellow jazz tone. We were impressed by the endless landscape of tones we could achieve through the different settings provided on this guitar. Moving the toggle switch to the center position provided an even broader spectrum of tones given the ability to enhance the tone setting of each pickup independently. The sound remained crystal clear while providing excellent note bloom, articulation, and sustain.
So, what about high-gain performance? We paired the Fender Meteora with a few different amps to get a thorough taste of what these pickups can do. Simply stated, these pickups are ones to be reckoned with! The note clarity and articulation remained consistent as in the clean setting, with the addition of sustain and harmonics, and smooth yet forceful overdrive tones were very satisfying. The overdrive clarity and definition in our power chord chugs provided never-ending inspiration while exhibiting excellent single note and chord clarity. Sustain was another great factor, and taking our notes or chords into harmonic feedback was effortless, as well as nailing single note squeals on demand. Rolling off the volume knob also worked great in cleaning up the overdrive to taste if you're a single-channel amp afficionado. We'd place the overall output in the medium gain range: hot enough to drive a high-gain amp for modern metal and classic hard rock, but not so hot as to squash the dynamics like you'd find in more metal-targeting axes.
Depending on your amp and drive settings, The Meteora is capable of providing a multitude of different tones to enhance your specific genre of music. It has a unique voice of its own (though it skews slightly more towards a Tele than a Strat, while richer than both), just like the body design draws comparison to other Fender family members. The Meteora is extremely versatile for rock players as it can transform into just about anything you want it to be. It definitely takes you into heavier places than your Strat is accustomed to.

Documentation and Product Support
Our Fender Player Plus Meteora came with minimal documentation, which seems to be the trend industry-wide with everything being available in digital format. It did include a set of Allen wrenches to accommodate truss rod adjustment and bridge saddle adjustments.
The Fender Welcome Booklet contains typical warranty information (standard 2-years limited warranty as with all Fender guitars and basses) and registration information.
Price
The Fender Player Plus Meteora sells for $1,149.99. In taking into account the craftsmanship and premium hardware and electronics, this guitar packs a solid value compared to other brands and models in this category. You are getting a well-built guitar delivering excellent playability and providing some serious sonic options by way of the fabulous new pickups and appropriately matched hardware.
Contact Information
Fender Musical Instruments
www.fender.com