Newest drum synthesizer software from Air—renowned creator of the industry reference Strike for Avid Pro Tools—delivers total control of all electronic drum sounds with simple, intuitive interface.
Cumberland, RI USA (April 16, 2019)—AIR Music Technology (airmusictech.com), a developer of premium virtual instruments, today announced the immediate availability of Drumsynth 500, a virtual instrument of electronic drum sounds for use with any DAW or as a Standalone application for live performance.
Building upon Air Music Technology's heritage of creating Strike—considered "The reference Drum Instrument" for Avid Protools—Air has teamed up with music legends Akai Professional and Alesis Drums to carry on this legacy of excellence.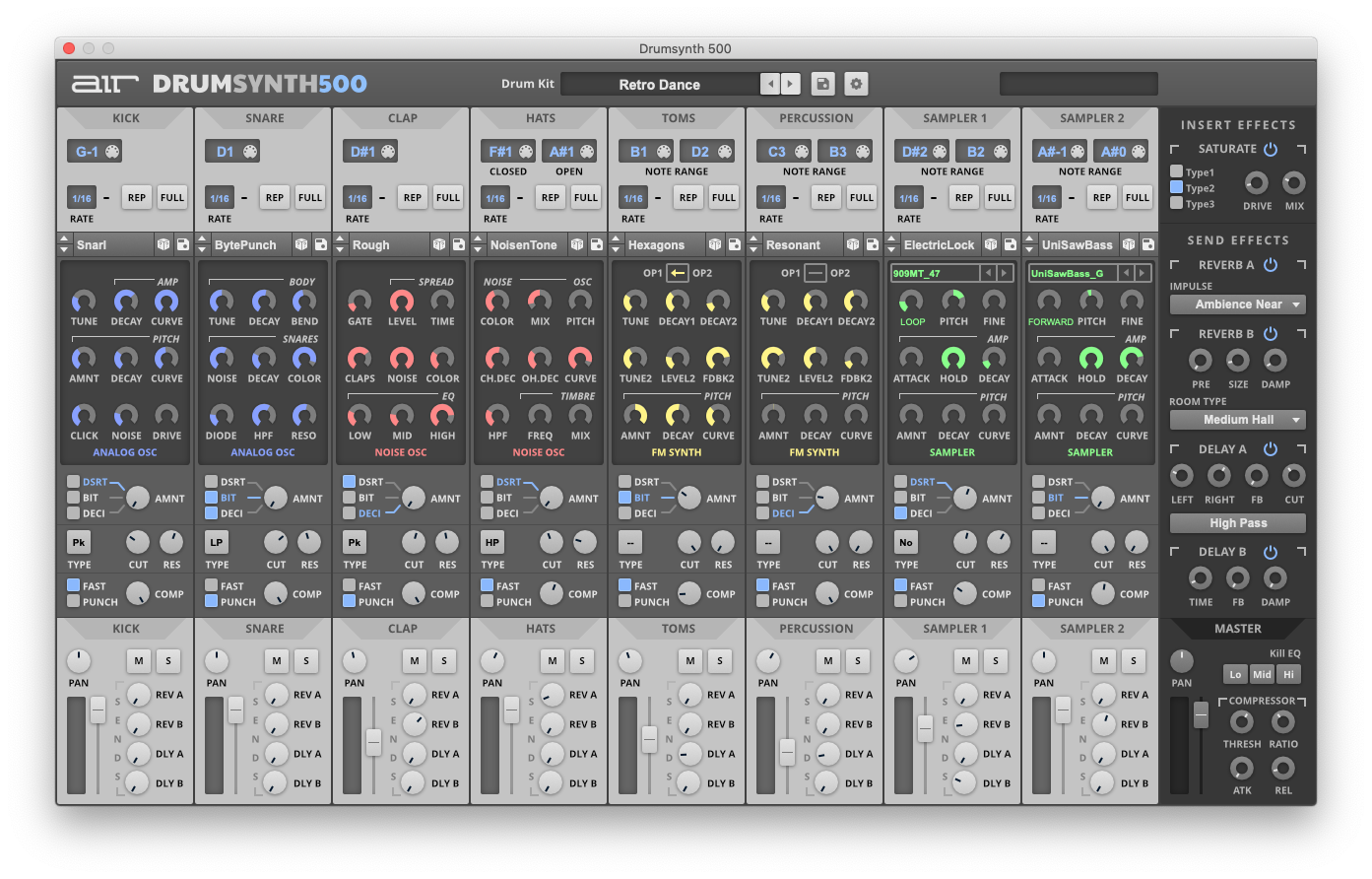 In the style of the popular 500 series synth modules comes an all new software drum synthesizer that delivers full control of all electronic drum sounds in an easy-to-use, comprehensive interface.
Drumsynth 500 from AIR Music Technology has everything needed to create an endless variety of custom electronic drum sounds for all styles of music.
Drumsynth 500's exclusive library has been produced by the sound design veterans behind the highly-acclaimed Air Music Tech Strike, Air Structure, Sonivox Big Bang, Akai Professional's MPC
and Alesis e-Drums. The goal was to provide an incredible mixture of vintage and all-new effects that pay homage to classic sounds while also pushing into new territory.
Using a MIDI keyboard, pad controller, electronic drumkit, or the user's favorite Digital Audio Workstation (DAW) software, Drumsynth 500 brings modern electronic drum sounds into musical
productions in the studio or live playing.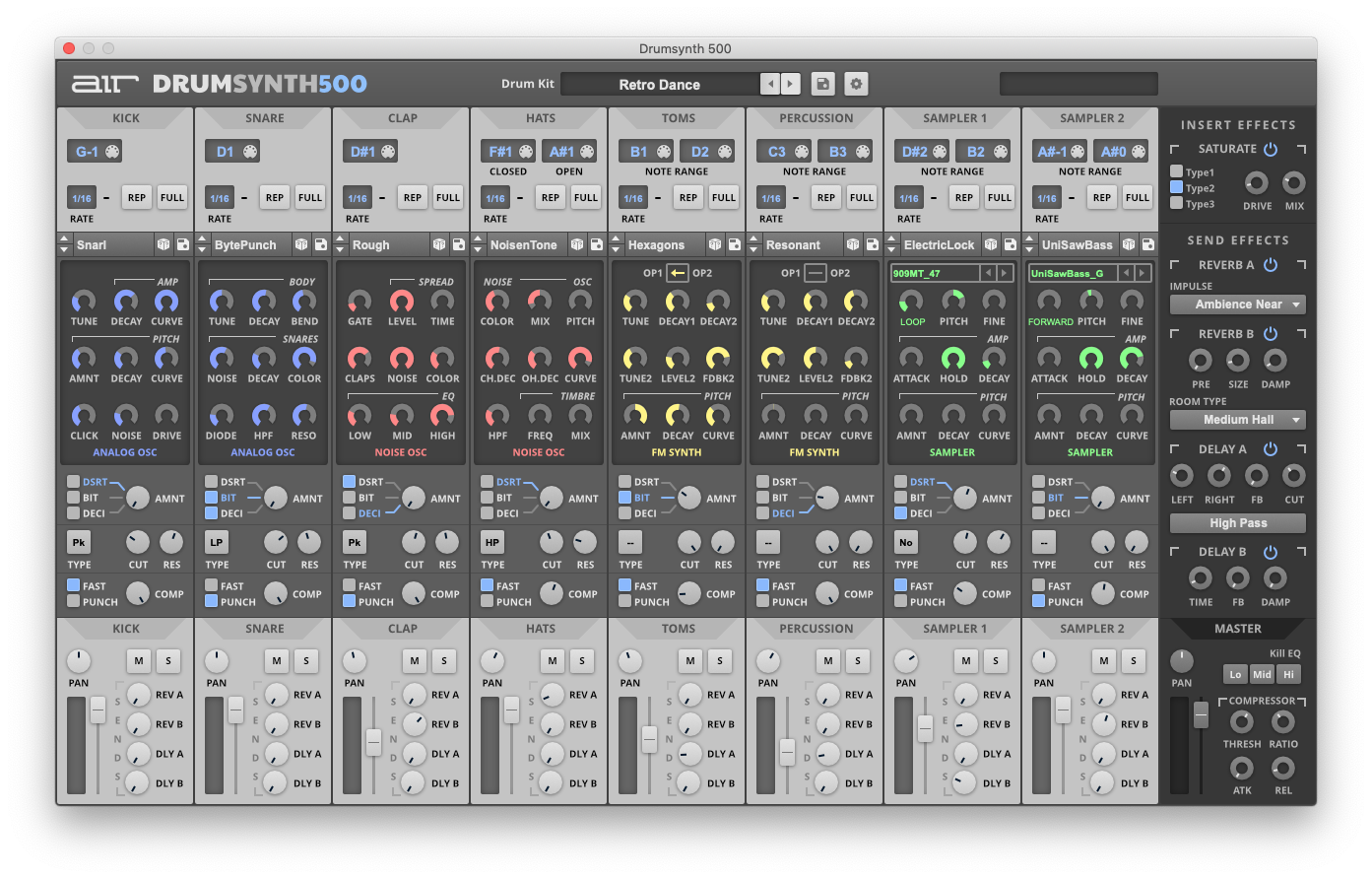 To get started, Drumsynth 500 offers over 500 drum sounds, 500 drum samples, 50 drum kits and 500 MIDI drum loops which can be loaded into any DAW and used to kick-start any song or production. It's simple to start shaping electronic drum sounds. Users can dig in deep with individual parameter control for all instruments or use the randomizer, which makes a drum sounds with just one press of a button. Advanced users will find this to be a tweaker's paradise to produce their own one-of-a-kind sound.
Drumsynth 500 is built on powerful all-new engine for live performance or studio use. For live performance, users can simply fire up their PC or Mac desktop app and perform without a DAW for
distraction-free performance. For studio use, all popular plugin formats are supported.
Drumsynth 500 is packaged into a beautiful user interface with no hidden panels, for quick, fun creation of electronic drum sounds.
Features at a Glance:
8-channel electronic drum synthesizer with fully programmable drum sounds in the style of 500 Series rack modules.
Individual instrument channels for Kick, Snare, Hats, Clap, Toms, Percussion and two Sampler channels for any mono or stereo .wav audio file.
Load your sounds into two separate sampler channels, including loop, forward and reverse playback!
Includes over 500 drum sounds, 500 MIDI drum loops, 50 drum kits, and 500 drum samples from an exclusive vault of Akai Pro, Alesis eDrums and Air Music Tech sounds.
Easy-to-use interface with no hidden panels.
Randomize feature for quickly generating new electronic drum sounds with just one button press.
Works with any MIDI keyboard, pad controller or drum kit controller
MPC Full Level and Note Repeat for each instrument channel
Three distortion effects (including new Bitcrusher and Decimate), 5 filters and 2 compressors per instrument channel!
Two reverb sends and two delay sends per instrument channel
Huge Master channel includes three saturation effects, a convolution reverb, an algorithmic reverb, a stereo delay, a mono delay, a compressor and a unique Kill EQ circuit.
Pricing and Availability: Drumsynth 500 is available online for $99.99 ($149.99 after introductory offer).
For more information and a 14-day free trial, visit: www.airmusictech.com.