Following the immensely successful HeadRush Pedalboard and Gigboard, Looperboard is a feature-packed standalone floorboard looper that leaves the competition in the dust.
Cumberland RI, USA (April 18, 2019)—HeadRush, the recognized innovator of next-generation guitar products, today announced the immediate availability of their newest product, the HeadRush Looperboard.
Built with the goal of enabling artists to take the art of looping live audio to the next level, Looperboard utilizes a powerful quad-core DSP system that has been tailor-made from the ground up, combined with a smart 7" touch interface, a generous set of audio inputs and outputs with premium circuitry. It boasts fully customizable routing, a massive amount of internal storage, a suite of useful built-in effects, an integrated backing track player and an integrated USB audio interface — all housed in a tour-ready steel chassis.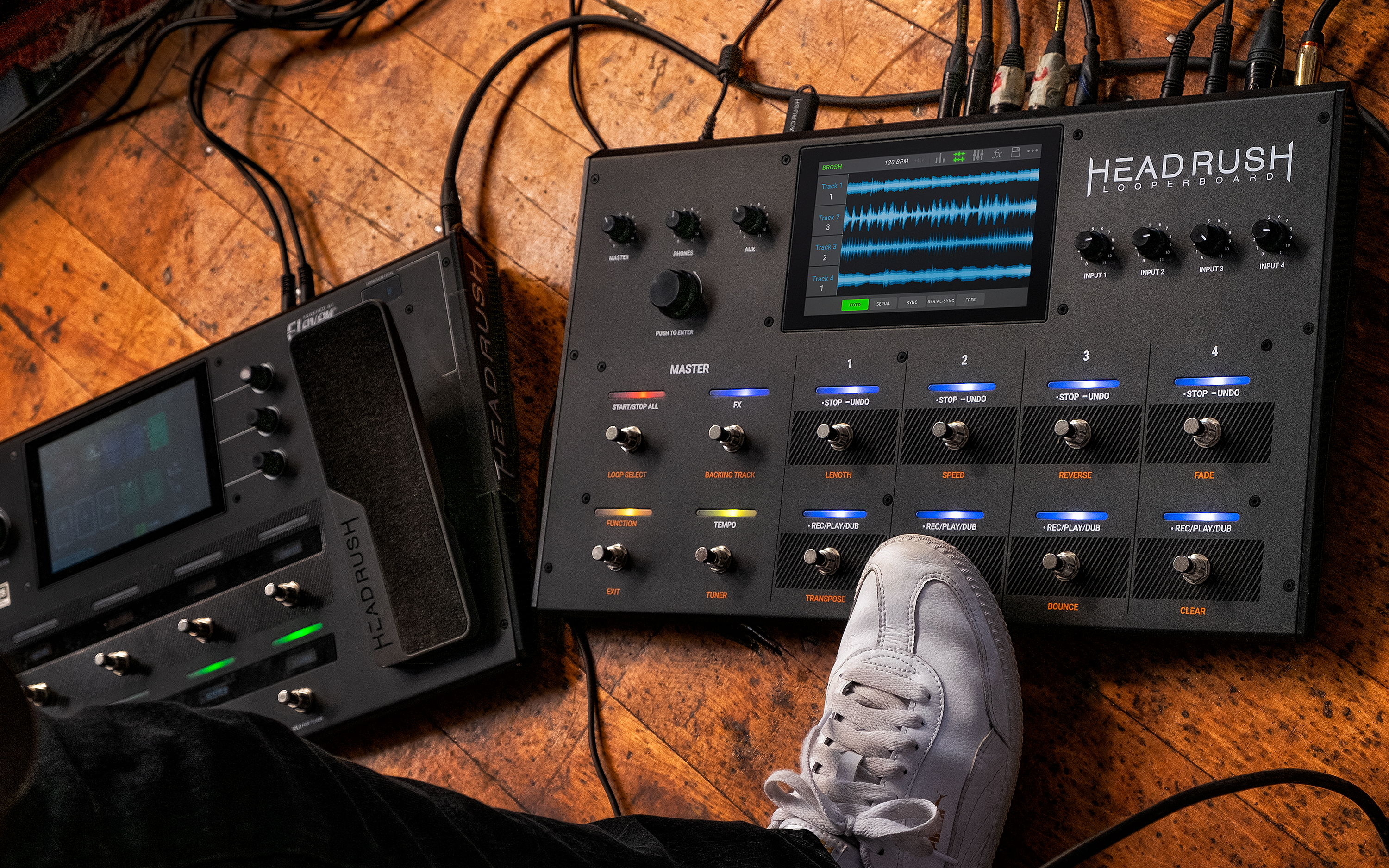 Standout Features:
- 7" High Resolution Touch Display; A well-refined smart user interface provides all of the dynamic feedback users need to stay focused on creating and building their loop. Musicians can touch, swipe and drag-and-drop to quickly edit loops or customize the HeadRush Looperboard to work best for their personal style.
- Customizable Workflow; Each loop contains 4 mono or stereo looper tracks and can be run in any of 5 track modes (Fixed, Serial, Sync, Serial/Sync and Free), so that the HeadRush Looperboard can quickly and easily be customized to accommodate any looping musician's existing workflow.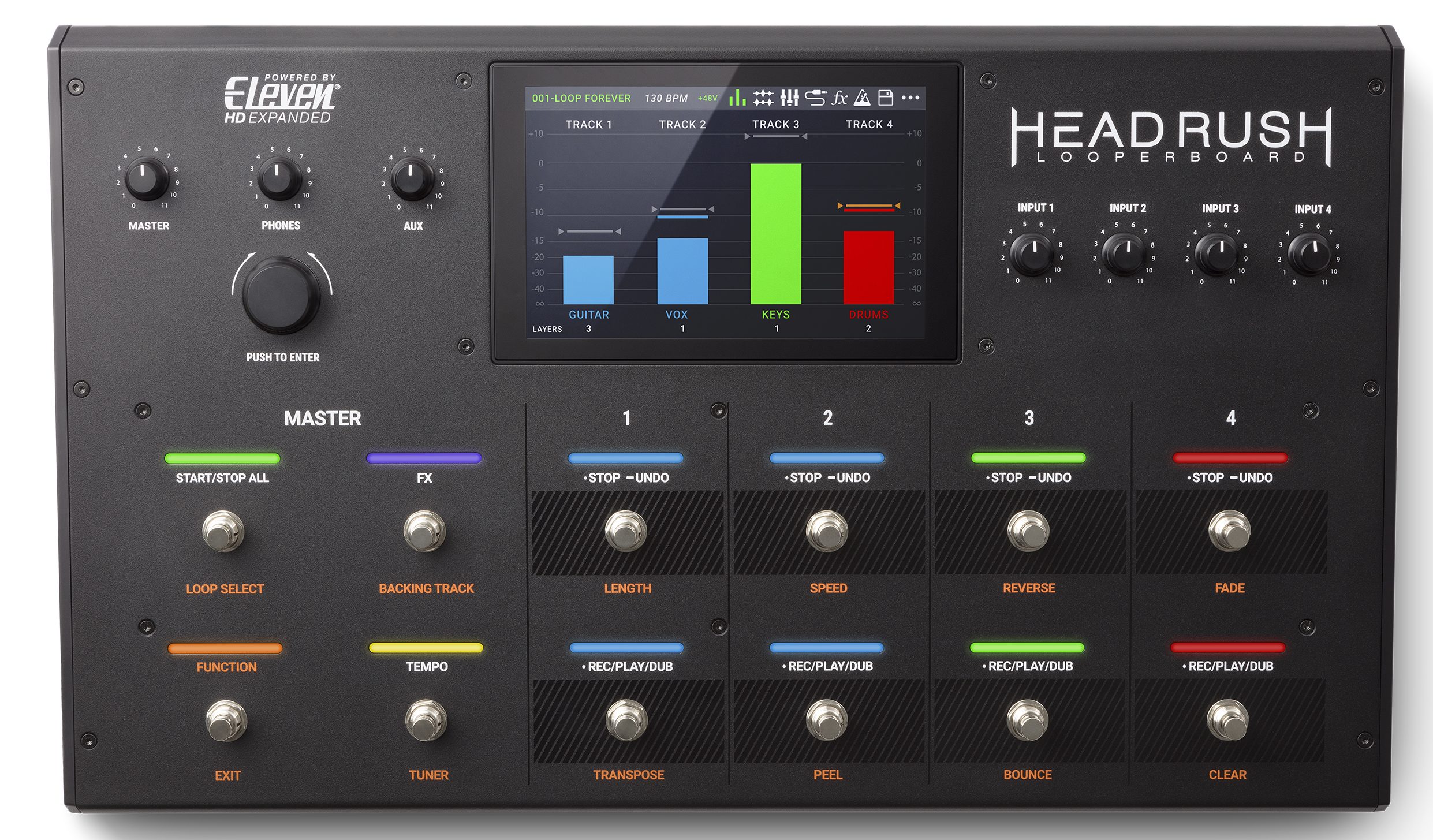 - Extensive Loop Control; The 12 built-in footswitches enable artists to quickly create and transform their loops and feature individual RGB LEDs that dynamically update to provide useful feedback. Using these 12 footswitches, musicians can instantly record, overdub, reverse, transpose, bounce, undo/redo, peel, fade, and clear individual looper tracks all on-the-fly. Users can also instantly reverse, fade, multiply or divide length and speed for their whole loop at once.
- Premium Built-in FX; Intelligent Time-Stretch The HeadRush Looperboard features a versatile suite of built-in effects for guitars, vocals, percussion that can be applied directly to inputs or looper tracks. Users can also add additional excitement to their solo performance or stay in sync with other musicians by using the built-in intelligent time-stretch feature. This enables them to tap a footswitch to instantly change the tempo of their loop, while retaining pitch, without audio quality loss or glitchy pops and clicks.
- Over 8 Hours of Recording Time; Advanced Import/Export Functions The HeadRush Looperboard features over 8 hours of internal recording time, with additional storage available via its rear SD and (2) USB-A drive inputs, or by directly connecting to a Mac or PC via the USB-B connection. Users can also use these same methods to import existing audio from other sources to a looper track. To make it quick and easy to get started right away, Looperboard includes a generous 300 drum and percussion loops available directly on its internal storage.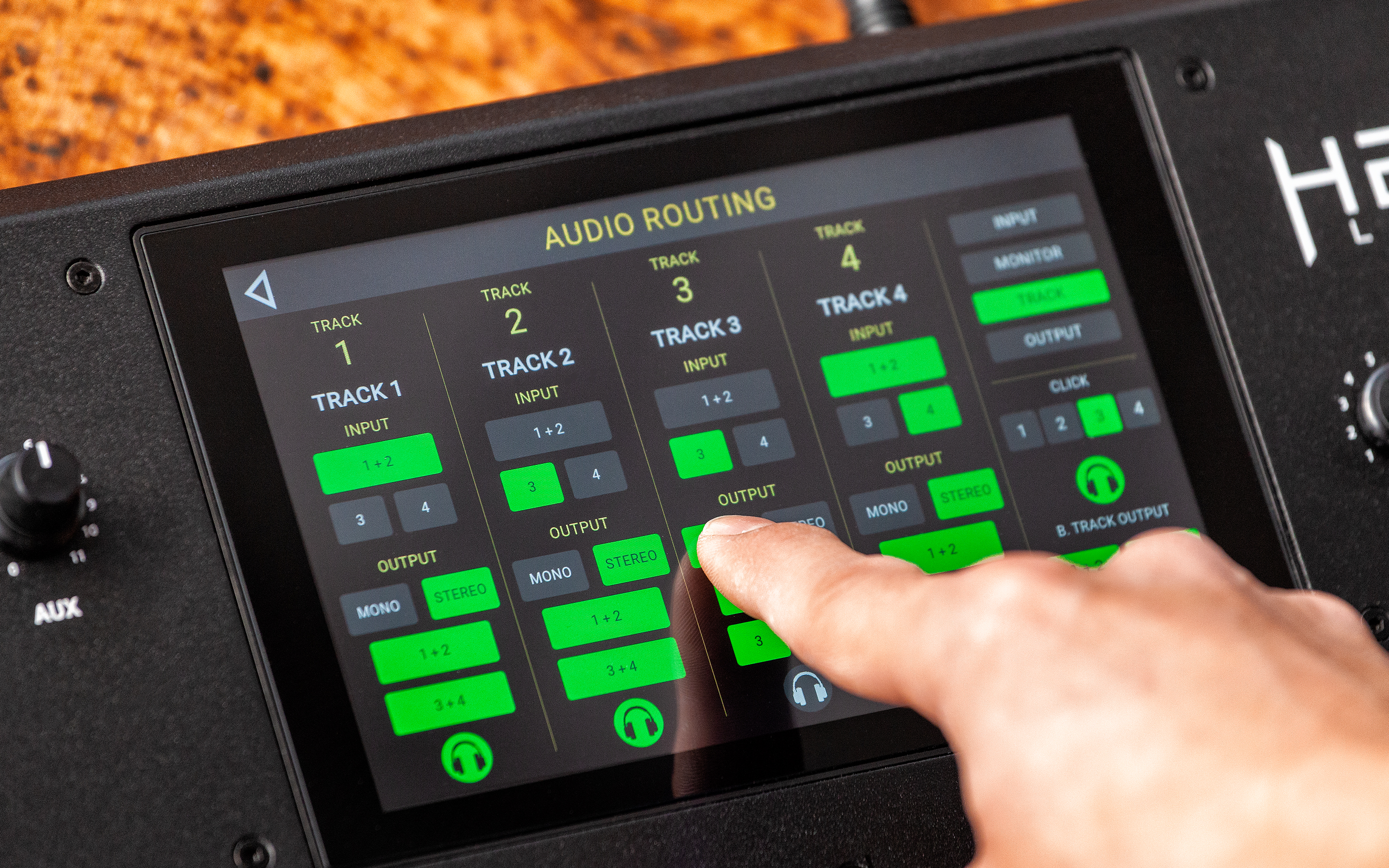 - Packed with Premium Audio I/O; The HeadRush Looperboard features premium audio circuitry, specially designed to capture the performance exactly as intended, without distortion or unwanted signal coloration. Its inputs and outputs include:
(4) Combo XLR+¼" inputs with switchable +48V phantom power
(2) XLR outputs with switchable ground-lift
(2) ¼" outputs; switchable between amp or line level • ¼" stereo headphone output with dedicated volume knob
1/8" stereo aux input
Additionally, users can also customize their audio routing via touch, delivering the ultimate flexibility for quick setup in any performance situation.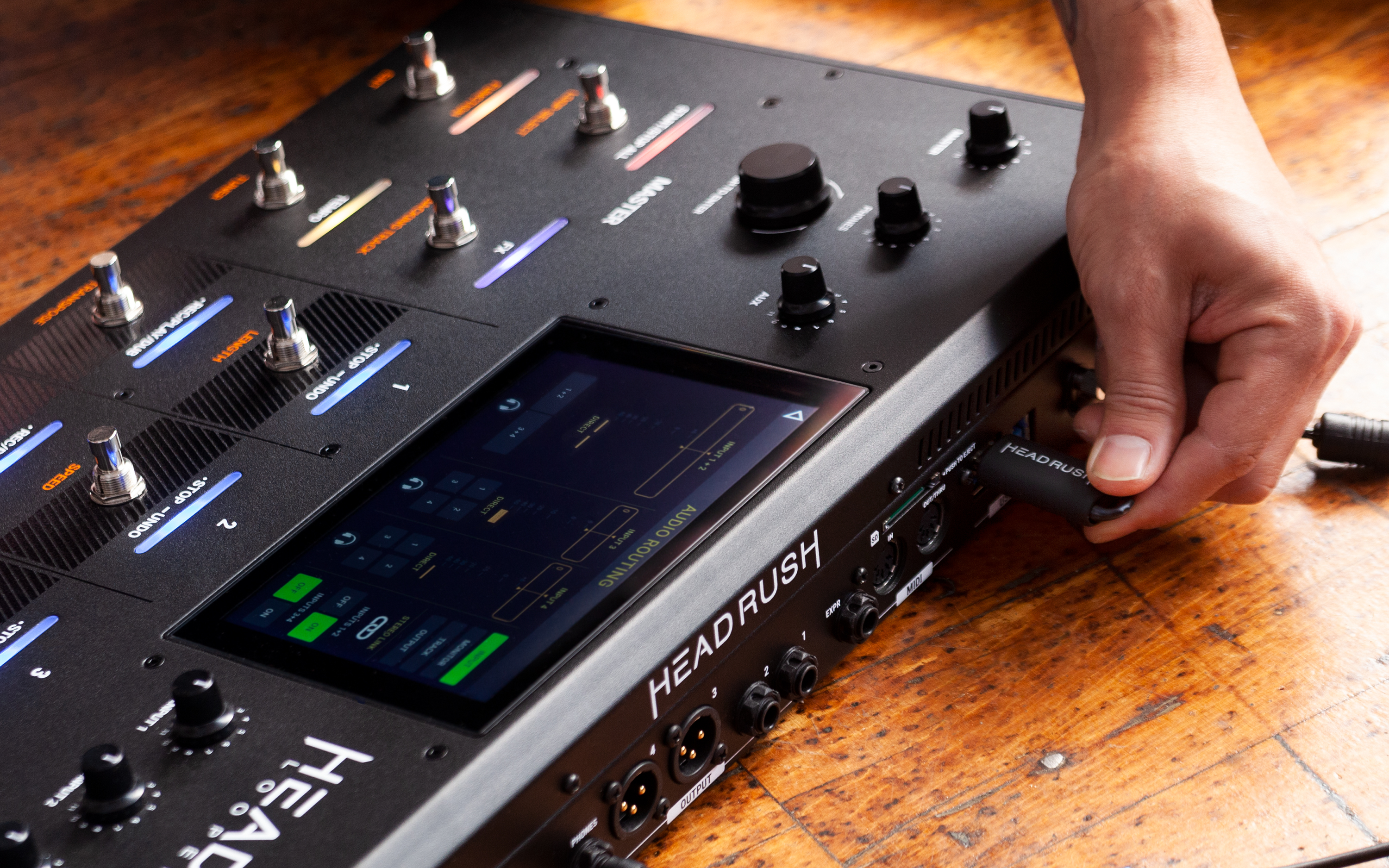 - Sync with External MIDI Gear; The HeadRush Looperboard can receive MIDI time code via its 5-PIN MIDI IN and OUT/THRU connections for syncing with external drum machines, effects, recording setups and other MIDI-enabled devices.
- Record Direct via USB; The HeadRush Looperboard also includes a special HeadRush edition of Pro Tools | First, and its integrated USB audio interface enables users to directly record at 24-Bit (up to 96kHz) to a Mac or PC computer and share their looping performance with the world.


"The HeadRush Looperboard is loaded with an unprecedented amount of extremely smart and powerful features that take its capabilities well beyond any other previous looper pedal ever available to musicians." said product manager Walter Skorupski, "We're incredibly excited to empower looping musicians and we can't wait to hear what they create!"
Looperboard is available immediately and ships with a U.S. retail price of $899