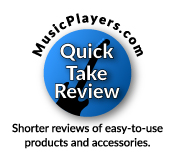 Last year, we took an in-depth look at a variety of Neural DSP plug-ins to get an overall sense of their quality and diversity. You can read our review of Neural DSP's Fortin Cali Suite, Tone King Imperial Mk II, Archetype Petrucci, and Archetype Rabea here. We came away extremely impressed, and these have become some of our go-to plug-ins for in-the-box guitar tones.
Three of us on the editorial team are long-time Mesa/Boogie players and have owned numerous Mark-series amps among us over the years from the classic Mark IIC+ (the subject of this review) through Mark IV and Triaxis/2:Ninety rigs to the Mark V and JP-2C. As all Mesa players know, each of the newer amps contain the classic tone circuits that came before them, just surrounded by additional new preamp circuits and updated operational feature sets. Each of these amps deliver the classic Mark IIC+ tone and the classic Mark-series five-band EQ. Bottom line: Neural DSP nailed the tone and response of this legendary amplifier.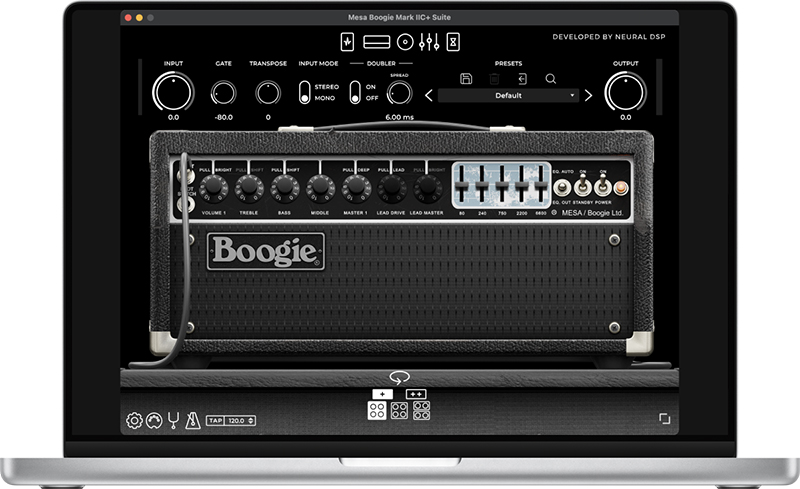 As with each of Neural DSP's modeled amp plug-ins, the user interface presents a very accurate representation of the amp, or amps in this case. Not only does this plug-in feature the mighty Mark IIC+, but also the IIC++, which was really just a Mesa custom shop modification to the preamp circuit for additional gain, but is depicted in a second shade of Tolex and fabric within the user interface.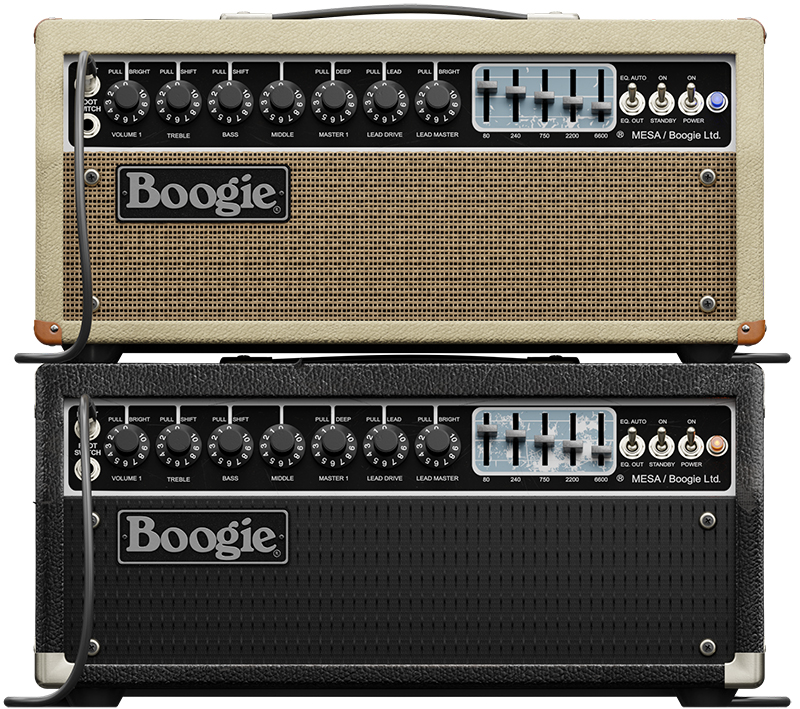 Flip the amp around to the rear and you can switch the virtual tube amp between Class A and Mesa's now-ubiquitous Simul-Class configuration. In Class A setting, only the outside pair of tube amps are utilized, while in Simul-Class mode, all four power amp tubes are utilized. Although the Mark-series amps offered some tube interchangeability, it became common practice to have EL-34 tubes in the outside positions and 6L6 tubes in the inside positions, and thus the familiar sound of Simul-Class was often a blending of these tube types. Obviously, in Class A operation, the tube amp generates less power. It was a 60W vs. 100W difference in the actual amps.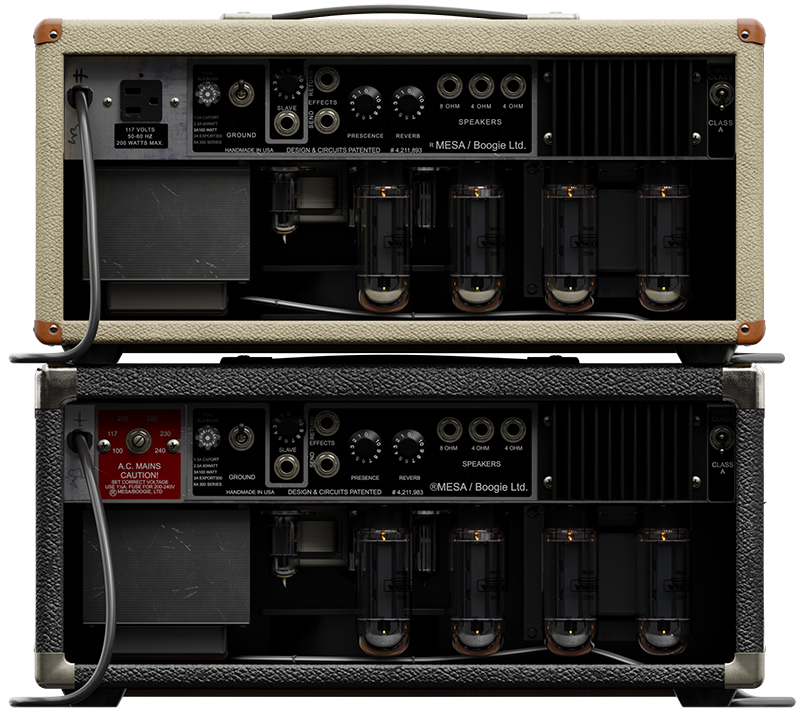 If you have used any of the other Neural DSP plug-ins, you'll be up and running immediately in the Mark IIC+ Suite, which we ran without any issues on our Different PC DPC-2 audio workstation as well as on an older Intel-based Apple Mac Pro.
This plug-in suite includes four effect pedal models that run in front of the amp: a compressor, two overdrives, and '80s-style chorus. Post effects include a stereo Bucket Brigade (BBD) delay and an '80s-inspired Hall reverb, while the amp itself features emulation of Mesa's original spring reverb as found in the actual amplifier.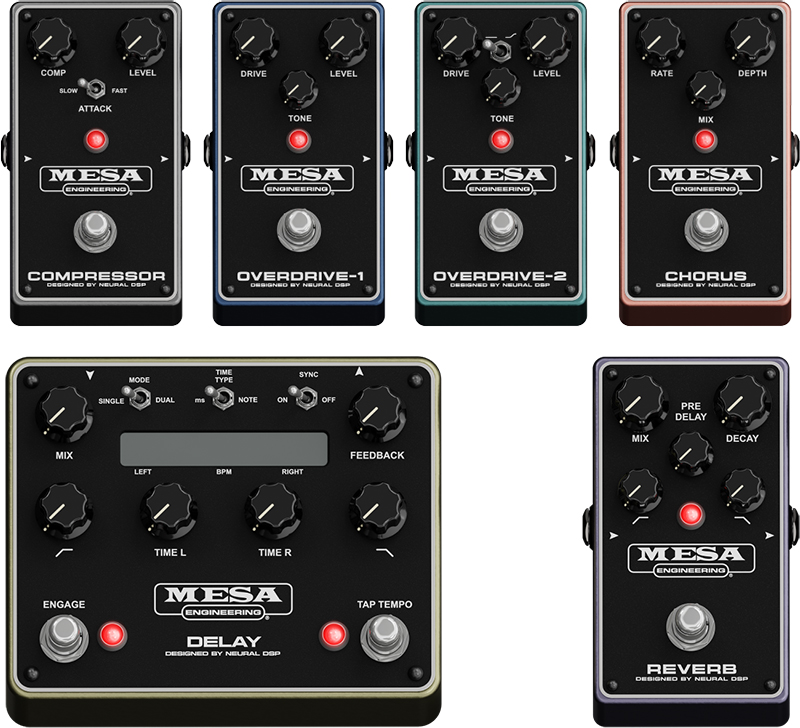 Additionally, the plug-in shares other familiar features with the Neural DSP product line including a practice metronome, tuner, 9-band EQ, and a comprehensive cabsim module. In this case, Neural DSP includes hundreds of IRs taken from the Mesa/Boogie Rectifier Standard Slant 4x12, Traditional Slant 4x12, and stacked horizontal 2x12s. There are ten virtual microphones to choose from, and you can adjust their placement if desired.
A friend of ours commented that they liked the sound of this plug-in but thought it felt too "sterile" to them. Our reply… yes! It feels like a Mark IIC+! (And sounds like it, too!) The Mark-series amps were definitive of Mesa's classic signature sound and feel. These are not forgiving amps. The old thought process was that if you were a blues-rock, bar band, kind of player, you gravitated towards the loose feel of classic Marshall designs. But if you were a serious "finesse" player, you gravitated towards the Mesa design. It's ready to reveal all of your flaws, from technique to tone to how you treat your loved ones. Yeah, Mesa amps can be brutal like that. And this plug-in acts like the real thing.
The other detail that is lost on most other Mesa amp models: Neural DSP nailed the Bass control. If you play Mesa amps, you know the delicate nature of dialing in the Bass, which is as opposite as you can get from dialing in a Marshall-style amp (that's why so many newbies get a bad, woofy, flubby tone when they try to play a Mesa amp for the first time and they instinctively crank the bass when they see it set in the 1-2 range). This amp model understands the relationship between the gain circuit and the Bass control. Crank the Gain, engage the five-band EQ, and pull the Bass control down!
The biggest question many players may face is deciding between this plug-in and the Archetype Petrucci collection. We don't blame you. There is a lot of overlapping tone between the two. However, there is more versatility to the Petrucci collection, which includes both Mark-series and Rectifier-series tones (though it doesn't claim to model any specific Mesa amp completely), plus a wider variety of effects. If your tastes lean in more of the prog metal direction than the vintage rock and classic metal direction, we'd go with the Petrucci set. If you prefer the latter, then this is really the definitive Mark IIC+ virtual amp.
Here, you'll find heavy tones like you heard on early Metallica and Dream Theater records, and the included noise gate is a welcome addition not found on the classic Mesa amp. And if you fancy some classic rock tones from the likes of Carlos Santana, Steve Lukather, and Neal Schon, you'll find them here as well. With the Mesa Boogie Mark IIC+ Suite, expect it to sound just as good or bad as the real thing. It's really in your hands, and just as with the real thing, we'd encourage Mesa newbies to spend time getting to know the included presets before taking it upon yourselves to just "dial it in."
Category

Value

Rating

Features

20%

Usability

25%

Sound

25%

Documentation & Support

10%

Price

20%

OVERALL RATING = 3.9 Stars,
which earns it a WIHO Award!


3.6 stars or better: Outstanding, WIHO Award




3 stars or better: Worth considering




2 stars or better: Suited to specific needs




1 star or less: Not recommended
Price
The Neural DSP Mesa Boogie Mark IIC+ Suite sells for approximately $100 (as do many of Neural DSP's plug-ins). If this is the tone you seek, the price makes it a very easy get.
Contact Information
Neural DSP
www.neuraldsp.com