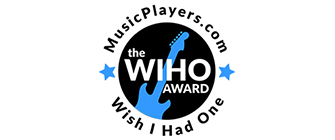 While conducting our review of computer audio interfaces including the PreSonus Studio 192, PreSonus also sent along the new DigiMax DP88, a handy 1U device that provides eight digitally controlled, analog preamps and line-level inputs that can be connected to any audio interface that supports ADAT connectivity. It also provides an additional eight channels of audio input up to 96kHz via ADAT input. And while the DP88 makes a perfectly paired match with the PreSonus Studio 192, it's a fantastic preamp to expand any studio system in need of more audio inputs and outputs.
The DP88 is plug-and-play, and there's no real need for software, let alone a trip to the excellent product documentation. Operation is straightforward: the arrow keys on the face let you scroll through the eight inputs, the knob lets you dial in precise levels for preamp gain (from 0 to 99), the Direct button lets you toggle between the XMAX preamps or direct, line-level input, and the 48V button supplies phantom power to the selected channel. Whatever you set is automatically recalled.
Any caveats? Only that you can't flip the polarity on any of the channels from the hardware alone, but fortunately, the capability lurks within, and the DP88 works with both PreSonus UC Surface and Studio One applications. Using UC Surface, we gained remote control over the preamp channel trim, phantom power, AND polarity. Users of the Studio One DAW have integrated preamp control, just like with the Studio 192 interface (review here).
To the far right on the front panel, one button lets you set the sample rate from 44.1—96kHz while another toggles between internal clock and external sync via BNC connectors on the rear. We had no problems syncing the DP88 to both a PreSonus Studio 192 and an Antelope Orion Studio interface.
The front panel has eight-segment, multi-colored meters that indicate levels, peaks, and phantom power.
The rear has eight XLR inputs for the XMAX preamps, plus eight line inputs via a DB-25 connector. You can attach devices to all sixteen inputs at once, though you only have access to eight inputs at a time, toggling between your line/preamp input source with the Direct button on the front of the preamp. There is also a DB-25 connector for the eight mic inputs in case you prefer to wire the DP88 directly into your studio's patch bay rather than have XLR mic cables or an audio snake patched directly into the unit.
On the output side, one DB-25 connector provides eight channels of direct analog output, post-gain but pre-A/D conversion. A second DB-25 provides analog output, post D/A conversion, from any audio source/preamp you may have attached to the DP88's ADAT inputs.
Tip: One clever use for the DB-25 outputs would be to connect these to outboard processors like compressors and hardware EQs (or to a patchbay), and then return from your outboard gear to the line inputs as balanced inserts. In this arrangement, simply toggling the Direct button on each channel would pull your outboard processing in and out of the signal path.
A small breakout cable connects to the MIDI I/O serial DB-9 port, with a pair of MIDI In/Out plugs at the other end. No, the DP88 is not a MIDI interface for your computer, however you can configure your DAW to control the preamp remotely. Standard continuous controller (CC) messages can be sent to the DP88 set each channel's trim level, phantom power status, and toggle the Direct setting for choosing between mic and line-level sources.
The DigiMax DP88 is an easy-to-use, pro quality preamp that provides easy expansion for any studio in need of a bank or two of additional preamps. We've been fans of XMAX preamps for many years, as they tend to deliver very neutral response with high headroom and a low noise floor. The DP88 utilizes Burr-Brown A/D converters, has 118dB of dynamic range, and supports audio resolution up to 96kHz.
The DP88 sounds just like the recently reviewed Studio 192 interface and the popular StudioLive AI consoles: neutral, with low noise and good clarity. If you'd like things to get a little bit not-so-neutral, if you connect the DP88 to the first eight ADAT inputs on a PreSonus Studio 192 audio interface, the Studio 192 supplies Fat Chanel processing for all eight of the DP88 preamps, giving you compression, limiting, parametric EQ, and gating.
The PreSonus DigiMax DP88 (MSRP $899.95) sells for approximately $700, making it an easy addition for any studio.
Contact Information
PreSonus
www.presonus.com
Overall Rating
Category

Value

Rating

Features

20%

Usability

25%

Sound

25%

Documentation & Support

10%

Price

20%

---

OVERALL RATING = 3.6 Stars, which earns it a WIHO!
3.6 stars or better: Outstanding, WIHO Award
3 stars or better: Worth considering
2 stars or better: Suited to specific needs
1 star or less: Not recommended