Lonely Robot, the project masterminded by producer, guitarist and singer/songwriter John Mitchell (Kino, Frost*, Arena, It Bites), is set to release their new album 'Under Stars' – due out 26th April 2019. Today sees the launch of the video for the albums second single, 'How Bright Is the Sun ?', which you can watch here: https://youtu.be/T0OxJxEWtqM
John comments: "How Bright Is The Sun? A cheery lament to our beautiful star. How much longer will she burn for? Will we even be around for half that time? Questions within questions. I hope you like it."
It was recently announced that Lonely Robot will be teaming up with Space Rocks for a special launch event to celebrate the release of the new studio album. The event will take place on the 23rd April at the Everyman Cinema in King's Cross, London, and will see John take part in a special Q&A session with Space Rocks co-founder Alexander Milas, discussing the influence of space and science fiction on his trilogy of albums under the Lonely Robot name. This will be followed by a talk by Space Rocks partner and European Space Agency (ESA) Senior Advisor for Science & Exploration, Mark McCaughrean. The event will feature an exclusive advance playback of the new album in full, accompanied by special imagery created using visuals inspired by the work of the European Space Agency.
John comments: "Space and science fiction permeate throughout the trilogy of Lonely Robot albums and with Space Rocks, I can't think of better people to team up with to celebrate the release of the final part of the astronaut's story. It should be a very special evening."
Space Rocks co-founder Alexander Milas adds: "As headliners of our inaugural Space Rocks event in London last year, Lonely Robot and John are the personification of that inexorable link between art, music, and the great beyond. His music is the perfect bridge between those worlds. Roll on the 23rd!"
For more info head to www.spacerocksofficial.com
Lonely Robot recently launched a video for 'Ancient Ascendant', the first single from the new album. Watch it now here: https://www.youtube.com/watch?v=zwf-bm-sd3Y&feature=youtu.be
The album once again features drums by long-time collaborator Craig Blundell (Steven Wilson), plus bass contributions from Steve Vantsis (Fish), with all other instrumentation on the album delivered by Mitchell himself.
Of the record, John comments: "It is the final part in the astronaut trilogy, and was recorded over an intensive month and a half period. This time I wanted to reference my love of 80's synthwave pop a little more, so beware the 808! The title is derived from belief that we as humans spend far too much time not noticing the beauty around us and far too much time tethered to technology."
'Under Stars' will be released as a limited edition digipak CD (featuring 3 bonus tracks), gatefold 2LP + CD & as digital album. Pre-order now here: www.insideoutmusicshop.com
The track-listing is as follows:
1.Terminal Earth
2.Ancient Ascendant
3.Icarus
4.Under Stars
5.Authorship Of Our Lives
6.The Signal
7.The Only Time I Don't Belong Is Now
8.When Gravity Fails
9.How Bright Is The Sun?
10.Inside This Machine
11.An Ending
12.How Bright Is The Sun? (Cosmic Mix)* CD / digital bonus track
13.Under Stars (Cosmic Mix)* CD / digital bonus track
14.Lonely Robot – Chapter One – Airlock* CD / digital bonus track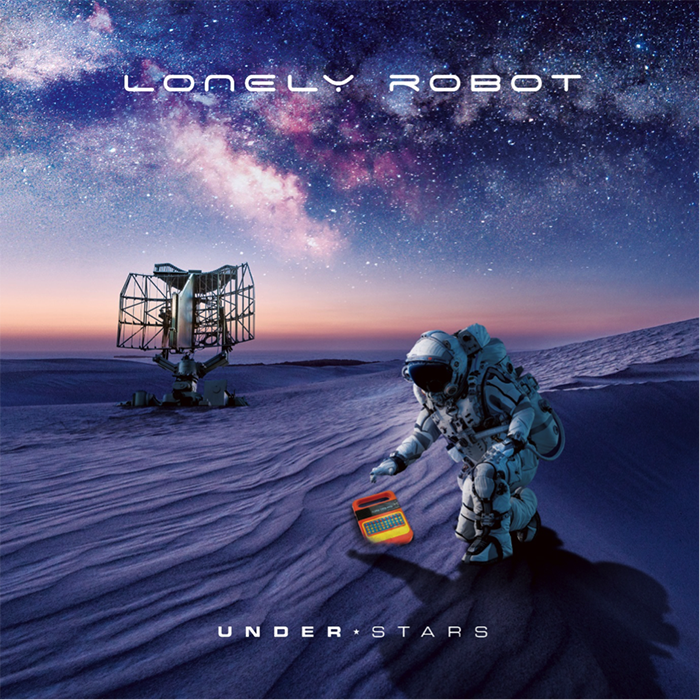 'Under Stars' is the final album in a trilogy for Lonely Robot, John Mitchell's visionary project. This began in 2015 with the 'Please Come Home' album and continued two years later with ''The Big Dream'.
"I always saw this as a trilogy, and it feels like the third part of the Lonely Robot master plan has reached a natural conclusion."
As with the two previous albums, there is a theme running across the songs here, as Mitchell explains. "On 'Please Come Home', the theme was about the idea that life on Earth didn't originate from this planet, while for 'The Big Dream', I was really giving everyone the benefit of Zen musings according to John Mitchell. This time things are a little more down to earth. What I am doing is looking the millennial generation, and the fact that kids today are so tied to their phones and to technology. They really have no clue what is actually going on around them, and I find that worrying."
John Mitchell is a man with a rich musical heritage and history - from musician and vocalist, to songwriter and producer. With bands like Arena, Frost*, Kino, It Bites and Lonely Robot, to name but a few, Mitchell has left his mark on the current progressive rock scene and has been involved in dozens of recordings. He is also a respected producer & mixer, running Outhouse Studios in the UK and working with artists as diverse as You Me At Six, Enter Shikari, Alter Bridge, Asia, Don Broco, Funeral For A Friend, McFly & much more.
LONELY ROBOT online:
www.facebook.com/johnchristianmitchell
www.johnmitchellhq.com
INSIDEOUT MUSIC online:
www.insideoutmusic.com
www.youtube.com/InsideOutMusicTV
www.facebook.com/InsideOutMusic
www.twitter.com/InsideOutUSA
www.insideoutmusicshop.com
INSIDEOUTMUSIC Spotify Playlist:
http://spotify.com/progrockessentials