The past couple of years have seen Casio making a significant re-entry into the hearts and minds of the professional keyboard player. We'd have to say they've been reasonably successful, with some popular synthesizers paving the way for their next big play: the Privia Pro PX-5S, a digital keyboard that is one part stage piano, one part synth, one part controller, one part… so many different things!
Category

Value

Rating

Features

20%

Usability

25%

Sound

25%

Documentation & Support

10%

Price

20%

OVERALL RATING = 3.4 Stars


3.6 stars or better: Outstanding, WIHO Award




3 stars or better: Worth considering




2 stars or better: Suited to specific needs




1 star or less: Not recommended
While Casio digital pianos have always been popular with the solo guys in tuxedos, the typical musician in rock/pop has regarded the brand with some sense of disdain (like us, they probably pine for the days of the CZ-5000, if they're old enough to remember the '80s), but we have to say: everyone who has played the PX-5S in our studio has come away notably impressed, and with a newfound appreciation for where Casio is going.
If you needed nothing more than a stage piano or piano controller for your studio, $1,000 gets you a decent sounding, great feeling, 88-key, fully weighted, digital piano that is so ridiculously light weight (under 25 pounds) that you could put it in a long gig bag and take it with you on a NYC subway. Wow. And, it has great electric and electro-mechanical piano sounds, too!
Despite its sleek exterior, the PX-5S is far more than just a piano—it's really more of a sample-based ROMpler and synthesizer, or perhaps you can think of it as a keyboard workstation minus the sequencer, and it would serve well in many different scenarios. Our biggest challenge with the Privia PX-5S is that it has so much to offer, but it hides that goodness behind a user interface that is decades behind the competition, and this makes it rather frustrating to work with.
For the right keyboard player in the right circumstance, you won't go wrong with the keyboard. There are great sounds, and a particularly expressive sounding synthesizer. For players like us, the PX-5S is a great teaser for what is yet to come from Casio, and that excites us. Either way, it's one big step in the right direction for Casio, and to that, we say, "Welcome back!"


Features
At a glance, the Casio Privia Pro PX-5S is a sharp looking stage piano dressed in black and white, with a cool blue accent line. But looks are deceiving, and it would be a mistake to simply call this a digital piano, when in fact it's far more than that.
Of course, the star attraction here is the 88-note,Tri-Sensor Scaled Hammer Action II Keyboard, which is Casio's fancy name for their very nice, fully weighted piano keyboard. The hard plastic keys have a faux wood grain texture to them… and this texture is intended to reduce finger slide and provide a solid contact. Sadly, aftertouch is a missing feature, and while most $1,000 keyboards lack it, the PX-5S has so many great qualities that it feels like a raw omission.
The Privia Pro PX-5S is a four-zone master controller, and sounds/patches (called Stage Settings) can easily be assigned to each of the four zones, with user-assignable split and layer points. With 256-note polyphonic, you can really take advantage of the zones, stacking sounds galore. Or, you can just as simply assign any of the zones to external controllers for working with outboard keyboard gear.
With ease of use in a live setting intended, stage settings are arranged in banks so that a single button press switches instantly between sounds, though it takes a few buttons to change from one bank to the next.
The Privia Pro PX-5S is both a samples-based keyboard as well as a synthesizer. In the natural instrument realm, it features acoustic pianos, electric pianos, electro-mechanical pianos, organs, strings, brass, guitar/bass, and percussion sounds (300 multi-sampled waveforms). It holds twenty drum kits that draw upon 290 sampled drum and percussion sounds.
The keyboard is split into four zones that can be split or layered, both with internal sounds or with external sounds. Featuring four knobs, six sliders, pitch bend and mod wheels, and two pedal inputs, the PX-5S makes a capable controller. As a very nice touch, the PX-5S includes a simple latching pedal in the box. You'll probably want to get one with more of a piano feel, but having the right pedal the day you unbox the keyboard is a welcome thing.
Outside of its traditional sample-based sounds, the Privia Pro PX-5S is a very capable digital synthesizer, where two of the four zones on any given performance can utilize a Hex layer instead of a sample-based tone. Here's Casio's explanation of this part of the sound engine:
"A Hex Layer is a single complex tone that can be made up of six sample layers. These can be stacked (layered), split or velocity switched. Each of those six layers gets its own filter (LP, HP, BP) and filter envelope, its own AMP envelope and pitch envelope (all 7 stage envelopes). You can even have layers that are triggered on key-release. A Hex Layer tone gets its own insert effect but you can choose if a layer uses that insert or the amount that goes to the system effects (chorus, delay, reverb)."
Although there are four layers of sounds that you can easily split or layer, only two of them can utilize the Hex layers in a single performance. But when you consider that each of those is, effectively, six independent synthesizers, the potential for building complex sounds is obvious. There is up to 256-note polyphony, and obviously, you can create sounds that take advantage of all the voices you want to throw at them especially once you start making use of your sustain pedal.
The arpeggiator is 16-step programmable, and you can have four independent arpeggiators working on one performance (assuming you've used all four zones for the sound). There are 100 patterns, and you can modify/overwrite any of them. And if that's not enough for you, there is an onboard "phrase sampler" that lets you record short sequences that play back as tempo-synced loops. 100 samples are provided; there's memory for 900 additional. The obvious use for these is drum beats, but you can use it for any type of music you want to loop.
All of your standard effects are included: modulation, delay and reverb, compression, etc. and there are even wah and auto-wah effects for use on those vintage sounds.
A USB port on the rear provides standard computer connectivity, while a USB memory stick slot on the face of the keyboard is used to let you make audio recordings of your performances, kind of like a memo recorder.
Rather unique for electronic keyboards, the PX-5S sports a pair of stereo headphone jacks on the rear, too!
Usability
We already alluded to the light weight of the PX-5S—all of the mass resides in the keyboard itself! The keys have a somewhat heavy feel overall compared with many controllers on the market, which makes it a little more challenging for playing ripping synth leads if using it as a controller, but for playing traditional piano, it feels very nice, and appreciably better than other controllers near its price point.
The textured keys never felt slick, and players who often find themselves sliding over their keys will appreciate how the textured keys deliver a firm contact even hours into a wicked set. We just wish the PX-5S featured aftertouch, because the Privia Pro PX-5S is so much more than just another stage piano.
Aside from the top quality keyboard, the case itself feels like a very thin plastic, and the soft plastic buttons and knobs, and logic-board mounted rear connectors, did little to instill confidence about long-term reliability. For easy gigging, though, never before has it been so easy to bring along an 88-key, fully weighted keyboard. So, one caveat is balanced against a big feature. As you'll discover, this keyboard is all about tradeoffs like this.
The keyboard has a removable top plate in which you can install batteries for truly portable use, but without onboard speakers, we're not sure just how useful this feature will be to anyone. Considering the PX-5S has such a great feeling keyboard, we would have preferred filling the battery space with an internal power supply so that a standard IEC power cable could be used instead of a wall wart. The keyboard is so light weight that we wouldn't even mind a few pounds being added to the package.
The user interface is a bit rudimentary, and at first glance, was a bit confusing. It seemed like pressing the Tone buttons (Piano, Electric Piano, Organ, etc.) would provide a shortcut to sounds in those categories, which is pretty typical of instruments with hundreds or more of onboard presets, but those are for editing the individual layers within each of your sounds.


Also confusing was how some features require holding a button down for an extended period of time to activate their alternate features, but exiting out of those features requires hitting an Exit button, located elsewhere in the controls. It took minutes just to figure out how to get out of something as simple as the Tap Tempo settings. We also found it disorienting that the display's navigational controls (left, up, down, right) are laid out sequentially from left to right instead of being arranged in a compass-like cluster as found on many other instruments.
Stage settings are arranged in ten banks of ten sounds, and switching from one bank to the next involves first hitting the Bank button, then the next numbered key you hit selects the bank, and then you press one of the numbered keys again to select a performance and immerse yourself in that particular bank of sounds. Direct access to performances and/or an alpha dial would have proved handy.


The four sliders and four knobs are fully assignable to various internal and external controls. Unfortunately, there's no visual indication of their assignments until you touch them, in which case their function appears on the display. We found some inconsistencies in their programming, however. For many of the traditional instrument sounds, the knobs were assigned to EQ controls for lows, mids, and highs, but not always, so just when we got used to grabbing quick adjustments of our sound, we'd pull up another similar sound only to find that our quick low-end frequency boost resulted in a filter adjustment. Likewise, with organ sounds, sometimes the sliders mapped to drawbar-type controls over the organ sounds, but not always.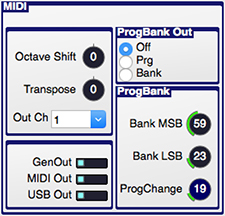 The Privia PX-5S has extensive MIDI capabilities, not just in terms of easily mapping its controllers to various MIDI settings, but also in terms of its use as a MIDI controller for additional MIDI devices/sound modules/etc. Through the Casio Data Editor running on our Apple laptop, it was extremely easy to assign program changes as well as bank select (MSB and LSB) assignments to each of the four parts of a performance, along with key ranges, to control some other sound modules residing in one of our racks.
Speaking of the Casio Data Editor for PX-5S application (tested version 1.0.1), you'll need this if you have any hopes of programming synth sounds in the Privia PX-5S. The Achilles heel of the keyboard is certainly the limited, three-line, monochromatic LCD display. Although al parameters are accessible, doing anything programming related for sound creation directly on the PX-5S involves using arrow keys to scroll up and down through a series of menu options and parameters and adjusting numerical values. This interface is just, so… 1980s.


Fortunately, the Data Editor application provides a somewhat visual approach to building sounds, arranging the layers and splits, assigning MIDI parameters, and of course, adjusting synth sound parameters. But as with the dated physical interface on the keyboard, the software takes a page out of earlier decades, too. The interface requires scrolling in order to see all of the parameters you're trying to work with at any one time, and it doesn't utilize many of the modern user interface conventions found in typical virtual instruments and editors. The functionality is in there, and operation is reasonably simple, but it's equal parts frustrating because it's so archaic.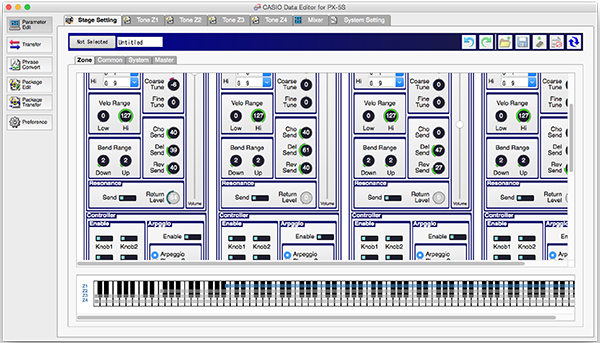 And that's part of our challenge with the Privia Pro PX-5S. It has many features that you'd want in a sample based virtual instrument and synthesizer, but the implementation is so retro that it's not a keyboard we enjoy operationally.
Sound
This is where things get really exciting. If all you wanted was a good acoustic piano with a great feeling keyboard, the Privia Pro PX-5S's $1,000 price tag undercuts its main competition by at least half. The fact that it has so many other sounds and abilities makes the value proposition even more ridiculous, and we mean that in the most complimentary way.
Focusing on the bread and butter, "obvious" sounds, Casio did a great job here. The concert grand piano sounds authentic, and we couldn't detect any obvious signs of looping samples or other sonic detriments. Our only problem with it was that we felt the low end was a bit too thin for our tastes—just not quite as grand as grand should be. For playing in a band context, this isn't a problem, and may result in a better overall mix, but for the unaccompanied pianist, it's not as rich as some of Casio's other digital pianos, or some of the pricier competitors (and if you're just using this as a low-cost way to control something virtual, like Ivory or PianoTeq, don't sweat it at all).
There are actually a variety of different piano sounds in the PX-5S, not just a concert grand. Though it's possibly the most detailed sounding of the bunch, there are nice sounding pianos in a variety of styles and timbres, too, ranging from rock to jazz to studio and so on.
While we thought the grand piano was good, we found the various electric pianos and electro-mechanical recreations to be even better. If you're playing classic rock/pop and need vintage '60s and '70s tones, the PX-5S delivers them with all the right presence and none of the noise. And if you're into '80s electric piano, some of you might get a bit of a DX-7 vibe here, but we came away thinking more of the classic Casio CZ-series FM synths.
Organ sounds were extremely usable in the rock and pop context, too, and the overdrive effect was quite useful both here as well as on some of the vintage piano sounds.
Although string sounds were usable, they didn't really grab us, as we're used to larger, multi-sampled orchestral fare, but the brass sounds—trumpets in particular—were great.
The real surprise, though, was how great the Hex-layer synth sounds were! Borrowing from the current generation of Casio synthesizers, here, we found great synth pads with rhythmic pulses and syncopations, with dreamy names like "Rainy Dayz" and "Wonderland." These sounds were unique, musical, and inspirational, leading to extended bouts of improvisational jam sessions. In fact, they were so inspiring that we're now more intrigued than ever to explore Casio's newest synthesizers.
The sequencer is a blast to use, and is filled with so many musical patterns that one basic synth sound became the basis of numerous musical creations as we worked through the various patterns.
The drum sounds and loops/beats sounded generally excellent for pop and dance/electronic work, though the interface left us just playing around with presets that featured drum loops as opposed to actively creating new drum patterns, despite there being plenty of onboard storage for drum beats of our own design. The PX-5S isn't really trying to be a music workstation, though, so we regarded these sounds simply as nice extras.
On board effects were as good as everything else inside, from reverbs to delays to modulation. Adjustable parameters were often kept to a minimum, and in the context of this instrument, that's fine with us. It was very easy to make changes, like take a piano and then slap a variety of different effects on it.
As if there's not enough of a variety of great sounds already on board, Casio directed us to a thriving online community at casiomusicforums.com where you'll find over 500 additional, downloadable sounds.
Documentation and Product Support
There are three manuals for the Privia Pro PX-5S: a basics user's guide, a user's tutorial guide, and a PDF dedicated to everything related to the MIDI Implementation. They are quite thorough, and written more clearly than many of the typical manuals written by foreign engineers.
Price
The Casio Privia Pro PX-5S (MSRP $1,299) sells for approximately $1,000. This is a great price for a stage piano with such a good feeling, 88-note keyboard. If all you needed were piano and a handful of related electric piano type sounds, our usability gripes shouldn't even be a concern, as all of the other capabilities might be seen as "bonus" material.
As a first general purpose electronic keyboard, the Privia Pro PX-5S will certainly open up a wide range of musical options, and for players who need a good piano controller in the studio, you get a great interface for playing your computer-based instruments, plus the added bonus of a ton of great sounds.
Contact Information
Casio
www.casiomusicgear.com