8th Gen Intel® i7 processing power combined with fanless silent operation and SSD storage
Fremont, CA – April 2019… Arista Corporation, recognized globally as a leading manufacturer of video wall LCD displays, AV extenders, matrix switchers, AV MultiViewers, and related products for the AV installation and industrial markets, is pleased to announce its Stealth Audio Workstation, the ideal solution for application environments that require an absolutely quiet computer to perform audio recording, editing, and related music / audio creation tasks. With a rich feature set and stellar performance, the Stealth Audio Workstation is ideal for a wide range of audio projects.
The Stealth Audio Workstation is equipped with an Intel i7-8700 six-core processor to provide plenty of CPU power to record musicians, compose film music, work with sound effects for TV or film, and play virtual instruments. Additionally, the system is populated with 64GB DDR4 memory that enables one to load large sample libraries. The system also has the option of two 1TB HDD (Hard Disk Drive) or SSD (Solid State Disk) that provides enough storage space to record live instruments or save a library of sample-based plug-ins. It supports a 4K display or up to three HD displays, which can be useful when running music software such as Ableton, Cubase, Pro Tools, or Sonar.
Arista's Stealth Audio Workstation offers performance optimized for demanding audio applications. With the Intel® 8th Generation i7-8700 CPU processor powered by Turbo Boost Technology 2.0, the system delivers superior power and responsiveness to help one's productivity soar. The system is also completely fanless for silent operation—making this an ideal tool for recording. The system is populated with an incredible 64GB of DDR4 memory that enables the loading of large sample libraries for complex projects. With support for 7.1 channel surround sound HD audio via a Realtek ALC892 Audio Codec, the Stealth Audio Workstation is ideal for sound effects and multichannel audio composition projects.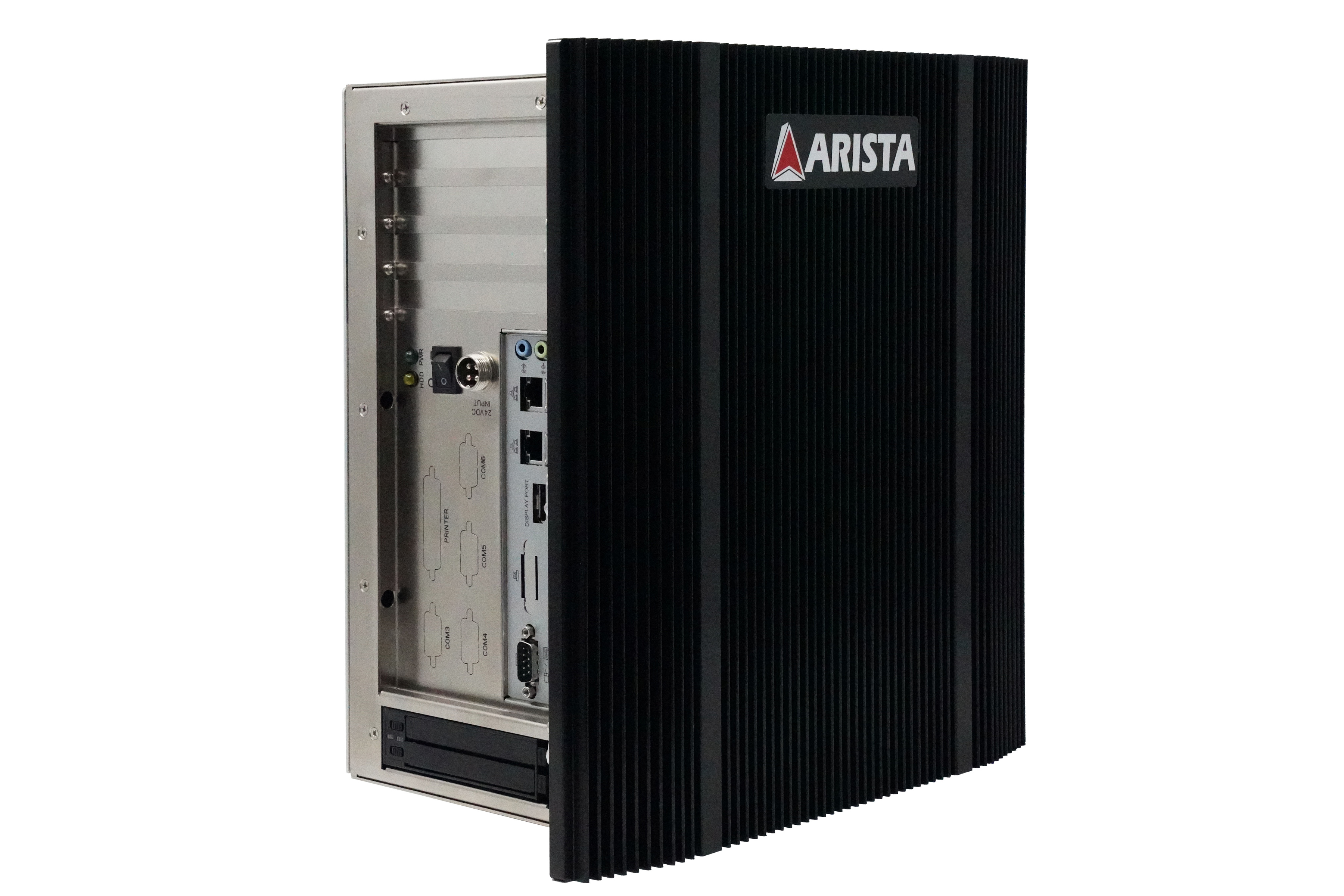 The Stealth Audio Workstation is equipped with a 512GB Samsung 970 PRO M.2 NVMe SSD for lightning fast responsiveness during intensive workloads on workstations. The latest V-NAND technology and a new Phoenix controller in a compact M.2 (2280) form factor meet the requirements of the most demanding audio tasks. The 970 PRO combines the next generation PCIe Gen 3x4 NVMe interface with the latest V-NAND technology and a newly enhanced Phoenix controller to achieve read/write speeds up to 3,500/2,700 MB/s. Booting the Operating System happens in a blink of the eye. The Stealth Audio Workstation also has one open M.2 slot for an additional high capacity / high performance NVMe storage capacity requirement.
The system's storage capabilities don't end there. The Stealth Audio Workstation has an option for two additional removable 2.5-inch SSD drives that can be configured as RAID-1 for redundancy or RAID-0 for combining two drives into one large logical drive. Additionally, the system provides one Type-C and one Type-A USB 3.1 port, as well as four USB 3.0 connectors supporting the various speeds of USB audio devices.
Paul Shu, President of Arista Corporation, commented on the company's new Stealth Audio Workstation, "Our new audio workstation is the ideal solution for the most demanding audio tasks. With state-of-the-art processing power and storage, combined with whisper quiet, fanless operation, the Stealth Audio Workstation is the ideal tool for multitrack recording and editing, sound effects work, and numerous other audio projects. With support for multiple displays and Intel® Gigabit LAN for network operation, this system makes a great choice for any audio production or post production work."
The Arista Stealth Audio Workstation ranges in price depending upon the desired configuration.
Arista's Stealth Audio Workstation will be on display during the 2019 InfoComm Show in Orlando, FL – Booth #1161,
About Arista Corporation
Arista offers products for a variety of professional audio-visual markets, including events, retail, residential, education, government, healthcare, and control rooms. Networked AV over IP has forever changed the dynamics of the pro AV industry by enabling installers and system integrators to replace proprietary AV matrix switches with off-the-shelf Ethernet networks that deliver dramatically better price/performance, flexibility, and scalability. Arista focuses on this market trend and has invested considerable resources on developing and expanding its networked AV over IP product families to help customers achieve their goals with the latest technology products. To learn more about Arista Corporation, visit https://www.aristaproav.com/.