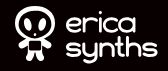 Affordable, compact yet powerful system comes in two formats: Eurorack and desktop
Riga, Latvia, September 20, 2019 — Erica Synths announced its Pico System III — an affordable, compact, and powerful sounding full analogue modular system. The Pico System III comes in two formats – Eurorack and desktop. Pico System III brings modular synthesis back to the basics, featuring multi functional analogue modules (instead of single-function modules, such as Pico Drums or Pico Trigger in the Pico System II) and is intended to encourage creativity in modular patching.
The system has 31 inputs and 20 outputs (master output is duplicated) plus 7 switches; if you have enough patch cables at your disposal, you can patch the system in 121,000,931,215,044,250,740,178,662,400 or 1.21x1029 variations (not taking into consideration potentiometer adjustment possibilities). Even though only 0,0001% of all patches will sound more-less enjoyable, you and all your future generations can spend a lifetime patching the Pico System III.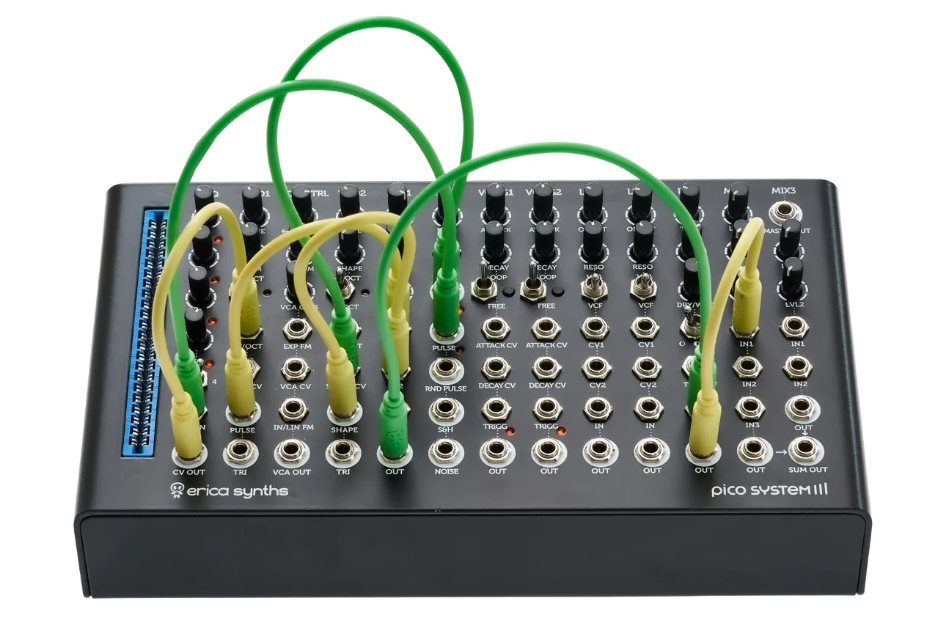 Voice cards with preset patches
Voice cards with preset patches set the Pico System III apart from other Eurorack systems — these allow users to change patches instantly and radically, making the system well suited for experimental live performances. The system ships with 5 great sounding "factory preset" voice cards and 5 empty DIY voice cards which users can experiment with and develop their own patches. More voice cards will be available from the Erica Synths shop in the near future.
Pico System III comes both as a desktop unit and a Eurorack module. It features a set of modules for advanced sound design, experiments in modular patching and educational applications. The system includes: 2-3-4 step sequencer, (2) VCOs, VCO controller/VCA module, several mixers that work both with CV and audio signals, a modulator (with syncable LFO, random CV and noise source), (2) voltage controlled ASR envelope generators, (2) lowpass gate and a BBD delay.
Recommended retail price (VAT excluded) for desktop unit: 450 EUR
Recommended retail price (VAT excluded) for Eurorack module: 400 EUR
Pico System III is available for ordering on 20th of September and will ship on 1st of October

ABOUT ERICA SYNTHS
Erica Synths team of visionaries, engineers and musicians have been working hard to bring you modules and instruments that will set your modular system apart from mass in terms of how it sounds, looks and functions.