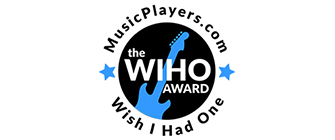 GLX-D4R with BETA 87a Mic
GLX-D6 Guitar System
Shure has been one of the leaders in the wireless instrument space for decades, and the current crop of GLX-series digital wireless products reaffirms all that is great about their products. We looked at a variety of vocal and instrument systems in the product line and came away as happy as we've ever been.
If you are a vocalist ready to explore freedom on stage, the GLX-D4R with a variety of different microphones or headsets are equally easy to use, and in the case of popular microphone models like the BETA 87A we tested with, your wireless tone will be indistinguishable from a wired one. Auto-pairing and a robust, rechargeable battery system make for a positive experience all around.
Guitar players and bassists are extremely picky about their wireless systems, as it's so easy to compromise the quality of your tone with an inadequate system. Fortunately, digital wireless products lack tone-altering "companding" (which we'll explain later in the review), and with the GLX-D6 instrument system, guitarists will be treated to tone and response that is no different than if they simply chose one particular cable brand over another. And thanks to the extended frequency response of digital wireless systems, digital wireless works just as well for bass players (unlike analog systems, which have a narrower frequency range).
Shure GLX-D4R Wireless Systems
Category

Value

Rating

Features

20%

| | | |
| --- | --- | --- |
| | | |
| GLX-D4R w/BETA 87A | GLX-D4R w/head-worn MX153 | GLX-D6 Guitar System |

Usability

25%

| | | |
| --- | --- | --- |
| | | |
| GLX-D4R w/BETA 87A | GLX-D4R w/head-worn MX153 | GLX-D6 Guitar System |

Sound

25%

| | | |
| --- | --- | --- |
| | | |
| GLX-D4R w/BETA 87A | GLX-D4R w/head-worn MX153 | GLX-D6 Guitar System |

Documentation & Support

10%

| | | |
| --- | --- | --- |
| | | |
| GLX-D4R w/BETA 87A | GLX-D4R w/head-worn MX153 | GLX-D6 Guitar System |

Price

20%

| | | |
| --- | --- | --- |
| | | |
| GLX-D4R w/BETA 87A | GLX-D4R w/head-worn MX153 | GLX-D6 Guitar System |

Overall:

GLX-D4R w/BETA 87A = 3.7 Stars,
which earns it a WIHO Award!
GLX-D4R w/head-worn MX153 = 3.5 Stars
GLX-D6 Guitar System = 3.9 Stars,
which earns it a WIHO Award!

3.6 stars or better: Outstanding, WIHO Award
3 stars or better: Worth considering
2 stars or better: Suited to specific needs
1 star or less: Not recommended
Features
We looked at three wireless systems in the GLX-D range: two relied upon the same half-rack space GLX-D4R receiver, while the GLX-D6 is a stompbox-sized receiver designed for guitar pedalboards. One of our wireless systems was paired with a wireless Beta 87A dynamic microphone and the other a head-worn MX153 omnidirectional mic attached to a GLX-D1 body pack transmitter. The GLX-D6 was paired with the GLX-D1 body back and instrument cable. Mini-XLR connectors are used on the body packs for instruments as well as head-worn microphones.
Shure includes everything you need to get going in their packaging whether you plan to set the GLX-D4R receiver on a tabletop, rack a single unit or a pair of units in a 1U rack space, and relocate the antennas from the rear of a rack-mounted unit to the front. The guitar system has a power supply or can be powered from most of today's high-current pedalboard power supplies.
Audio quality is uncompromised thanks to the GLX-D range's 20Hz—20kHz frequency response and 120dB dynamic range coupled with digital wireless transmission. Analog wireless systems use a technology called companding to compress the signal before transmission and expand the signal at the receiving end, which slightly compresses the signal, something that discerning guitar players were sometimes bothered by. But modern digital systems like GLX-D use analog-to-digital conversion before transmitting zeros and ones through the air instead of a compressed analog signal. The lack of compression is what preserves the quality of your tone, and this also eliminates other random analog audio noise from otherwise compromising the quality of your sound.
The GLX-D series rely upon the popular (and license-free) 2.4GHz bandwidth for connectivity, and the transmitter and receiver synchronize automatically when powered up. If the receiver detects any signal interference while in use, it automatically scans and selects a new frequency for the devices to operate on without interrupting the signal. Another nice feature is that the GLX-D4R receiver's display clearly shows the transmitter's remaining battery charge in hours and minutes, and you can even adjust the transmitter's gain from the receiver. Rather than asking a performer to increase their signal gain, your sound mixer can simply adjust it on the receiver.
Although the guitar-oriented GLX-D6 unit doesn't display battery life in digital format, it has its own special feature set: a seven-bar LED for power level indication, a built-in instrument tuner, and a Carling-style footswitch that mutes the signal when tuning. We love that this wireless guitar system frees up your pedalboard from requiring an additional tuner pedal taking up space. And if 440 Hz tuning isn't your thing, you can adjust the tuner across a 432–447 Hz range.
Our favorite part of it all has got to be the rechargeable Lithium Ion battery used across the family. With up to sixteen hours on a charge, the LiON batteries last a long time. To recharge them, if using one of the microphone systems, you can pop the battery (or a spare) into a charging slot right in the GLX-D4R receiver, and the microphones and GLX-D1 body packs have a USB port where you can attach an included USB charger. In the receivers, a fifteen-minute rapid charge will get you 90 minutes of power if you're caught short.
Usability
Shure wireless systems tend to be pretty much plug-and-play these days, and all of these units proved that to be the case. We used multiple systems in the same room, we took some to club gigs, we used some in environments with other wireless units at work, and never experienced a problem. You can manually select frequencies if needed, but the automatic controls worked well.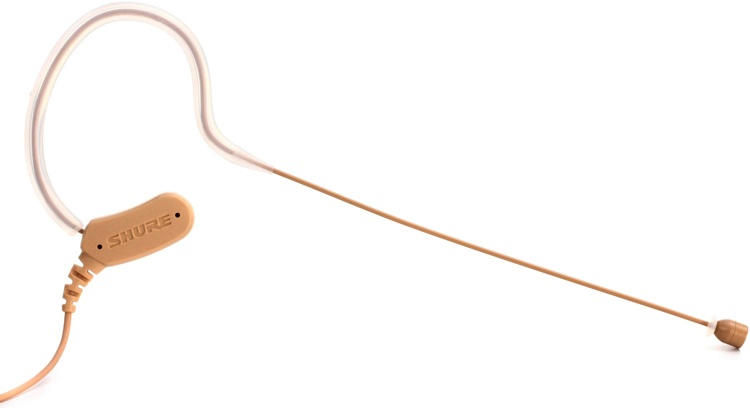 Wireless mics are a dream for many performers, and the head-worn MX153 was light as a feather, ideal for use in stage productions or for broadcast use in lieu of a lavalier mic. Shure offers a range of handheld microphones that cover their most popular stage models, but we have to comment that we don't love their heft. The shaft of the wireless BETA 87A (and the other options like a wireless SM58) is quite a bit larger than the standard, wired versions. Singers with more petite hands may have some adjustments to make, and with the slick surface of the mic, we can see some unanticipated mic drops unless you add some grip tape, like you might use for a tennis racquet. Those tapes come in cool colors and patterns, so it could be a win-win in the end. And if the size is fine in your hand, Shure sells optional mic sleeves in different colors from their website.
The guitar tuner worked great with both six and seven string guitars, and we had no trouble powering the GLX-D6 (9V 250mA) from Voodoo Lab and Eventide power supplies.

Sound
Shure has been doing digital wireless for quite a few years now, and the results deliver what classic analog systems failed at: pure sound without drop-outs or noise. On stage, both in the rehearsal studio and on the actual concert stage, we could hear no difference sonically between our wired and wireless BETA 87A, a beautiful sounding mic that works so well with higher-register female voices.
Guitarists are a picky bunch, and there are some purists who will swear that they hear or feel a difference with wireless. But any difference here is going to be no different than you'd get going from one instrument cable to another. In other words, we found no discernable difference using a wide range of guitars from Fender, Music Man, Ibanez and more, some with single-coil pickups, and some with humbuckers. As always, we encourage guitarists in particular to purchase a backup cable in case they should accidentally break the instrument cable that runs from the guitar to the transmitter (since it has a mini-XLR plug at the transmitter end).
The headworn MX153 was a real treat because the sound quality is so remarkable for such a diminutive, barely-there, microphone. It sounded better than quite a few other bulkier head-worn mics that we have used in the past, and we used it both for singing as well as in place of a lavalier microphone for one of our product videos.
Documentation and Product Support
Each of the products includes excellent documentation, complete with useful troubleshooting tips for those rare occasions when you might run into technical glitches.
Price
The GLX-D4R with BETA 87A wireless microphone (Model GLXD24R/B87A-Z2, MSRP $861) sells for approximately $690.
The GLX-D4R with a GLX-D1 body pack and MX153 headset microphone (Model GLXD14R/MX53-Z2, MSRP $936) sells for approximately $750.
The GLX-D6 Guitar system with GLX-D1 body pack and instrument cable (Model GLXD16-Z2, MSRP $561) sells for approximately $450.
These are good prices for digital wireless microphone systems that are paired with high-end microphones. The GLX-D6 guitar system is a fabulous value for wireless guitar that sounds as good as being plugged in and has such a robust feature set.
Contact Information
Shure
www.shure.com