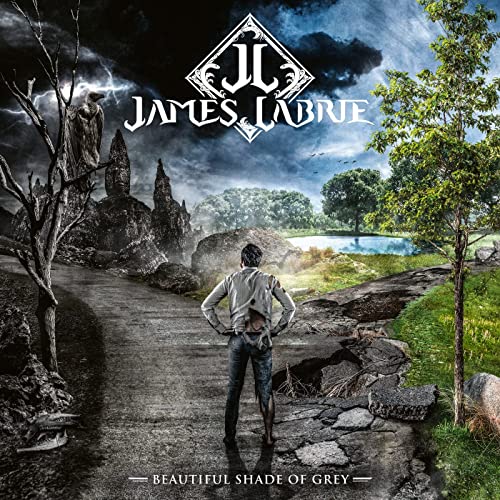 Prepare to be extremely impressed by Beautiful Shade of Grey, the latest solo record from Dream Theater frontman, James LaBrie. On his new album, LaBrie shifts gear from his familiar prog metal lineage and veers off into a decidedly more classic- and acoustic rock-based direction. The result is remarkable, and if you've been feeling like the last few Dream Theater records have adopted a sort of sameness from one release to the next, Beautiful Shade of Grey is going to be a refreshing treat that finds LaBrie really rising to another level as an artist and vocalist.
Beautiful Shade of Grey is a collection of acoustic rock-based songs, and the vibe here is rather unique. Songs like the opening track, "Devil in Drag" rock hard in a classic way, and afterwards, you suddenly realize there wasn't even electric guitar driving the song! The album is full of great surprises and stylistic diversity. It has classic hard rock drive, acoustic ballads, some heavy electric guitar moments, great textural synth layers and melodic leads, and of course, it really shows off LaBrie's vocal talents, not just for belting out powerful lead vocals, but for the extremely interesting vocal harmonies that he crafts. At times, layering some of his metal-minded harmonies over acoustic pieces combine to create really unique and memorable songs. We'll go so far as to say that LaBrie demonstrates such wonderful diversity in his vocals and songwriting here that we don't think he's given nearly enough say in the songwriting process for his primary band. Beautiful Shade of Grey proves that within the context of Dream Theater, LaBrie is particularly under-utilized as a songwriting contributor.
James LaBrie, Beautiful Shade of Grey

Genre:
Hard Rock, Classic Rock
Musicianship:
Songwriting:
Production & Engineering:
Vibe:
Overall Rating:


3.75
The new band on Beautiful Shade of Grey is fabulous. LaBrie's principal songwriting partner here is Eden's Curse bassist Paul Logue, who plays acoustic guitar as well as bass. Acoustic lead guitar work as well as some electric guitar duties are handled once again by longtime LaBrie collaborator, Marco Sfogli. His acoustic lead work showcases the depth of Sfogli's extraordinary talent. Keyboards are handled wonderfully by Eden's Curse keyboardist, Christian Pulkkinen, and drums are performed with a fabulous melodic rock sense by LaBrie's son, Chance LaBrie. Overall, this band lineup delivers superb performances, and we wouldn't change a thing.
In keeping with the overall vibe of the record, LaBrie and company also deliver the finest cover of Led Zeppelin's "Ramble On" that we can recall ever hearing, and it was really interesting hearing an electric guitar driven version of the album's opening track as a set closer. As lifelong Dream Theater fans, we have been fans of LaBrie's output both within that incredible outfit as well as on his fabulous solo records. Fans of lighter Dream Theater material (think Falling Into Infinity, Six Degrees…, Scenes…) as well as fans of Eden's Curse will be right at home with Beautiful Shade of Grey, while it's sure to pick up a range of classic hard rock fans as well. On Beautiful Shade of Grey, LaBrie has done what few artists achieve late in their careers: he took his artistry to another level and delivered something truly fresh and unique sounding. We love it, and hope that LaBrie can find a way to incorporate some of this vibe into future recordings with his other bandmates.
Music Videos to check out on YouTube:
"Devil in Drag"
"Am I Right"