Analog keyboard collection offers otherworldly sounds and is free for new and existing SampleTank 4 users for a limited time
November 21, 2019 - IK Multimedia announces Spaceport '77, the first expansion library for SampleTank 4, IK's newest sound and groove workstation. This collection was designed to give tracks some '70s and '80s sci-fi flavor, made using two keyboards whose names have always sounded suspiciously familiar to fans of a certain galaxy far, far away: the Oberheim® OB-1 synthesizer and the Yamaha® CP-30 electronic piano.
Spaceport '77 For SampleTank 4 - Overview:

This interstellar analog synth and electronic piano collection features sounds from the past, voiced to deliver atmospheric, otherworldly soundscapes, hard-hitting galactic bass tracks and wizard-like celestial leads. Meticulously deep samples of the iconic OB-1 and CP-30 offer classic sounds with true-to-original details to enhance the experience.
A great complement to both the modern synth sounds and classic electric piano sounds already in SampleTank 4's library, this new expansion library adds 100 new instrument presets and 3.9 GB of samples, plus pre-programmed control macros and sound effects.
Expansive tonal possibilities
The combination of the CP-30 and OB-1 creates spacious and timeless tonal possibilities. Electric piano, clavichord and harpsichord timbres from the CP-30 combine with the analog oscillators and filters of the OB-1 layered in as dimensional pads and evolving sweeps. SampleTank 4's onboard filters extend the color palette even further, complemented by its expansive reverbs, otherworldly chorus and phasing effects, with audiophile EQ and compression for a high-end, cinematic sound.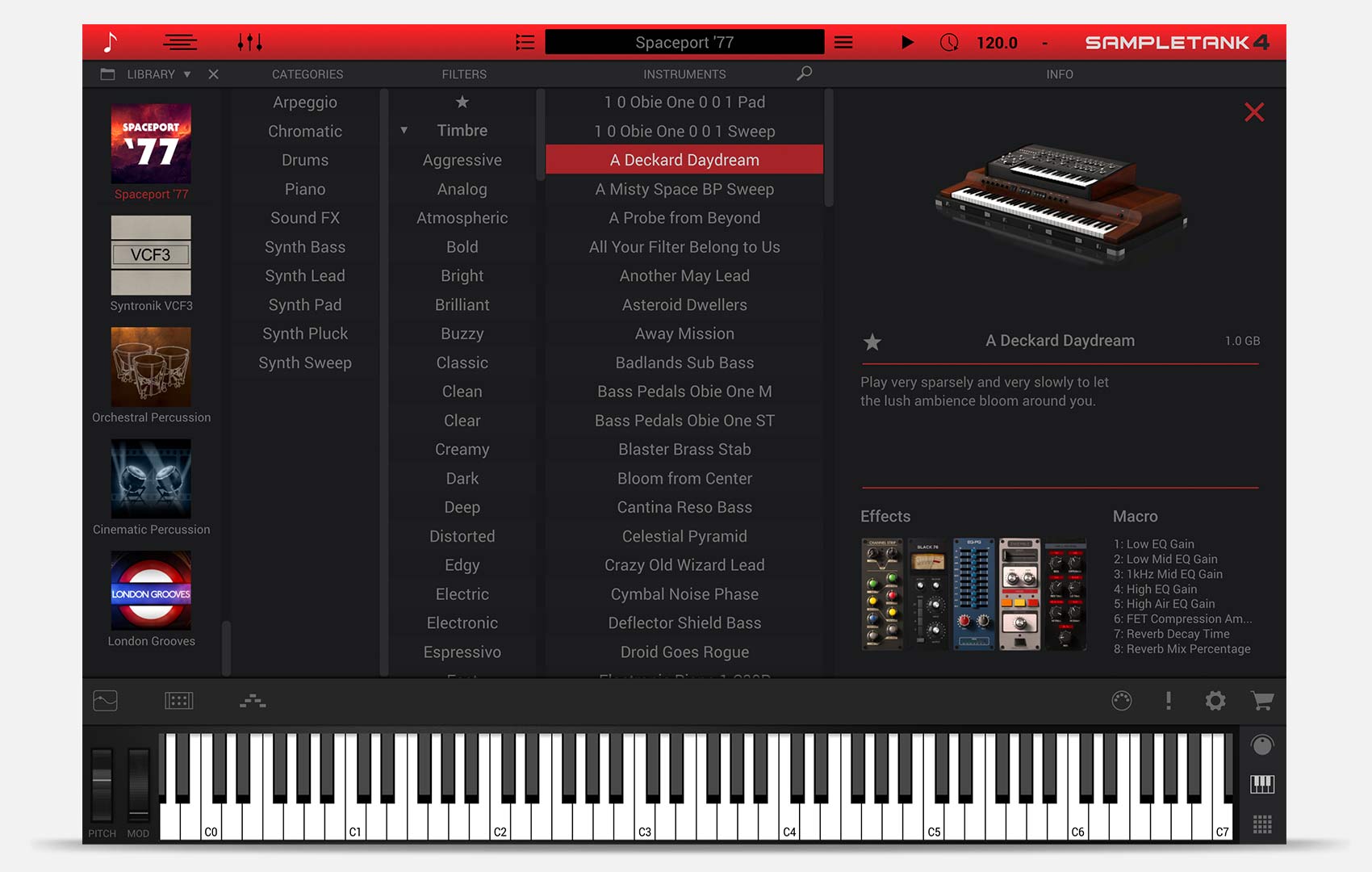 OB-1
Spaceport '77 captures the essence of the Oberheim OB-1 monophonic analog synthesizer, designed and manufactured in the late '70s. The OB-1 signal path begins with two discrete oscillators and suboscillators, along with a noise generator. Discrete lowpass filter options include 12dB or 24dB per octave, for both the classic Oberheim 2-pole filter sound and the legendary Minimoog 4-pole filter sound. SampleTank filters can be applied as well.
CP-30
The Yamaha CP-30 is an electronic piano from 1976 that uses analog synthesis for its sound generation. Spaceport '77 includes sound selections that simulate the CP-30 Decay control knob being used to simultaneously adjust attack and decay parameters in a way that's similar to a regular synthesizer's ADSR envelope. Two tone-generation systems are also featured, with a choice of independent fine tuning and decay control to create animated electric piano, clavinet and harpsichord sounds complete with their rich character.
About SampleTank 4
Available for Mac/PC and iPad/iPhone, SampleTank 4 was designed from the ground up to be every musician's "go to" music creation workstation. It offers a massively expanded sample library (up to 8,000 sounds across 260 GB of samples) and a completely redesigned, scalable/zoomable interface. A new cutting-edge sound engine offers efficient hard-disk streaming and advanced sound design/editing possibilities.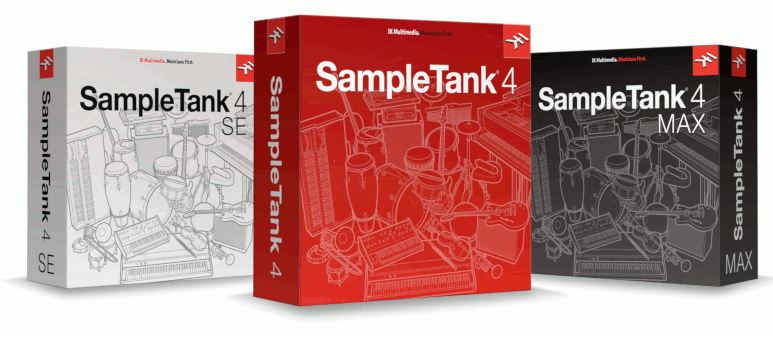 The library and sound engine are complemented by innovative dynamic groove "players" (arpeggiator, strummer, pattern and loop player), 13 new effects (for a total of 70), a powerful new Mix window and powerful integration with IK's iRig Keys I/O line. In addition, a re-designed Live mode makes it easier than ever to hit the stage with fingertip-ready controls for live performance and the ability to build an entire set list and create song presets.
Price and availability: Spaceport '77 is available for free to all new and existing SampleTank 4 users via direct download from now through December 31, 2019 (regular price will be $/€79.99*).
For more information, please visit www.ikmultimedia.com/stspaceport77
*All prices excluding taxes