We have been covering Arturia products from the very beginning, starting with the JP-8V 1.0 in 2007, which was (and still is) a great virtual incarnation of the Roland Jupiter-8 synth, more than a decade before Roland got around to releasing their own version. Since then, Arturia has grown their virtual synth collection massively, and our last review of the collection, V Collection 7, came out just a little bit over a year ago. For details about the new keyboards added to that collection, check out our V Collection 7 review here.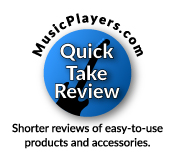 As far as our keyboard editors are concerned, the V Collection is basically a must-have for synth lovers thanks to the variety and quality of its vintage digital and analog synth re-creations, and in many cases with additional features the original hardware never had.
As usual for Arturia, they have upped the ante with their latest release, V Collection 8. This collection features 28 software instruments (four new additions since the previous release) and a number of workflow improvements and updates. For this review, we will focus primarily on what's new in V Collection 8.
Category

Value

Rating

Features

20%

Usability

25%

Sound

25%

Documentation & Support

10%

Price

20%

OVERALL RATING = 3.6 Stars, which earns it a
WIHO Award!


3.6 stars or better: Outstanding, WIHO Award




3 stars or better: Worth considering




2 stars or better: Suited to specific needs




1 star or less: Not recommended
There are four new synths in V Collection 8 that were not present in V Collection 7. They are: Jun-6 V, Emulator II V, Vocoder V, and the OB-Xa V. Additionally, two other synths that were present in previous versions of the Collection have been upgraded to new versions: the Jup-8 V4, and the Stage 73 V2. Since Analog Lab contains all of the Collection's presets in one plug-in, it has also been updated to include the new synths that are present. Even better, Arturia has added an additional 700 presets in the form of a new soundbank called Patchworks.
Arturia didn't stop there. There are changes to the interface to improve workflow.  For example, when running Analog lab, and on the "Library" screen, this has been rearranged and redesigned. Gone is the graphic representation of the Keylab keyboard controls, and instead you have graphic representations as several tiered bands across the screen. Across the top you have of all the different synths to choose from, followed by type of sound, sound banks, and finally sound designers (people) respectively. This may seem less glamorous than an additional new synth, but it actually improves workflow by putting more information on the screen simultaneously.  Clicking on the Studio button at the upper left brings up the effects screen, and clicking on the Stage button allows you to create what Arturia calls a Playlist. This is essentially a bank you can create of your favorite sounds, which is very handy for live playing where you can make a set list of your sounds in the order you want.
Another workflow change is courtesy of the Advanced and FX buttons added to the top right of the screen. For example, on the Stage 73, there used to be an arrow button which would bring up small additional controls (i.e., velocity curves and effects) superimposed on the graphic representation of the Rhodes piano itself. Now, there are dedicated buttons which bring up dedicated screens for these, which is quite welcome! The dedicated space makes the settings/graphics larger and easier to use and adjust.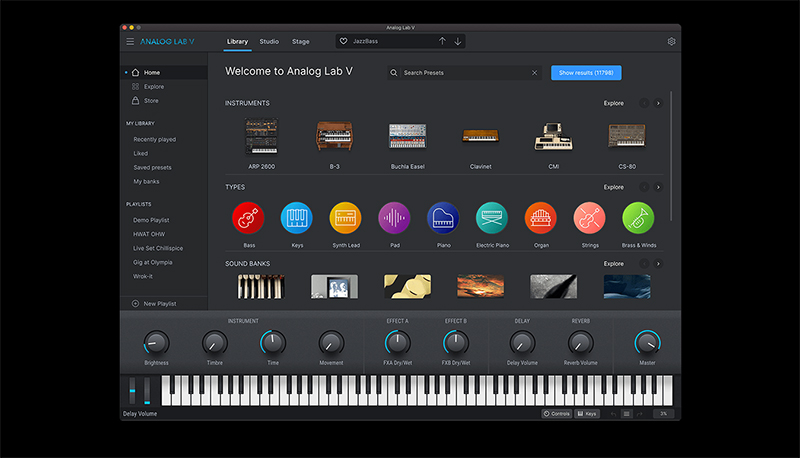 So what about the other new and upgraded synths?  One by one: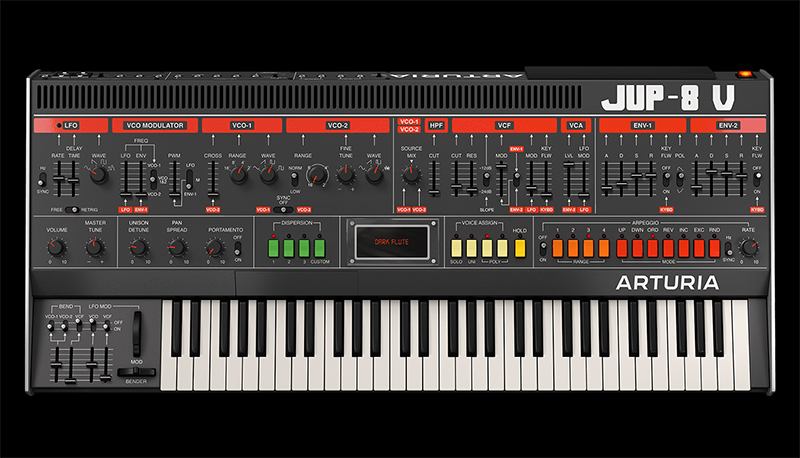 The Jupiter 8V has now been upgraded to version 4. Arturia apparently has completely redone the sound engine in an effort to better emulate the sound of a real Jupiter. Compared to version 3, some of the controls have been moved (i.e. the arpeggiator), and the pull down preset menu looks similar to what you find in the new Analog Lab. There are some additional controls for the arpeggiator, too. The sequence "Rio Sequence" caught our eye, and as you can guess, it's the bubbly arp from Duran Duran's '80s hit.  Similar to Analog Lab, the top-right arrow button in the GUI has been replaced by an "Advanced" button, which brings up another panel to adjust synth parameters, including modulations, the sequencer, effects, and keyboard. This is a noticeable difference from version 3, and Arturia has done quite a bit of beefing up here. We think most players will appreciate the improved control and easier to use functions.  While we own many vintage and modern Roland synths, we have never owned a real Jupiter-8, though we know the sound. So while we can't A/B the plugin with the real thing, we do think V4 sounds better than V3, and there are more/additional presets too. Good stuff.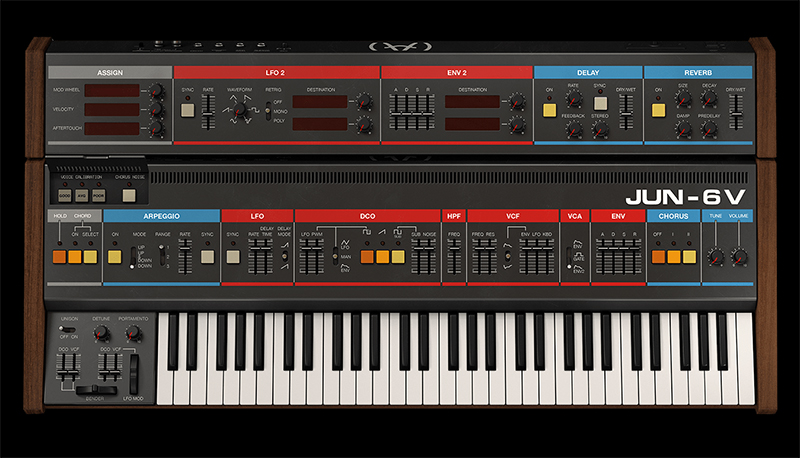 The Jun-6V is a virtual recreation of the Roland Juno-6. Although many may know the Juno-106 better (we have one in our studio, purchased in 1985) the Juno-6 is what started it all, and has a similar design as the Juno-106, with digitally controlled oscillators and a chorus effect section (a big part of the sound), but minus the memory locations and MIDI. The Juno-6 did have, however, an arpeggiator. All this is recreated in the plug-in. Besides the expected front panel controls, at the top left is voice calibration panel, allowing you to dial in some analog detuning that was common at that time. Clicking on the Advanced button gives you a few additional controls such as aftertouch, velocity, and mod wheel assignments, LFO and ENV 2 controls, and delay and reverb effects.  Like the original Juno series, it was all about simplicity and we think that is well captured here. We couldn't resist the temptation, so we fired up our Juno-106 to compare. While similar, it isn't an exact comparison, but we were impressed that with minor tweaking, the Jun-6V sounded remarkably close to our hardware. In a mix, you wouldn't know the difference. Overall, Arturia did a nice job with this, and we suspect will be a viable alternate option to Roland's offering of their Juno-106 plugin.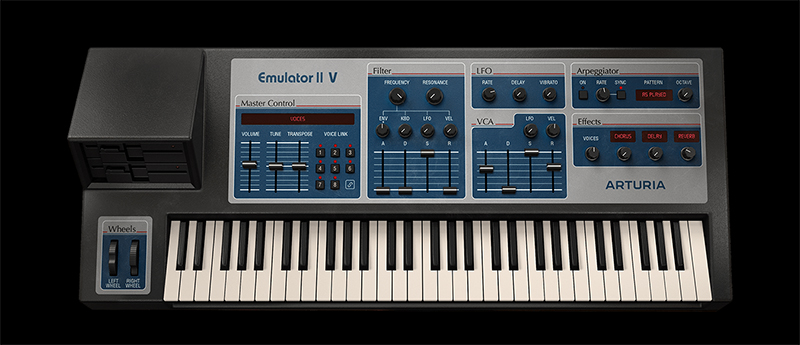 Next up is the Emulator II V. For those not around when this was originally available, the E-Mu was a keyboard workstation that enabled you to sample sounds—in 8-bit glory—and load/save them to a 5.25-inch floppy drive! The original Emulator was released in 1981, and the Emulator II was released in 1984. Though priced between $8-10,000 USD, it was considered a good value compared to the competition, considering a Fairlight CMI was about $30,000 USD at the time! You will find Emulator sounds used by pretty much everyone in the '80s from Stevie Wonder to Front 242, Depeche Mode, New Order, ABC, Genesis, Paul McCartney, David Bowie, Herbie Hancock, Vangelis, Tangerine Dream, Jean-Michel Jarre, Yes, OMD, and many others.
The front panel GUI is fairly basic, with simple controls for the LFO, VCA, Arpeggiator, and effects. However, for those going beyond presets, clicking on the Screen button at the top right brings up the "computer monitor" panel, which allows for sample editing and manipulation, including looping, transposing, and so on. There can be multiple samples triggered simultaneously and you can assign them across the keyboard as splits and layers or individually like mapping out a drum kit. You can add up to three effects as well. Of note, despite the older, 8-bit technology in the original hardware, thanks to the use of digital companding and a 27.7 kHz sample rate, the Emulator II sounded quite good for its time. Hence its enduring popularity.
There are a lot of presets and samples included, and we loved the "Shakuhachi" preset -it's the opening sound of Peter Gabriel's "Sledghammer." Many eons ago we played this song regularly as part of our set list, and playing a suitable sound back in 1990 was a little bit of a challenge without having an actual Emulator at the time. This is THE sound, and it sounds great! There are other great sounds, of course, and if you listen closely, you should be able to pick out presets used on hits from that time [Tip: check out the "Marcato Strings," "In The Air Today," and "Dark Celebration" presets].  Great stuff in this virtual instrument, but those who like to tweak will enjoy loading your own samples and/or editing the samples already provided.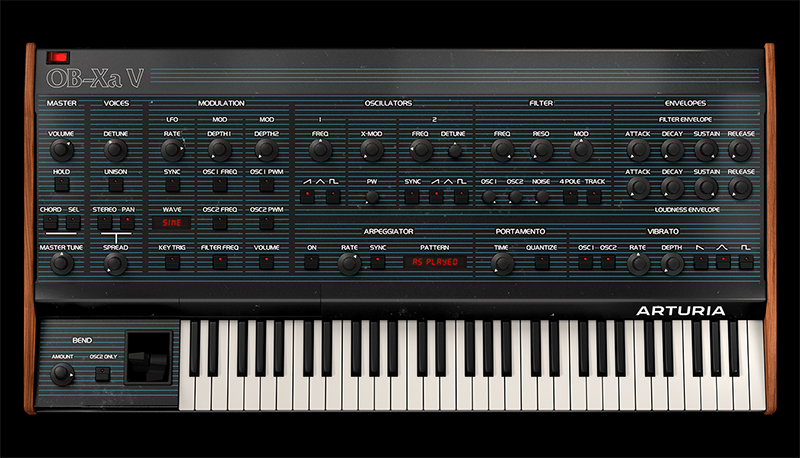 The OB Xa V is the next synth we will discuss. Technically speaking, this was released independently and earlier than the V Collection 8, which was somewhat unusual for Arturia. However, while it was not part of the V Collection 7, it is now included as part of V Collection 8.
Oberheim's OB series started with the OB-X in 1979, and it followed the SEM series. The OB-X was followed by the OB-Xa, and finally, the OB-8. Each synth added features, though in some cases, features were also removed (i.e., cross modulation in the OB-X but not in the OB-Xa).
As is typical for Arturia, there are features in the OB-Xa V plug-in the original OB-Xa hardware synth didn't have. In fact, in some ways, the plug-in is a hybrid of the OB-X, OB-Xa, and the OB-8. For example, there is inclusion of a triangle wave in the oscillator section, something that wasn't available until the release of the OB-8.
The blue pinstripe GUI virtual keyboard will certainly look familiar to most, and pressing the Advanced button on the top right brings up a modulation matrix and effects section. Some might argue that this is be the biggest extension of the original OB-Xa's capabilities, as the original didn't have this—and they may have a point. While you're undoubtedly familiar with Van Halen's 1984 hit, "Jump," that featured an OB-Xa, the OB series is much more capable than that sound. And yes, the "Jump" sound is an included preset, though to our ears, it sounded a bit thin until the chorus effect was adjusted (which is likely how it was recorded anyway).
Just to round out the details further, you get up to 16-voice polyphony (the original synths had eight), over 400 presets, and nine built-in effects (up to three simultaneously). The presets overall were very good, and certainly quite a few were recognizable from Van Halen, Prince, and Human League hits that featured Oberheim synths. We thought overall the plug-in was solid, though we did think some of the presets could have had a little more punch to them (which was usually addressable through some tweaking).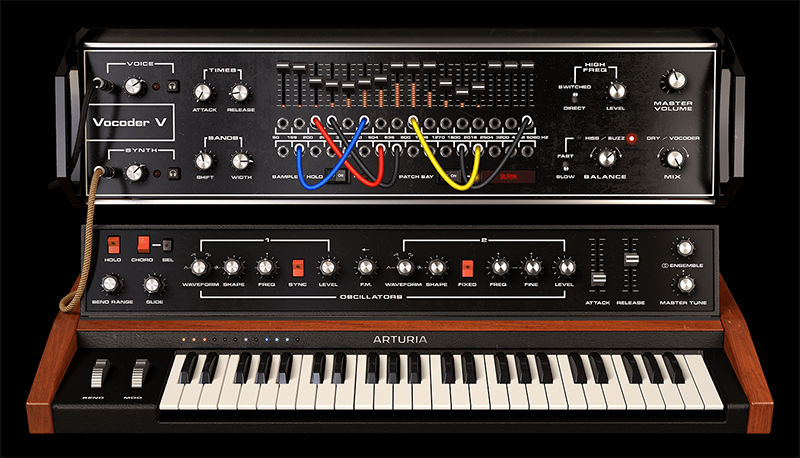 Finally, the Vocoder V rounds it all out. Originally created in the '60s to process and analyze the human voice to reduce bandwith consumption during broadcast, it was eventually determined that a vocoder could be used in a musical way. Many manufacturers created vocoders, and Arturia's is based on Moog's classic Vocoder that was released in 1979. It's great if you're after robotic and harmonized textures like you might hear today on a Daft Punk record. The original Vocoder required a separate external synth to process your voice, but rest assured, this is not needed in the virtual world!
This can function as a sample player, too, and there are many presets to get you going. Some are drum loops, some are specific spoken words, some are synth sounds… but perhaps the real fun is using the plug-in to use your vocal input in real time. Just set the input source (i.e., your interface), start singing, and you'll be up all night to get lucky. The 16-band patch bank has a number of presets you can use as well to help adjust your sound.
One thing we did want to point out, however. As per Arturia, the Voice Input section controls the external signal coming from a DAW's track, or an audio interface's mic input in standalone mode. Therefore, currently, you can't directly record a vocoded track into most DAWs. Hopefully this will be addressed in the future.
In short, the V Collection continues to add value while losing nothing. We stand by our earlier comments that this collection belongs in any studio, and the new synths are great. Arturia continues to not only add, but just as importantly, refine the collection, both in terms of sound and workflow. After all, who doesn't like saving time? Speaking of saving time, complete user manuals are built right into each plug-in, which is a useful detail.
The Arturia V Collection 8 sells online for $599 USD, and Arturia now has a few payment plans available on their website which provide up to four months to pay the total amount. We're almost surprised they haven't introduced a subscription plan like (seemingly) everyone else, but you get to keep what you purchase. Those who have Version 7 can upgrade for $200. While this may seem a bit pricey, keep in mind you are getting 28 synthesizers with over 10,000 presets. If you're looking for a great way to add vintage synths to your studio without the hassles of maintaining older equipment, this is one collection you can't go wrong with.
Contact Information
Arturia
www.arturia.com