We Came From Space, Reasons in the Rhyme
Genre:
Prog Rock, Neo-Prog
Musicianship:
Songwriting:
Production & Engineering:
Vibe:
Overall Rating:
3.75
What do you get when you combine the vibe of Drama-era Yes with Triumph, Marillion, Asia, and Neal Morse? You get the fantastic, extremely musical, neo-progressive rock band, We Came From Space. Their new EP, Reasons in the Rhyme, is a follow-up to their full-length debut, While You Were Away, and it will have you begging to hear more from this fabulous quartet that features Neal Morse Band keyboard player, Bill Hubauer, along with guitarist/vocalist Dave Buzard, bassist Dave Hawk, and drummer Tim Malone.
With just three tracks clocking in at barely past the 20:00 mark, Reasons in the Rhyme almost doesn't count as a full EP, but from the opening Geoff Downes-inspired piano riff of "Façade," we knew we were in for a treat. The songs are full of rich melodies, both in the instrumental presentation and in the vocals.
Unlike other prog bands that delve into long and unwieldy musical excursions, these guys follow the neo-prog playbook and keeps things focused on vocal-driven songwriting, for which Dave Buzard's tenor voice is well suited, and which is backed up by the rest of the band on classic multi-part harmonies. I tried avoiding the name, Spock's Beard, but yes, I hear a bit of them in the harmonies to be sure.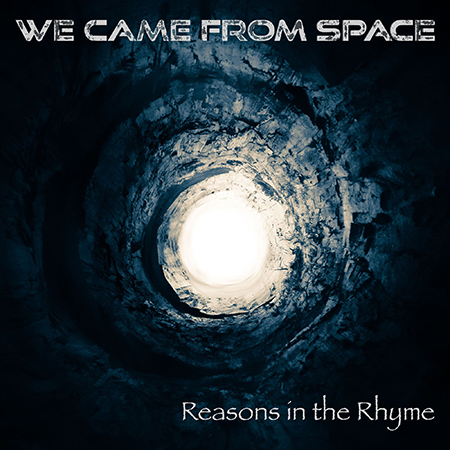 On the middle track, "Seize the Day," fans of the Neal Morse Band will immediately notice that Bill takes the lead vocal spot here. Unlike his predominantly vintage style of piano and organ play with NMB, Bill really gets to branch out within his own group. Piano abounds throughout the music, but Bill brings in a ton of other synth elements ranging from familiar prog classics. Of course the Mellotron just had to make at least one brief appearance in order to certify the record as prog, and yes, there is some ripping organ playing a much more minimal, but supporting, role. But there are also more contemporary sounds blended with some classic arpeggiator-based sequences as well. He also lets loose a number of great synth solos throughout the songs, and the parts are always melodic and never pointlessly self-indulgent. Bill seems to draw musical inspiration from artists like Peter Gabriel, Tony Banks, Tony Kaye, and the aforementioned Downes throughout these songs, yet We Came From Space do a great job of not sounding like a clone of their influences.
Dave's guitar work is just what the songs call for, with appropriately folky and classic rock-y rhythms and soaring melodies that bring to mind the likes of Marillion's Steve Rothery and Asia/GTR-era Steve Howe. Bassist Dave Hawk is just fantastic, and fans of his obvious biggest influence, Chris Squire, won't be disappointed by the wicked bass lines that spring up in just the right places. Drummer Tim Malone anchors it all beautifully in that Alan White/Nick D'Virgilio way, where they play tasteful grooves, fills, and embellishments in service to the song instead of on top of it.
The album closer, "Take You For the Ride" begins with a vintage '70s space rock vibe that morphs into something you might have heard from Triumph before channeling some classic Peter Gabriel. These guys could probably lay down a wicked cover of "Magic Power."
We're now going back to absorb the band's first record, While You Were Away, because these guys are an undiscovered gem in the melodic progressive rock space. Love it!
Listen to the new EP, Reasons in the Rhyme, in its entirety, at this Bandcamp link, and then do what you can to support this great band!