The video looper pedal lets users manage video controls while keeping their hands on the instrument
ANAHEIM, CALIFORNIA — January 2, 2020 — Utility Design has debuted the UD Vidami, a hands-free video looper pedal that integrates with YouTube and other online video players. Vidami helps users learn to play guitar by keeping their hands on the instrument and off the mouse for video controls, including pause, rewind and fast-forward. The controller can also loop user defined sections as well as slow the video down to four selectable speeds. Utility Design will display the new Vidami at Booth 1946 during the 2020 NAMM Show in Hall E- Innovator Showcase.
The Vidami represents the next generation of UD's original product the Rep pedal, which has been recommended by top YouTube guitar instructors, including Marty Schwartz, Tim Pierce and Steve Stine. Vidami easily connects to a computer via USB and uses the Vidami Chrome extension to control YouTube and other online video platforms. This makes it easier for players to stay engaged and inspired without having to take their hands off the guitar.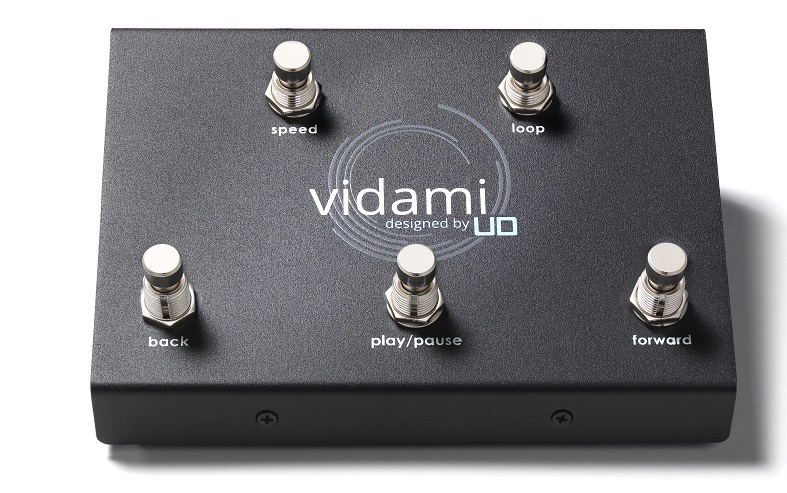 "A recent study by Fender showed that 90% of first-time guitar players give up after the first year. With the Vidami, we are out to change that," said Amy Hayashi-Jones, co-founder and CEO of Utility Design. "By freeing up your hands, Vidami keeps players focused and motivated while minimizing interruptions and distractions."
Revolutionize Your Learning
Vidami is ideal for not only beginning players, but guitarists of all skill levels who are looking to improve their playing via online videos.
Easy to use, the Vidami features five clearly labeled switches that allow players to control play/pause, rewind, fast-forward, slow down tempo and loop functions. Holding the play switch down clears all previously selected functions, while holding the rewind switch down moves playback to the beginning of the video.
"Designed by our family of musicians, Vidami is the tool we wanted and needed when learning guitar, so we decided to build it and share with everyone," Hayashi-Jones said.
For more information on Utility Design and Vidami, please visit www.utility.design.
About Utility Design
Founded in early 2019, Utility Design is a family-run business based in Thousand Oaks, California, with a mission to help more people learn to make music. It's debut product, Vidami, is a hands-free video looper pedal that enables users to speed up, slow down, loop and pause online guitar tutorial videos — keeping their hands on the guitar and off the mouse.