The rock and '80s pop fandom world mourned the passing of The Outfield's guitarist, John Spinks, back in 2014, which brought that classic pop rock band to an official end. But time heals, and the summer of 2018 treats us to the first solo record from The Outfield singer/bassist, Tony Lewis. This is a gem of a release, picking right up where The Outfield might have otherwise continued, and if Josie's on a vacation far away, she's probably kicking back on the beach, earbuds in, bopping to the sound of the aptly titled, Out of the Darkness.
Tony Lewis, Out of the Darkness
Genre:
Melodic rock, Pop rock
Musicianship:
3.5
Songwriting:
3.5
Production & Engineering:
3.5
Vibe:
4.0
Overall Rating:

3.63
From the opening track, "Into the Light," we're immediately hooked by the classic Outfield vibe: chugging guitar riffs, driving bass line, big drums, and Tony's fabulous tenor voice, which doesn't seem to have aged one bit. Lewis was pretty busy with this release, playing guitars, bass, keys, and programming most of the drums.
There's a great, fresh, sense of release and a bit of urgency on this record, with a vibe that is closest to the band's debut classic, Play Deep, while the songwriting leans a bit more towards Diamond Days. As always, there are fantastic vocal harmonies throughout, and the "other" signature guitar tone (aside from the rock grooves) is on display: clean, jangly tones with great stereo delay syncopations, like on the classic sounding ballad, "Loving You."
The occasional Beatles influence heard on many of the band's previous releases are found on Lewis' solo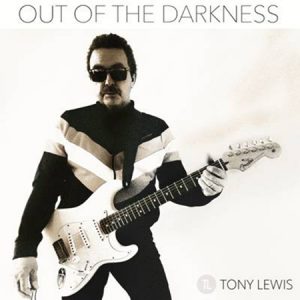 outing as well. And while most of the record is rooted in the past, we also really enjoy the places where Lewis branches out and embraces other newer influences.
Out of the Darkness doesn't break any new ground, but it is a welcome, feel good release full of happy vibes that is sure to bring a smile to the faces of this artist's loyal and enduring fan base. We're certainly happy to find Lewis emerging from the darkness. Read our in-depth conversation with Tony Lewis here!
Stand Out Tracks:
Here and Now
Melt the Ice
Think that You Know Me