The Lickerish Quartet, Threesome Vol. 1
Genre:
Pop, Alt Rock
Musicianship:
Songwriting:
Production & Engineering:
Vibe:
Overall Rating:
Get ready to celebrate the much-needed antidote to pandemic blues, as The Lickerish Quartet are here to satisfy your unwavering need for new Jellyfish music with their debut EP, Threesome Vol. 1. What? Jellyfish? Did I just read that correctly? Call Sarah immediately!
The MusicPlayers.com audience is made up of  serious musicians and recording professionals, and the early '90s group, Jellyfish, is no stranger to many of you. The band's 1990's breakthrough, Bellybutton, and 1993's Spilt Milk are required listening for pop music songwriters and fans of artists like Queen, The Beatles, Supertramp, and the Beach Boys. If you are coming late to the table and are first learning about Jellyfish now, go immerse yourself in those two records, which are nearly as iconic as the first two Giant records (different audience, but same serious musician worship).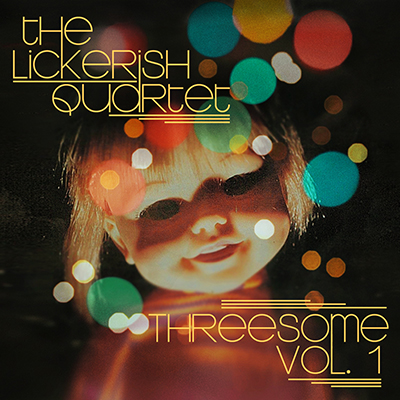 At a time when hair bands ruled the radio and were unceremoneously replaced by grunge, along came a band that seemingly awoke from 20 years of hibernation, misplaced in time and space, and while they did sell a few hundred thousand records, the band never received critical accolades until years later, when smart music fans recognized the brilliance of their musical output. Hardcore fans of that musical powerhouse have been following all of the bands and solo projects that came after, as members of Jellyfish went on to form Imperial Drag, play with Ringo Starr, Beck, Alice Cooper and more.
So what do we have today? In the Lickerish Quartet, we have the reunion of keyboardist Roger Joseph Manning Jr., guitarist Eric Dover, and bassist Tim Smith. All share vocal duties, and you'd be forgiven for not really knowing who sings what, or when. And yes, the humor is not lost upon us that the Lickerish Quartet are really a power trio, though they are accompanied by drummer Jeremy Stacey here in lieu of original Jellyfish drummer/vocalist Andy Sturmer—which is why this sounds a lot like a Jellyfish record but rightfully can't be called a Jellyfish record. As to the true origin of the band's whimsical name, we'll leave it to you to research.
Half of you have already gone to the amazon pre-order page (link below) without needing to read further, but let's cut to the good news: these guys have recorded eight additional tracks thus far, and have plans to release another two EPs in short order. Of course, having been listening to the first four tracks that comprise Threesome Vol. 1, we're already desperate for more, because these tracks are dreamy good! The songs cover a variety of classic pop styles from a time when you didn't have to clarify that pop was actually a form of rock music, with a heavy dose of '70s vibe and incredible vocal harmonies draped over jangly electric guitars, folky acoustics, vintage keyboards, and bass grooves that can only be called… exceptional.
The success of great pop music comes from the element of surprise, and these guys are great at never giving you the same old, boring, thing you'd expect. For example, if one person is playing a simple singer/songwriter part, the others will do everything possible to not also play the same kind of part, or not play the expected instrument or sound in support of the part. The end result is easy to digest, instantly familiar, but never boring nor mundane. Of course with an EP that opens with a song about fadoodling, how could this musical journey be anything less than a joyride? Dare we say it's neither too much, too little, nor too late?
During this period of self-isolation, we had a chance to Skype with Roger and Eric about the new Lickerish Quartet release. So go ahead, kick back, and baptize the baby in whiskey and licorice. And, order this wonderful EP, due to be released May 15, 2020.