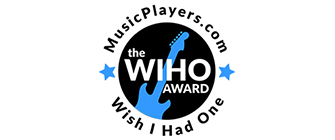 EastWest (EW) has been making notable sample libraries for quite some time. Their Hollywood Orchestra series has become quite popular in composer and movie-scoring circles, and now EW has upped the ante with their new Hollywood Orchestra Opus Edition. Featuring brand new recordings in addition to their already well-established library, new sounds are only part of the picture. The sample player, Play, has been supplanted by a new host application, Opus, and additionally, you also get the Hollywood Orchestrator, essentially a plug-in within a plug-in, that makes it easy to create convincing, rich-sounding scores. There's a lot to like, here!
Category

Value

Rating

Features

20%

Usability

25%

Sound

25%

Documentation & Support

10%

Price

20%

OVERALL RATING = 3.7 Stars, which earns it a
WIHO Award!


3.6 stars or better: Outstanding, WIHO Award




3 stars or better: Worth considering




2 stars or better: Suited to specific needs




1 star or less: Not recommended 
Features
The Hollywood Orchestra series, as mentioned earlier, has been around for a bit and is already well-regarded. The Opus version incorporates three new things: 1) Opus, the new sample player that essentially replaces the previous Play sample player (but Play is still available for use for those who want to use it; older libraries appear in both players); 2) new samples, and 3) the orchestrator, which is an inseparable part of Opus Hollywood Orchestra.
Starting with Opus, you'll notice some similarities in the appearance. However, there are performance improvements, and patches seem to load faster than in the older Play host. You can audition patches by clicking their names in the browser (they appear on the right-most column once you have picked your library choice), create your own keyswitches and articulation sets, and adjust (edit) patches and mic positions.
There are four headings mid-screen that organize the things you can do into sections.  The Browse tab shows the available libraries you have installed, and once a library is chosen, the available presets are displayed. The Play section contains graphical controls for sensitivity, MIDI Controls, Envelope, tuning, microphones, performance parameters such as portamento and legato, and a neat "Mood" button (more below).
The Perform button is where you can set up zones and key ranges for your instruments, including zoning for program changes and modulation.
The Mix section is a mixer and effects section. Pressing on the "+" button on this screen brings up a list of effects, which is remarkably robust, including SSL channel strips, reverbs, distortions, modulations, EQ, Dynamics, Bit Crusher, and Harmonic effects—just to name a few! We applaud the inclusion of all these, as you can transform your typical orchestral piece into something wild and really bring out your best inner Tina Guo (talented cellist who goes beyond classical music and has done some very modern recordings, including the God of War videogame series).
Opus enables you to load multiple patches simultaneously and assign each one to its own MIDI channel. All loaded instruments are displayed in the built‑in mixer. The "Moods" button (on the Play section) allows you to choose presets which load different mic positions and reverb types to give you a choice of standard (classic), subdued (soft) and bright (epic) tonal settings. A nice touch is that each mood setting changes the highlighted colors from blue to yellow to red.  Also available are several MIDI tools including an arpeggiator, chord generator, pitch glide, MIDI echo, and MIDI file recorder.
Moving on to the sample libraries themselves, there are new samples that add to the already established Hollywood Orchestra series.  Starting with the strings, there is a new section of 18 first violins, added to expand upon the previous version's 16 first violins. With different players, instruments, and playing techniques, the idea was to create variety, either by themselves or used in conjunction with the previous set. Several playing techniques have been captured, and these include accented sustains, staccato runs, 16th‑note repetitions, fast repeated pizzicato plucks, and quiet hits.
As for the woodwinds, there are new trio recordings: sections of three flutes, three clarinets, and three bassoons. Included are both legato and staccato rhythm patterns. Using mic positioning and effects, these can be made to sound like in an orchestra hall or more up close and personal.
The brass instruments also have new additions in the form of sections of two trombones and two trumpets. These new recordings reflect an assortment of dynamics and articulations, including mellow to raspy tones and cool rhythmic passages.
The third part of Opus Hollywood Orchestra, and arguably the coolest part, is the Orchestrator. Within Opus, it is selectable as a library, but technically it is not a library itself. Rather, it uses all of the Hollywood Orchestra samples to create some amazing results. An example of this screen is as below: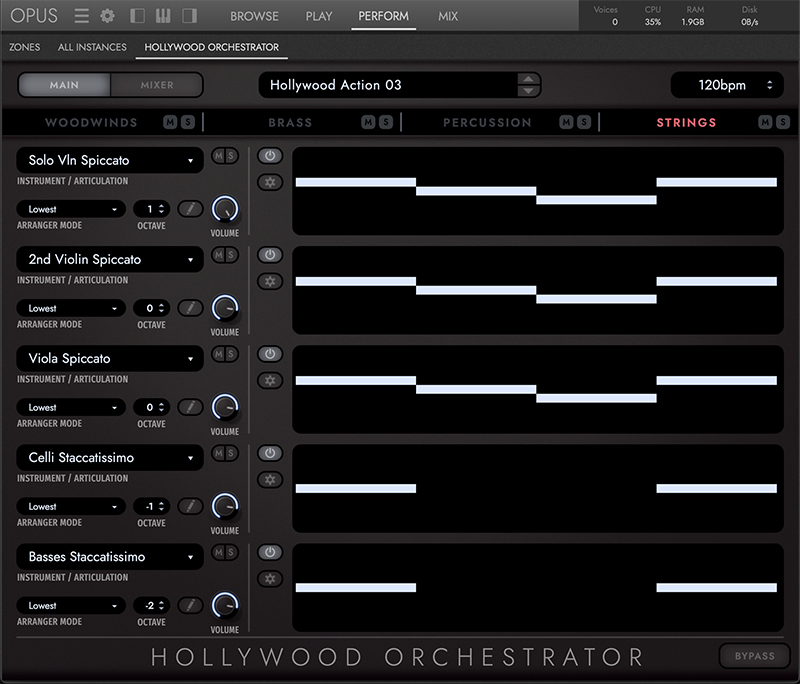 Across the top are the sections of woodwinds, brass, percussion, and strings. Clicking on one of these pulls up choices on the left side of the screen to choose which instruments you would like to use, pulling from all the Hollywood orchestra libraries you have installed. In this fashion, you can create your own personalized orchestra. However, for those who like instant gratification (and, who doesn't?), in the upper center you can choose one of over 500 presets! Choosing one of these garners some amazing results, even with just playing a few simple chords and moving the modulation wheel. Imagine if really good orchestra samples and KARMA technology had a baby… well, that's perhaps not quite it exactly, but the idea is that your playing triggers dynamics, rhythms, and movement. It's really very cool!  Newcomers to orchestrating will like how quickly you can grab a preset to make a full sounding orchestra, and producers will also like how choosing a preset gives you instantaneous movie scoring sound. EastWest has this to say about the Orchestrator:
"At the heart of Hollywood Orchestrator is our innovative Scoring Engine, which can produce results ranging from a basic string arrangement, to very complex orchestrations played by the full orchestra. It achieves this in a two-step process by first modifying the MIDI input with a Note Selection process, then sending those note selections to a powerful Step Sequencer where chords are played with the programmed rhythms. If you want to take things a step further, you can optionally activate our step sequencers. Each slot has one of them. They take whatever the note selection process outputs and manipulate that. If you program a rhythmic pattern into the sequencers and play a C-Major chord, the sequencers will take the notes from the note selection and play the chord with that rhythm."
Our take: it sounds great and is fun to play!
Now, for some of the nitty gritty. A minimum system recommended is a quad-core CPU running at at lease 2.7GHz with 16 GB of memory. An SSD or NVMe drive is also recommended.
What about disk space? It depends on the version you purchased (which is tied to your Composercloud subscription). As per EastWest:
EastWest Hollywood Orchestra Opus Edition is:
 A collection of 1,807 instruments (Diamond)
A collection of 1,259 instruments (Gold)
The Hollywood Orchestrator scoring engine, with over 500 presets
Approximately 944 Gigabytes (GB) of 24-bit, 44.1 kHz samples (Diamond)
Approximately 130 Gigabytes (GB) of 16-bit, 44.1 kHz samples (Gold)
Approximately 242 Gigabytes (GB) of 16-bit, 44.1 kHz samples (GoldX)
 Obviously, the more numerous and higher bit rate the samples are, the more disk space you will need!
Usability
Installing is a multi-step process, but not overly difficult. You will need an iLok account for licensing, and happily, just an account is needed. A physical hardware iLok is not required. After our license was registered in our iLok account, we first download the EW Installation Center application. Once this was launched, we next downloaded and installed the EW Opus and Product Support software that was available at the top of the Installation Center. Once that was done, we could download our various sample libraries. This can be a little confusing if you have access to multiple levels (i.e., Gold, GoldX, and Opus libraries may all appear), but if you have the disk space, go for the top level (Diamond!) of each one. This took a little bit of time, but thankfully EW uses an automated system of downloading the .rar segments one by one and then recombines the libraries. In fact, earlier parts of this review were written while final sample libraries were being downloaded!
Those familiar with the EW sample player, Play, should feel quite at home, but even those unfamiliar should be able to get their way around pretty easily with a familiar left-to-right hierarchy of navigation, eventually arriving at a choice of presets to select.  Clicking on a preset plays an example of it, too, which we found to be a useful touch. Key ranges of the selected instrument are shown on the graphical keyboard at the bottom of the interface.
We also appreciated that the names of the instrument presets are generally well-labelled and not cryptic. When dealing with so many samples, this detail is quite welcome.
In general, we thought Opus was well designed and thought out, though a small request might be to replace the three dots on the MIDI Tool page with an "Add MIDI Tool" button. Clearly just a minor annoyance, but players who tend to avoid reading manuals would find this useful.
The Orchestrator was fairly straightforward in use, too. Choose a section, choose the instruments you want to place in the section, then repeat for the other sections. They are automatically set up so that the voicings are correct. For example, the first slot of strings is for a violin choice, the second slot is for a viola choice, the third for a cello choice, and so on. You can also assign which octave each instrument is assigned to. Even composers without any experience can build a nice sounding, custom orchestra, while experienced artists will simply benefit from the fast workflow.
In the Orchestrator's performance window, you can pull up the arranger window, which essentially is a step arranger for each instrument slot. With 16 slots for the different instruments, this allows you to easily create very complex and custom arrangements!
Getting back to the instant gratification mentioned earlier, the presets in the Orchestrator are really something special. In addition to the instruments being recorded at the legendary EastWest Studios, the folks involved in this software creation are no slouches either.  Shawn Murphy, Thomas Bergersen, Doug Rogers, and Nick Phoenix have a long and impressive list of credentials individually, and between them bring a wealth of knowledge and practical music experience. Ever heard the soundtracks for Star Trek, Harry Potter, Star Wars, Terminator, Lord of the Rings, Jurassic Park, The Dark Knight, or Spiderman? It's these guys.
So, it should then be no surprise some of the Orchestrator presets are derived from those classics.  Using whimsical names including "Elves World," "Dark Hero," "Black Knight," and "Red Spider," to name a few, there's a lot of dynamic content. And it all sounds really good!
Sound
In case you couldn't tell already… EastWest Hollywood Orchestra sounds great! Reportedly, this took ten years to put together and release, and we can't find anything major to complain about it. The individual instruments stand up on their own, whether it be a solo cello, a solo violin, or any of the other sections.
The ostinatos and ensembles are where Opus really stands out, whether utilizing your own creations or one of the presets.  Being long-time science fiction nerds, we were hooked on the ensemble presets in particular. We were pleasantly surprised by one of the presets, "Superhero," which was clearly derived from the 1978 Superman movie theme (and yes, we are old enough to have seen it during its theatrical release). There's so much life in these sample sets that it's hard not to get inspired, even listening to simple three-note chords. This virtual orchestra does a lot of the work for you!
Documentation and Product Support
There is an extensive PDF manual (200+ pages!), and it contains many well labelled diagrams, with highlighted and colored accents to illustrate how to accomplish various tasks. There's also good information on music theory, so less formally trained musicians unfamiliar with musical terms (i.e., what is tremolo?) can learn a little something, too.
Additionally, there is some very good information and video content on the website, providing many examples, how-to's, and walkthroughs.
Price
There are several price points, depending on which edition you need (as described earlier in the article). The Gold Opus Edition (MRSP $895) can be found online for download at $695, while the Diamond Edition (MRSP $995) is available for $795. The ComposerCloud subscription option is $19.95 per month.
While not cheap, this is a professional product and is not priced terribly different than other manufacturers flagship products—and in some cases, Hollywood Orchestra is slightly cheaper. Unlike other sample libraries, the orchestrator sets this library apart from other competing products by allowing impressive dynamic and motion possibilities without much effort on the user's part. If you're composing for television, this software helps you to work quickly. EastWest has a winner in this product. If you're looking for a great sounding orchestral library, Hollywood Orchestra definitely belongs on your short list.
Contact Information
EastWest
www.soundsonline.com