When we were at the 2020 Winter NAMM Show this year, we played all of the new Fender Ultra basses and came away extremely impressed. Bass players like to upgrade their basses, swapping out pickups, bridges, tuners, etc., and the classic Jazz bass has been an easy platform from which to upgrade and customize. Not so much anymore, though, because Fender has really figured out what it takes to make their basses the ones you keep coming back to time and time again, only this time, there's not a damn thing you'd want to change.
The new Fender Jazz Ultra Bass V is as pro as it gets, and we're going to go out on a limb and say that this is the finest production model Jazz bass that Fender has ever made (and we own more than a few of them). From stage to studio, nobody ever got fired for playing a Jazz bass, and in the short amount of time we've used this one in both scenarios, the instrument has been called back for additional studio sessions. If only this reviewer also got the call-back!
Category

Value

Rating

Features

20%

Usability

25%

Sound

25%

Documentation & Support

10%

Price

20%

OVERALL RATING = 3.8 Stars, which earns it a
WIHO Award!


3.6 stars or better: Outstanding, WIHO Award




3 stars or better: Worth considering




2 stars or better: Suited to specific needs




1 star or less: Not recommended
Features
We opened the Fender Ultra Jazz V's case and were struck by the beauty of the Plasma Red Burst body. This finish is something you need to see in person to truly appreciate. The Jazz body is cut from ash and has a gloss polyurethane finish. The four-ply, aged, white pearloid pickguard accents the body and brings out beauty in the chrome tuners, bridge, as well as the black pickups and black inlays. Part of the controls are black Vintage Jazz atop a chrome body panel that completes the pickguard.
The Fender top-loaded, High Mass bridge has a significant amount of metal that contributes to the instrument's sustain. But one of the best features of this bass is certainly the neck: the spacing of the strings is fabulous for a five-string, wide enough that you really can dig in on this bass. The maple neck has a satin urethane finish with a black neck binding. The 34" modern D neck features 21 medium-jumbo frets. The nut material is bone (nut width 1.875" (47.6 mm)).

The inlays on the neck are black pearloid, and given how dark they are, you have to look very closely under light to appreciate this detail. The fingerboard features a compound radius, 10"-14" (254 mm to 355.6mm).

The tuning machines are Fender "F" lightweight, vintage, paddled, keys. These machines are extremely accurate, and the tuning ratio is generous. There are two standard string guides for the G and D, and for the A and E strings. The low B string tuner has a string guide built into it. We wish all of our five-string basses had this feature!
The lettering "Fender Jazz Bass" is printed in the traditional Fender font and written in gold, which suits this high-end Ultra Series.

This bass features two Fender Ultra Noiseless Vintage Jazz Bass pickups, traditionally spaced at the bridge and neck positions. The Vintage controls are a master volume, a pan pot (pans between the neck and bridge pickups); the bass and treble Boost/Cut are stacked controls, notched, and each adds or subtracts 10db. The Midrange Boost/Cut is stacked on top of a passive tone control; the passive tone control is engaged when you bypass the preamp via a toggle switch.
This Bass features the best of both worlds. We love the passive tone control because if you forget to change your batteries, you won't have egg on your face at a gig. Speaking of batteries, on the back, there is a double 9-volt compartment box to power the active preamp circuitry.
The bass comes with S-lock strap lock pegs installed. In the case were the matched locks for your strap, but we had some Schaller strap locks installed on some of our straps that worked fine with the bass as well.
Speaking of the case, it's the now-familiar deluxe, ATA approved, molded case with TSA-accepted locking latch is included. We love these cases. Premium protection.
Usability
The factory setup of the Fender Ultra Jazz V bass was excellent and made the playability effortless. This neck is comfortable from the nut to the 21st fret, and the impeccable fretwork and binding made this neck feel fast and a pleasure to play. It was set up fairly fast, with low string height and no discernable fret noise. We actually raised the action of the strings to better suit our style of play!
The strings spacing is wide enough that slapping and popping was effortless. The action was still low enough to help make long gigs non-fatiguing. Even with all of the hardware on the headstock, and weighing in at 10 pounds, the Ultra Jazz-5 was still a very well-balanced bass.
The sculpted rear contours are quite noticeable and made the body comfortable playing whether we were seated or standing. The controls were pretty standard for a bass with a high-end pre-amp. We loved the one-pan pickup selector. Traditionally Fender Jazz basses had one control for each pickup, so the single knob was much more accessible in live settings to change our tone. The stacked treble/bass and the stacked mid-range tone were very musical, and we love the boost/cut concept. The control layout was logical, easily manipulated and functional.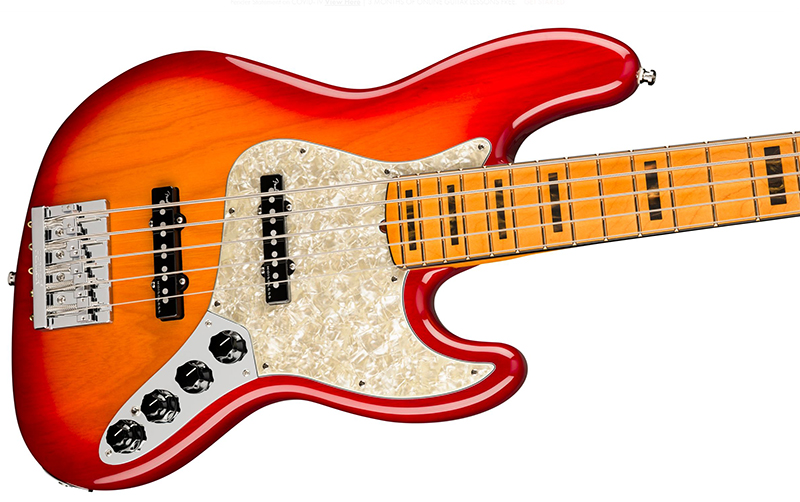 Using the Active/Passive mini-toggle and the Passive Tone control allows the player to have peace of mind and continue through a gig without an embarrassing "dying battery" scenario. It's also very useful if you're troubleshooting sound issues on the stage or in the studio; you can eliminate the active electronics by turning them off. Speaking of batteries, the two 9-volts were easily accessible from the back and we didn't need a screwdriver to take them out. Here's the trick to doing it: first you push the open tab "in" to release the batteries, then on the same tab, push the open tab away from you, lift it up to open the top and take the batteries out. It sounds tricky but trust us, if you buy this bass, you'll appreciate this design.
The truss rod adjustment is at the 21st fret and easily accessible (an Allen wrench in a nifty carrying case is included). Changing strings is very straightforward with the top-loaded HiMass Bridge and the Fender "F" style Vintage paddle keys, which have tampered shafts. Any intonation adjustments on the bridge are simple with the second provided Allen wrench.
 Sound
We played the Fender Ultra Jazz Bass V extensively in a variety of settings all over New Jersey and New York City. Whether it was using a provided backline or playing through a multitude of rigs in our arsenal, some of the setups included a Markbass Little Mark Tube 800 with a standard 104 HR 4x10, 151 HR 1x15, and sometimes alternately the 102 HF 2x10 and a 104 HF 4x10. Some of the bass heads we used included an EBS HD360 and a Mesa/Boogie Carbine stack with Mesa 4x10 and 2x12 cabs.
The noiseless vintage Jazz pickups and the 18-volt Active/Passive preamp deliver some outstanding tone quality. The voice options for this bass cover a wide range of musical styles that a professional bass player might run into. We were able to get any classic Jazz bass sounds from this bass, like Jaco Pastorius, Geddy Lee, Marcus Miller, and Adam Clayton, but without noise. When you engaged the 18-volt active preamp, you hear frequencies you didn't realize you were missing, and there's an obvious increase in headroom.
If you play harder or really dig in, you don't lose any quality of the voice of this bass. Generally speaking, when we were playing live, we had the active toggle engaged, bass and treble set flat, and used the pickup Pan knob to adjust our stage tone. The bass is voiced perfectly!
We played one venue that is notorious for having "dirty" power. There was a little hum coming through the bass amp that was killed by deactivating the active switch and going to passive. This was a nice, unforeseen benefit. The extensive tonal frequency range of this bass will give your sound clarity, plenty of tone options and land the instrument plenty of compliments.
Documentation and Product Support
The Fender website is a good resource for most things that are needed including videos for set-up, intonation, truss rod adjustment, etc. There is also a useful, general-purpose, printed manual that covers basic maintenance and warranty information.
The bass comes with a certificate of authenticity and two Allen wrenches for truss rod and bridge saddle height adjustments and strap locks, all in a nice red bag.
Price
The Fender American Ultra Jazz Bass V sells for $2,199.99, which puts it somewhere near the upper-middle of pricing for pro-level five-string basses. It's certainly a solid value compared with some of the boutique brands as well as Fender's own Custom Shop, and if we were searching for the ultimate instrument to deliver classic Fender Jazz bass tone with great feel and performance characteristics, we'd recommend this bass in a heartbeat.
Contact Information
Fender
www.fender.com