Ratt, Dokken, White Lion, Def Leppard, Cinderella, Winger, Ozzy, Poison, Whitesnake, Lita Ford, Vixen, and the list goes on and on. The '80s hair band sound is undeniable and everlasting. Movies, music, fashion, you name it. Of course, hard rock never died. It just got harder. And hard rock guitars continued to evolve.
So, you want to rock. You want to play a Strat but you want better access to upper frets—and you want 24 of them! You want a thinner and flatter neck and hot pickups. Well, Fender has the answer for you—again. Built for speed and with looks to kill, the Fender Heavy Metal (HM) Strat brings back fond memories of the late '80s through the early '90s (assuming you were born by then) and the rise of the super-strats.
Category

Value

Rating

Features

20%

Usability

25%

Sound

25%

Documentation & Support

10%

Price

20%

OVERALL RATING = 3.3 Stars


3.6 stars or better: Outstanding, WIHO Award




3 stars or better: Worth considering




2 stars or better: Suited to specific needs




1 star or less: Not recommended
This is one cool and unexpected reissue of a classic Fender guitar, and there's plenty to enjoy even if you're no longer sporting a mullet hairstyle. The specs were designed to accommodate your need for speed, and the HM Strat comes in four very cool colors that pay tribute to the era: Frozen Yellow, Flash Pink, Ice Blue, and Bright White. But is this guitar more than just a pretty face?

Features
Key features of the 6-string, double cutaway, Fender HM Strat include a narrow C shaped maple neck, unique 25.1" scale neck, 17" radius fretboard with 24 jumbo frets, a Floyd Rose Special tremolo bridge, Gotoh tuners, molded 'F' logo knobs, and a cool "Strat" logo on the headstock. All hardware and knobs are black except for the chrome coil-tap switch and output jack.
This Strat is made with a lightweight basswood body that is well suited to high gain styles of music. The body features a sharper radius than your typical Strat body, and a shaved neck heel with contours for easier upper-fret access compared to a typical Strat. It is coated in a gloss urethane. The back of the body includes a black neck plate with a cool Fender logo and serial number and black plastic covers for the cavities. The guitar jack is on the side of the body (not top of the body like typical Strats).
The guitar features an HSS configuration as follows: a high-gain HM humbucker in the bridge with a coil tap switch located near the lower tone control and two single-coil HM pickups in the middle and neck positions. There is a standard five-position blade switch but with the coil tap of the humbucker, you have seven different tonal options. There are three standard Strat controls of volume, tone (neck/middle) and tone (bridge). The side of the black knobs feature a rubber textured coating, the top of the knobs have a Fender 'F' logo, and the base of the knobs has white numbers from 1-10.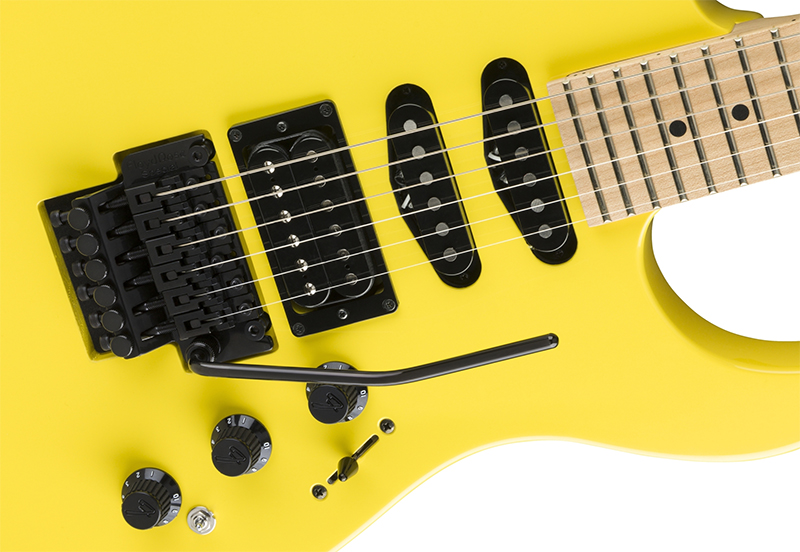 The HM Strat features a Floyd Rose Special double-locking tremolo system. This Floyd Rose Special is an authentic version of a licensed Floyd Rose tremolo system manufactured in South Korea exclusively for Floyd Rose. It maintains the features and design of the Original Floyd Rose but uses zinc alloy saddles instead of steel, and a zinc alloy sustain block instead of brass. The tremolo arm screws on to the tremolo bridge and does not use springs nor nylon bushings. For more information, go here.
The bolt-on maple neck is coated in a slick satin urethane and features a slim C shape with a 17" radius (432mm), and a Floyd Rose Special locking nut with a 1.66" (42.1mm) neck width. The fretboard is either maple or rosewood depending on the color guitar and features a special, shortened 25.1" (638mm) scale length, 24 easily-accessible jumbo frets, and the fretboard is also coated in a satin urethane. The neck is a little wider than most Strats. There are black dot inlays on the maple fretboard versions and white block dot inlays on the rosewood version.
The HM Strat features a classic pre-CBS shaped headstock with black Gotoh cast, sealed tuners. The front of the headstock is gloss black with a cool silver Strat logo underlined with the color of the body.

The guitar is made in Japan at the same factory that made the original HM Strat back in the day, and it includes a deluxe gig bag. The guitar ships set up with .09-.42 gauge Fender USA 250L Nickel Plated Steel strings.
Usability
This Fender HM Strat was built for rock and speed, and it did not disappoint. The basswood body was lightweight yet the guitar remained well balanced. The satin neck was slick, and the slightly wider than typical Strat neck was very comfortable to play. The 17" fretboard radius made for low string action and speedy riffs. However, the fret edges were a little rough, which we were a bit surprised by coming from a Japanese-made guitar.
Of course, what good is an '80s rock guitar with a Floyd Rose bridge if it doesn't stay in tune with some tantalizing dive bombs? We were pleasantly surprised that the guitar stayed in tune no matter how aggressive we played the whammy bar. Our chief complaint was that unless the tremolo arm screw was really tight, there was some knocking of the arm. Also, the fine tuners on the Floyd Rose bridge did not turn smoothly and made it somewhat difficult to get the perfect pitch one would expect of the fine tuners. Whether this was due to the coating on the knobs or it just needed a little lube, it was less than ideal.
The volume and tone knobs had a nice tension and the rubberized coating was a welcomed touch. Unlike most Strats, the volume sweep sounded more linear and only really fell off at the lower volumes rather than the typical big drop in volume at the beginning of the sweep from 10 down to 9 and 8.
We found that the coil tap switch was in a somewhat awkward spot and would have been more accessible if it was further away from, or above, the tone knobs.
Sound
Unfortunately due to the current pandemic, we were unable to bring this guitar to a live gig or group rehearsal, but that didn't stop us from making the most of these challenging times (as you can see from our video) in our home studio space.
It was only appropriate to test the guitar at what it was designed for: rock. And rock is what we did. After applying the appropriate hair treatment, we started playing with our Blackstar Studio 20 and ran the guitar through the gain channel with the gain all the way up. The HM pickups were fairly bright, so we started with the ISF setting on British tone which with the Weber Blue Dog speaker, balanced these pickups well while still being articulate.
Next, we played on the clean channel (which is a very pedal friendly channel) and ran our guitar through a Friedman BE-OD pedal. This pedal goes from overdrive to all-out high gain. And again, we were able to get great chunky muted rhythms and soaring leads that were clean and harmonically rich. Check out Ethan Brosh's demo and those tones are spot on. And what '80s song would be complete without some delay and chorus? With a little delay from our Dunlop MXR Carbon Copy delay and some chorus from a Dunlop Hendrix Univibe on the chorus setting we temporarily forgot it was 2020.
The pickups were very quiet with the clean channel on the amp. But as you can hear from our demo video, the pick-ups were rather noisy when playing high gain. Surprisingly, even the bridge humbucker pickup was noisy. The only position that was quiet was position 4 (middle and neck combined) which you are least likely to use with this guitar and a high-gain amp.
After whaling through a tube amp, it was time to run the HM Strat through some of the presets in our Line 6 Helix Native Amp modeling software. You name it and we played it. Some of our favs were the stock set-ups of the "PV Panama" modeled after a Peavy 5150 and the "Cali Rectifier" modeled after a Mesa Boogie amp. The Plexi-style amps sounded great as well.
A high-gain guitar doesn't excel if you can't get some great clean tones. After ripping through some '80s rock we had to make sure the single-coil Strat tones didn't fail us. And although you won't be recording your next blues record with this guitar, we were definitely able to get the funk out. Does this guitar look a little out of place with a Fender Champ or Fender '57 Deluxe? Sure, but that didn't stop us from doing it. Did it sound like a vintage Strat? No. But then you wouldn't grab this guitar if you wanted a vintage Strat sound. If you're playing cleaner tones for an '80s style rock ballad, however, this will fit the bill nicely, especially when you throw on some effects.
The tone knobs provided a nice, gradual taper and were usable throughout the sweep. Having the tone all the way rolled off gave us a nice wonky vocal quality without the need for a wah pedal.
Documentation and Product Support
Most information can be found on the Fender website but it does not currently feature instructions specific to this model, nor for properly setting up and maintaining the tremolo system. There was no manual for the guitar or the Floyd Rose tremolo included in the gig bag, either. Fortunately, a simple Google or YouTube search will get you the info you need if you're not accustomed to setting up guitars with a Floyd Rose tremolo.
All Fender guitars feature a 2-year limited warranty.
Price
The Fender HM Strat sells for $1,199 and should be in stock by the time you read this review. It's a decent price for such a unique guitar wearing the Fender badge.
Contact Information
Fender
www.fender.com