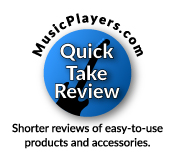 We have seen many advances in technology over the years, yet it is always fascinating to see how some standards stand the test of time, and none more so than the MIDI specification. A few years back at NAMM, MIDI celebrated its 30th anniversary, making it one of the oldest communications technology protocols still in use today in any industry. What has changed, however, is the transport medium over which MIDI signals can be sent. Sure, we still rely on 5-pin DIN MIDI cables, but there are other more evolved connectivity options, not the least of which involves wireless communications.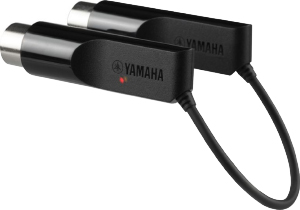 With Bluetooth becoming the standard for near-field connectivity for just about everything these days, it isn't surprising that MIDI has been adapted to Bluetooth.  Wireless MIDI in days past was a hot mess to say the least. Iit just didn't work well enough for people to make serious use of it. Could things be different in this Bluetooth-enabled world? We were skeptical at first, but now find ourselves true believers. You can have your wireless freedom!
Yamaha MD-BT01
Category

Value

Rating

Features

35%

Usability

35%

Sound

n/a

n/a

Documentation & Support

10%

Price

20%

---

OVERALL RATING = 3.6 Stars, which earns it a WIHO Award!

3.6 stars or better: Outstanding, WIHO Award
3 stars or better: Worth considering
2 stars or better: Suited to specific needs
1 star or less: Not recommended
Yamaha UD-BT01
Category

Value

Rating

Features

35%

Usability

35%

Sound

n/a

n/a

Documentation & Support

10%

Price

20%

---

OVERALL RATING = 3.5 Stars
3.6 stars or better: Outstanding, WIHO Award
3 stars or better: Worth considering
2 stars or better: Suited to specific needs
1 star or less: Not recommended
Yamaha has two MIDI Bluetooth adaptors. The MD-BT01 connects into your MIDI instrument's actual MIDI jacks, and is powered by the instrument. It looks like this:
The other adapter, the UD-BT01, connects to a USB-to-Host port on your instrument, which many newer instruments have. This is, unfortunately, not powered by the instrument, so you are required to plug it into a USB power source (which surprisingly, Yamaha does not include). Graphics, once again courtesy of Yamaha, look like this:
Ironically, the graphics demonstrate the adapters used on a Yamaha MOXF8—which is what we tested it on, actually! However, these are not Yamaha-specific products. Any MIDI device will work if it has the appropriate ports.
In both cases, we were instructed to connect the adapter to the instrument first, then power the instrument on. We followed everything to the letter, and initially, could not get our Mac Pro tower to see Yamaha's adapters. It took a bit to figure out, but the short version is this: you must have Bluetooth 4.0 or higher to make this work! Bluetooth 4.0 has an "LE" (low energy) mode that allows the wireless MIDI connection to function. Without this, you're out of luck.
Which Macs have compatible Bluetooth? Mac Mini and MacBook Air from 2011 until today, MacBook Pro and iMac from 2012 until today, and the "trash can" Mac Pro from 2013 until now.
Our classic, aluminum Mac Pro towers (and also the iPad 2) do not support Bluetooth 4.0, —but you can upgrade them! The company, OSX WiFi, makes several WiFi/Bluetooth upgrades for older Macs, and with very reasonable pricing, we made some purchases. Our upgrade purchase for the 2012 Mac Pro in our studio replaced both the WiFi and Bluetooth, as they now come integrated on one card. Click this link for product details.
Installation of this upgrade wasn't too difficult, and is a completely internal solution. Besides Bluetooth 4.0 support—which enables OS X Sierra functionality like Continuity, Handoff, and AirDrop, your Mac Pro will also now support 802.11A/B/G/N/AC, making a big difference if you're connected wirelessly to a newer access point in your home or studio. No software installation was necessary to enable the upgraded capabilities.
We again followed the steps for connecting the adapters, and this time, within the Audio MIDI Utility application, our MIDI studio showed a Bluetooth symbol that was active. We clicked on it, and there was the Yamaha Adapter! We clicked Connect, and we were ready.
We first tried the MD-BT01. We launched  AAS's Lounge Lizard and we were able to select the MD-BT01 as a MIDI input device (it doesn't see the instrument you are connected to remotely).  Once we did this: Eureka! We were playing our favorite Rhodes plug-in from across the studio on our MOXF8, wirelessly. There was no delay, lag, or other latency issues. This was impressive.
We then tried the same with the UD-BT01 adapter, and experienced the same results.  No lag, latency, or delay issues. We were equally impressed by the responsiveness.
We then tried using GarageBand on our iPhone. Once again, things worked well. We enjoyed using 88 full-sized piano keys to get cool sounds out of Alchemy running on our iPhone. One thing we noticed: you may not see the Yamaha device listed in the iOS  Bluetooth Devices list under Settings. You have to select the Yamaha adapter from within the application itself. This is important, because if the app doesn't have a way to select a MIDI input device, you may not be able to "see" the adapter. Fortunately, GarageBand doesn't have that problem.  Both adapters, however, require iOS 8 or later, or OS X 10.10 or later. There is no mention of Windows compatibility at the moment.
Yamaha has a free, downloadable, iOS utility, aptly named "MD-BT01/UD-BT01 Utility," which lets you rename the device to something meaningful, and also to load firmware updates should they become available.
If we had to choose, our top pick would be the MD-BT01. It's small, self-powered, and works great. The UD-BT01 works just as well, but the fact you have to plug it into a power source is kind of annoying—though you could make the argument that it is being plugged into an instrument that is being powered, so there's likely a power source nearby.
The MD-BT01 and the UD-BT01 each have an MRSP of $79.99 but can be found online for only $49.99.  They work remarkably well, and we were impressed with both. Wireless MIDI is now truly a usable option. Well done, Yamaha!
Contact Information
Yamaha
www.usa.yamaha.com