May 26, 2020, PETALUMA, California – Made with Old Growth Redwood reclaimed from a recently decommissioned bridge built in the 1920's, Grez Guitars is releasing its new solid body guitar called "The Smugglers Bridge Folsom".  The bridge from a remote area in Northern California, best known for their once illegal marijuana crops, was constructed from first growth redwood trees that were approximately 1,000 years old and subsequently existed for 100 more years as a bridge.  Now for the next 100+ years, this extraordinary wood will live on as a musical instrument.
Luthier Barry Grzebik says, "Reclaimed or salvaged first growth Redwood isn't the most common wood for guitar making even though sonically it's exceptional, because of the great effort it takes to find and process wood in sufficient quantities."  To assist in finding suitable and properly reclaimed wood, Grez Guitars works with the highly regarded salvage company Heritage Salvage, best known for the DIY Network TV "Heritage Hunters".


The guitar is available in several pickup and hardware configurations including a string through Tele bridge, a Mastery bridge with a Bigsby or a Mastery and the Grez stainless steel trapeze tailpiece.  At under 7lbs, the guitar has a stout feel without being unnecessarily heavy.  Customized versions can be produced with delivery times as little as 30 days.
The Folsom Specs:
1pc Redwood Body
13" Solidbody, 1.625" Depth, Under 7lbs
25" Scale, Jumbo Frets
Macassar Ebony Fretboard
TV Jones Pickups (3 options)
Honduran Mahogany Neck
Satin Nitro Finish
Grez Tail Piece, Bigsby B5 with Mastery Bridge or Tele String Through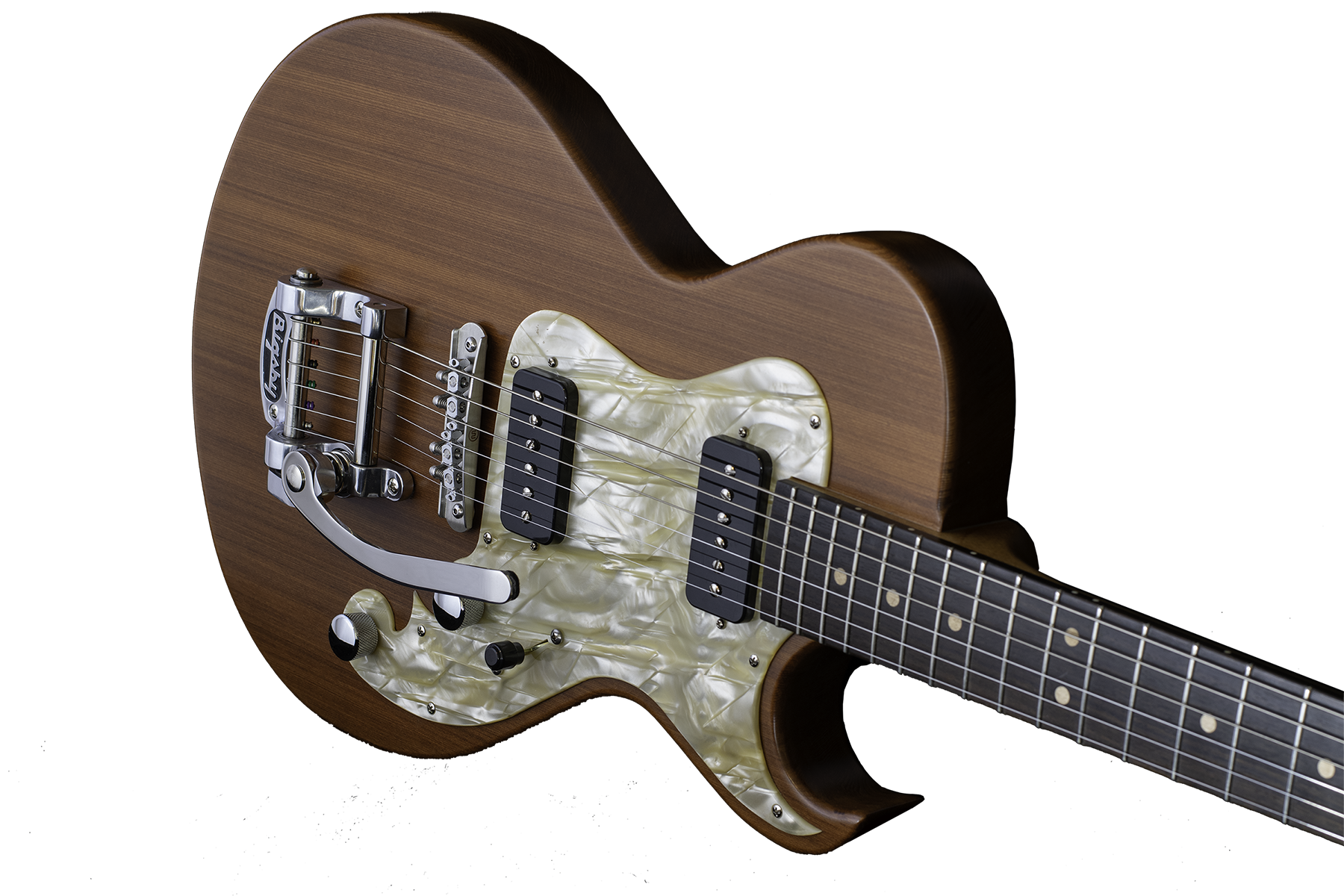 Pricing and Availability:
Street Price, $2,880 to $3,180 depending on configuration. Available July 1, 2020
ABOUT GREZ GUITARS
GREZ GUITARS is a custom and limited-production builder of unique guitars based in Northern California. Luthier and owner Barry Grzebik, an acoustician and product designer by trade, crafts distinctive instruments influenced by the construction techniques and aesthetics of Paul Bigsby and R.C. Allen. His custom and limited production guitars are available at www.grezguitars.com.
Grez Guitars plants a Redwood tree for every guitar sold.