In the world of guitar effects, there is no other effect quite as instantly recognizable as the talk box, which has roots that date (surprisingly) all the way back to 1939. There is no mistaking its wah-like frequency manipulation, vowel sounds, and signature microphone tubing snaking its way up the mic stand. Artists such as Peter Frampton and Richie Sambora crafted mega hits utilizing the talk box effect. But let's face it—this is one effect you don't want to share with your friends. That tube is just disgusting!
Category

Value

Rating

Features

20%

Usability

25%

Sound

25%

Documentation & Support

10%

Price

20%

OVERALL RATING = 3.5 Stars 
3.6 stars or better: Outstanding, WIHO Award
3 stars or better: Worth considering
2 stars or better: Suited to specific needs
1 star or less: Not recommended
There has been limited innovation with the talk box over the years. Modern-day talk boxes allow for self-contained amplifiers, making them safer to use than they had been previously (old designs necessitated your speaker cable as an input, which had the potential to wreak all kinds of havoc). Still, guitarists were tied to a plastic or rubber tube connected from the talk box to the side of their mic, which frequently ended up on a barroom floor at the end of the night and then back in their mouths for the next gig. Talk about unhygienic!
Fast forward to 2017 and TC-Helicon has eliminated your need for antibiotics! Using an innovative design, their new Talkbox Synth pedal utilizes your guitar input as well as your actual vocal mic to get the talkbox effect guitarists cannot live without, as well as some unique, far-out, synth sounds and a few "secret weapons" to keep your vocal performance professional. This is a welcome innovation that sounds and tastes great!
Features
The TC-Helicon Talkbox Synth pedal looks like a simple affair at first glance and doesn't let on just how much it does. On the face are three knobs, the first controlling Style, which lets you select what type of talk box or synth sound you want. The Correction knob ranges from Off to 100%. Correction you ask? Well, yes. Pitch correction, of course! We know, you're frightened that your Guns N' Roses Tribute band will instantly turn into Cher. Fret not—it won't. The last knob selects a reverb type, ranging from off, room, club and finally, hall-type reverbs.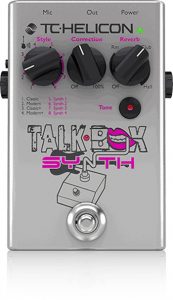 There are two buttons on the face of the pedal, one being Tone. The tone knob, when turned on, toggles a preset group of parameters including a noise gate, an adaptive EQ, some compression, and de-essing. Holding down the Tone button and pressing the footswitch can toggle between Normal and Less Bright presets.
Speaking of the footswitch, it can operate in both momentary or latching mode. It operates by default in latching mode, meaning you simply step on the switch to turn the effect on and off. When powering up the unit, holding the tone knob down will put the switch into latching mode, meaning the synth or talk box effects are only active for as long as your foot is on the button. This can prove incredibly useful for quick synth lines in between vocal parts. Reverb, pitch correction, and tone settings remain active when the effect is off as well, so this pedal also serves as a useful vocal companion regardless of your need to play classic Bon Jovi tunes.
There are two quarter-inch jacks for connecting your guitar, plus a pair of XLR jacks to connect a mic and send the vocal signal to your DAW, PA, or any type of powered speaker. The XLR jack is always 48v phantom powered, so you can connect a condenser mic without worries (but stay away from delicate ribbon mics). Auto gain is also always enabled, assuring you get optimum, clean, and quiet signals from your mic with no added distortion.
Common pedalboard, center-negative, power is required unless you prefer to recharge four AA batteries. Finally, a micro USB port on the rear of the unit allows for software updates and the loading of user-selected presets via the free VoiceSupport 2 application for MacOS and Windows.
The TC-Helicon VoiceSupport 2 application lets you load many additional sounds.
Usability
We unboxed our TC-Helicon Talkbox Synth and proceeded to map out where on our pedalboard we would place it. Naturally, we placed it right next to our classic Heil talk box! Connecting quarter-inch cables from our talk box to our Talkbox Synth pedal and back out was simple enough.
The next step we took was to connect mic cables. We ran our dynamic mic (Shure SM-58) into the input on the pedal and ran an XLR cable to our live soundboard. Did you really think we wouldn't dare fire up unproven gear at a real gig? That's the best time to sound test! [Editor's Note: this insane, gear testing, risk attraction is part of why we love Bruce.]
Finding a port to connect the power supply was a little more problematic. The unit requires 9v 670mA of current. Some pedalboard power supplies are not up to this task without specialty jumper cables. Luckily, our Cioks Ciokolate power supply was up to the task, supplying up to 800mA of current at 9v. We were up and running with little delay.
Setting the pedal took some trial and error. We left the pitch correction at 50%, set the reverb to room (that's for vocals, not your guitar), and the style knob to Classic +, allowing us to use both the mic for the talkbox effect as well as pass the signal through to our guitar amp. This worked very well at sound check and we were pleased with the results. During our performance, we quickly learned in order to get authentic talk box lines longer than a few seconds, the unit requires a lot of air from the guitarist.
Keep in mind, a traditional talk box shoots the sound into your mouth at volume, and the guitarist simply makes vowel shapes with his mouth in order to project that onto the microphone. With the TC-Helicon Talkbox Synth, you actually have to continuously sing (or grunt, or holler, it all works for this) into the mic in order to hear the effect. Players in good shape who are somewhat athletic will have little issue. If the guitarist using the pedal gets winded at the top of a flight of stairs, he may struggle with a three-minute song he'd otherwise get through with a traditional talkbox. Yet another reason to stay in shape. We get to play with all the fun toys!
We understand due to size constraints (and possibly for simplicity sake), a few adjustable parameters are achieved by a series of turning knobs and holding buttons down. Lack of any LCD screen left us in a position of having no idea what those parameters actually were other than by using our ears. Was the tone is set for normal or less bright? Any way of knowing how aggressive or passive a Talkbox preset is? Using our ears worked fine in a studio setting, but for the stage, we'd have liked to see some kind of simple LCD on the unit to show us what was going on.
Finally, we do love the fact the pedal does talkbox sounds and synth sounds. Some advanced settings such as passing the guitar signal back to the amp using the synth effects as well were not obtainable via the front panel directly, but using the free, easy-to-use, VoiceSupport 2 software, we were able to do this as well as load a variety of other synth and voice sounds.
Sound
Our sound test was at an aforementioned gig in a bar in Northern New Jersey. We ran the talk box tube up the microphone stand from our classic talk box as well as connecting our new Talkbox Synth pedal. We typically used the traditional talk box while splitting the signal to the guitar amp, so we chose to do the same thing with the Talkbox Synth pedal. We selected the Classic + style and achieved exactly what we wanted. As long as we were putting air into the mic (by making sounds), we heard fantastic, throaty, talk box sounds from the PA. One huge benefit that became almost instantly apparent was the added vocoder-like effects achievable due to the elimination of the talk box tube. We were now free to actually speak words into the mic to get the effect. In order to get a traditional talkbox sound, we literally needed to sing "AAAAA OOOOOOH, AAAAAA OOOOH…"
Scrolling through the pedal's presets, we liked some of the synth sounds, and particularly synth 4, which gave us a unison synth note as well as a harmonized perfect 5th. This instantly sounded like the band, Yes, to us and made us think of classic Moog monophonic keyboards. We definitely liked the saturation of the pedal's sound overall, and think TC Helicon really hit a home run in terms of the auto gain feature. Never did our output sound distorted or weak. We must add, however, the synth's overall volume will be affected by your voice's overall level going into the microphone. This most definitely took some getting used to.
The reverb on the pedal sounded intelligently designed. Throughout the reverb knob's sweep, it was just enough to wet the vocal, yet never was too big to be useless. We generally left the knob between 9:00 and 11:00. Tip: talk to your sound guy if you're running professional sound at your shows. If you're supplying your own reverb from the pedal, things will get really bad if he adds more reverb at the board.
The tone button was difficult to ascertain what it was actually doing. We feel compression and EQ settings were set conservatively because we didn't hear drastic changes with the tone knob toggled on and off. We did notice and enjoy the evenness of the sound with the tone knob depressed, though, which we attributed to some compression. Although no stats are given in the literature, we can only assume the parameters are material-dependent and made to fit a very wide range of voices and material.
The pitch compensation was another feature we had a hard time hearing. With a guitar amp blaring behind you and a monitor mix, its often hard to hear subtlety, especially when a pitch is being nudged by cents of a frequency. We are happy to report that even setting the correction knob to 100%, we did not hear the Cher effect or any noticeable artifacts in the sound. Either this is another conservatively-set parameter or we sing better than we ever imagined!
Video courtesy of TC-Helicon.
Documentation and Product Support
A brief but adequate online manual is available to anyone with Internet access. The manual describes a few suggested connections, as well as runs down the features and uses of the pedal. TC-Helicon also has online videos demonstrating the functions and sounds of the TalkBox Synth.
You get a 1-year warranty by default, but if you register the pedal online within 90 days of purchase, you'll receive an extra two years!
Price
The TC-Helicon TalkBox Synth (MSRP $374.99) sells for approximately $250. Simply purchasing a talk box that allows splitting the signal to the guitar amp will set you back the same money. With the TC Helicon, you get to eliminate the tube, pitch correct your vocals, apply effects and get a host of other sounds out of the unit that a standard talk box will never accomplish. $250 for such a specific type of effects pedal isn't exactly cheap, but it's important to reiterate just how feature packed and innovative this pedal is. If you're finally ready to invest in a talk box, or are just sick of the tube, you can't go wrong with the Talkbox Synth pedal.
Which setup would you rather use?

Contact Information
TC Helicon
www.tc-helicon.com/en