Paris, France, 2020/06/15: Blue Cat Audio
( 
http://www.bluecataudio.com
 ) has released a free update for
Blue Cat's Plug'n Script
, its scripting software that can be programmed to create audio and MIDI effects or virtual instruments inside most Digital Audio Workstations (DAW).
This new version of the plug-in brings several new features to improve the creation of user interfaces and export them into independent plug-ins (VST, VST3, Audio Unit and AAX formats are supported), including new high resolutions graphics, new options and programming interfaces. It also contains many other fixes and enhancements for the software itself, and for the plug-ins created with it (full change list below).
The update is free for registered customers and can be downloaded from the same location as the original full version (link received by email upon purchase). A special introduction price (20% off) is available to new customers to purchase either the plug-in or the "Crafters Pack" bundle, until July 10th. Demo versions can be downloaded on www.bluecataudio.com for Mac and PC.

New in Blue Cat's Plug'n Script 3.3:
- Custom graphics and resource files are now be copied when exporting scripts as independent VST, VST3, AU or AAX plug-ins (SCRIPT_DATA_PATH folder).
- New version of the KUIML GUI programming language (2.7), with new widgets, new mouse and keyboard events handling features, system script function to execute shell commands and more.
- New version of the Angelscript Engine (2.34).
- New high resolution graphics for knobs.
- New background mode ("None") to create entirely custom user interfaces.
- New icon for the Plug'n Script Application.
- Reduced disk footprint.
- Fixed crash in exported VST3 plug-in when using input strings in scripts.
- Fixed crashes when using build-time script in KUIML widgets.
- Fixed gui.capture objects that could be exposed twice in KUIML objects.
- Fixed png or svg images alpha mask not properly loaded (was ignored)
- Fixed ignore_missing attribute for LOAD_FONT that still triggered an error.
- Mac application now fully supports dark mode on Mac OS Mojave and newer.
- Mac: fixed settings panel rendering issues in dark mode on Mac OS Mojave and newer.
- Mac: Fixed keyboard not responding in registration panel in some host applications (LUNA, Garage Band...).
- Mac: Fixed demo version that could hang Logic when reloading projects using the plug-in.
- Mac: fixed Retina scaling issue on buffered widgets in apps built with Mac OS 10.14 SDK and newer.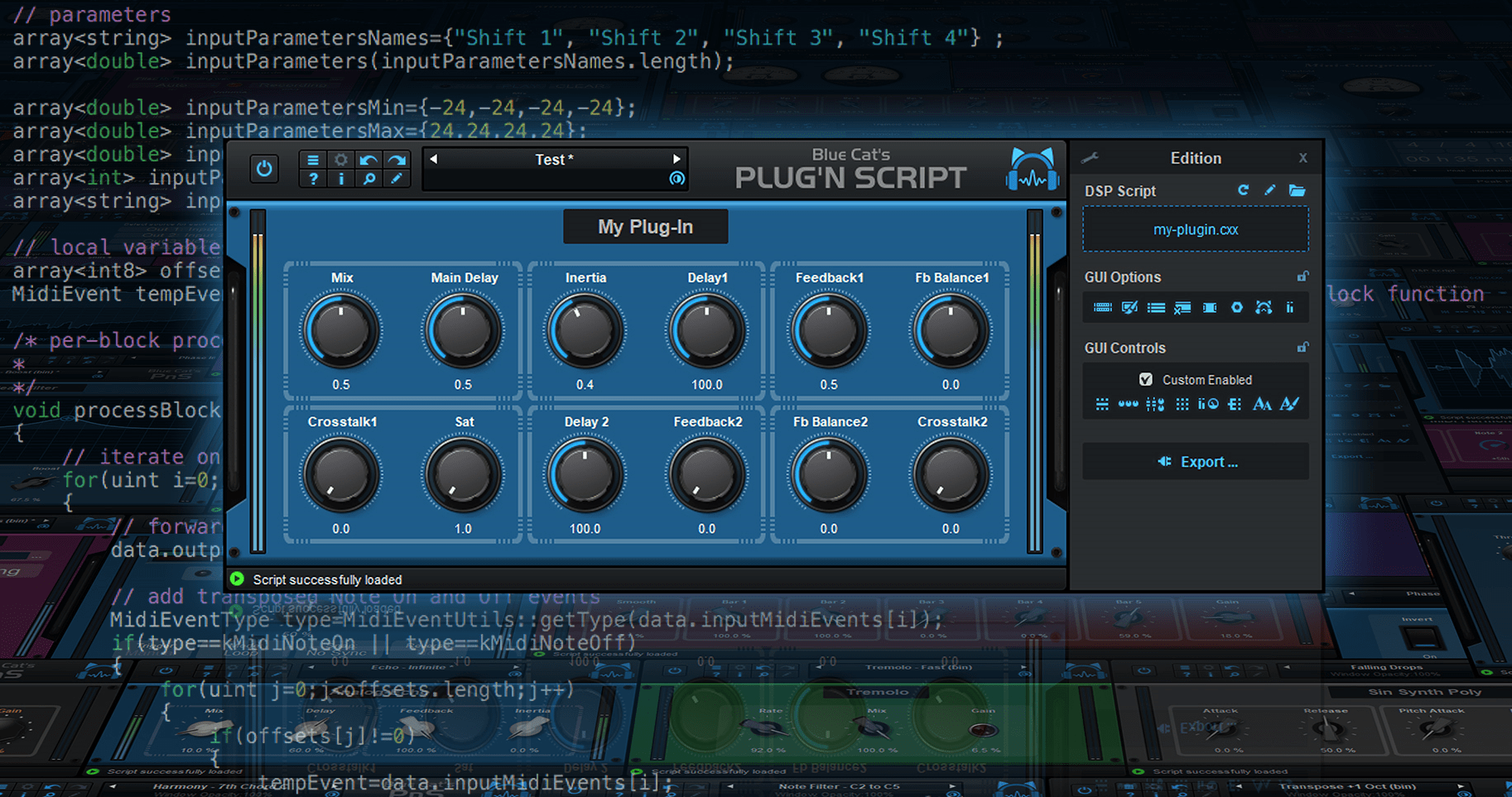 System requirements:
- Intel Mac running Mac OS 10.7 or newer.
- PC running Windows Vista or newer.

Pricing:
Blue Cat's Plug'n Script: 79 EUR or $79 (instead of 99 EUR or $99), until July 10th.
Blue Cat's Crafters Pack: 319 EUR or $319 (instead of 399 EUR or $399), until July 10th.