Morse/Portnoy/George, Cover to Cover Anthology
Genre:
Classic Rock and Pop
Musicianship:
Songwriting:
Production & Engineering:
Vibe:
Overall Rating:
3.75
"K-Tel has been keeping this under lock and key. It's a pure gold collection of priceless original hits."
"There's a new album steaming your way, loaded with nothing but hits. Hot tracks."
Ah, the good old days! And while many of our readers are too young to reminisce on those classic K-Tel compilation records and television commercials, the new "InsideOut Music Presents" Cover to Cover Anthology from prog rock superstars Neal Morse, Mike Portnoy, and Randy George can easily be summed up by those vintage advertisements. These three multi-instrumentalists from the Neal Morse Band have assembled a stunning collection of classic pop and rock remakes from the '60s, '70s, and '80s.
With an anthology that is flawlessly executed in painstaking detail, the three-hours-long collection will make you feel like you're listening to the best classic rock radio ever, commercial free. This is an amazing summertime jam that makes you wonder, where do these guys find the time to learn and record so many classic songs on top of all of their other recording projects?
If the embedded video will not play, click here...
The collection is diverse and includes some of the biggest hits from artists including Paul McCartney and Ringo Starr, Styx, Gerry Rafferty, David Bowie, Chicago, Squeeze, Todd Rundgren, Elvis Costello, and so many others. There are a handful of prog classics from the likes of Yes and Jethro Tull, but this is a collection for fans of classic pop and rock in general.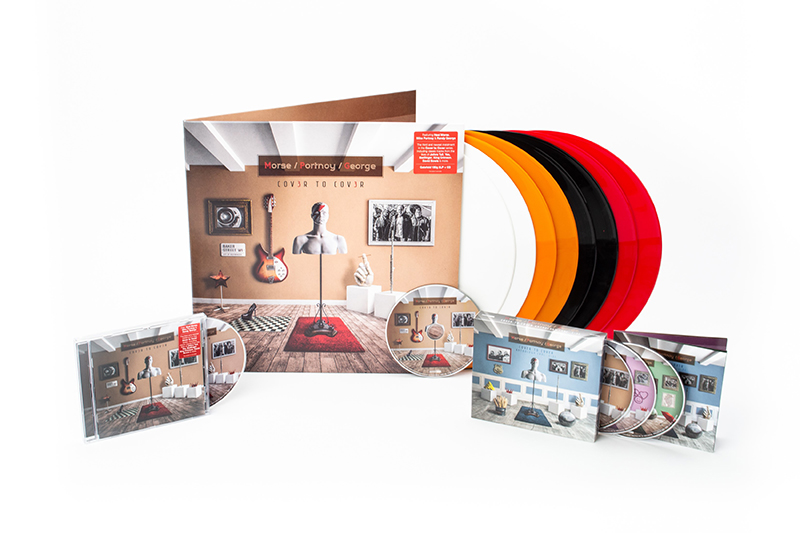 Besides the aforementioned, superb musical performances on tap, all of these guys are strong vocalists as well, and the collection is full of great classic harmonies just like you remember. Mike Portnoy, who usually just lends supporting harmonies in his various projects, takes lead on a few songs and does a fine job!
We'll put the track listing below, but don't just read about it. Buy it or stream it. And yes, this one's available on vinyl! Hurry! Operators are standing by! This is a must-have collection for classic pop and rock fans, and half the time, you won't even be aware that you're not listening to the original artists. Great job guys! Now, back to your regularly scheduled progressive rock recordings…
If the embedded video will not play, click here...
Cover To Cover:
1.Where The Streets Have No Name (U2)
2.I'm The Man (Joe Jackson)
3.What Is Life? (George Harrison)
4.Badge (Cream)
4.Maybe I'm Amazed (Paul McCartney)
5.Day After Day (Badfinger)
6.Pleasant Valley Sunday (The Monkees)
7.Tuesday Afternoon (The Moody Blues)
8.Can't Find My Way Home (Blind Faith)
9.I'm Free / Sparks (The Who)
10.Where Do The Children Play (Cat Stevens)
11.Feelin' Stronger Everyday (Chicago)
12.Rock N Roll Suicide (David Bowie)
Cover 2 Cover:
1.(What's So Funny About) Peace, Love & Understanding (Elvis Costello)
2.Lido Shuffle (Boz Scaggs)
3.Crazy Horses (The Osmonds)
4.Driven To Tears (The Police)
5.Come Sail Away (Styx)
6.Rikki Don't Lose That Number (Steely Dan)
7.Lemons Never Forget (The Bee Gees)
8.The Letter (Joe Cocker)
9.I Saw The Light (Todd Rundgren)
10.Teacher (Jethro Tull)
11.Southern Man/Needle And The Damage Done/Cinnamon Girl (Neil Young)
12.Starless (King Crimson)
Cov3r To Cov3r:
1.No Opportunity Necessary, No Experience Needed (Yes)
2.Hymn 43 (Jethro Tull)
3.Life On Mars (David Bowie)
4.Baker Street (Gerry Rafferty)
5.It Don't Come Easy (Ringo Starr)
6.Baby Blue (Badfinger)
7.One More Red Nightmare (King Crimson)
8.Black Coffee In Bed (Squeeze)
9.Tempted (Squeeze)
10.Runnin' Down A Dream (Tom Petty)
11.Let Love Rule (Lenny Kravitz)