When it comes to the world of music, what hasn't Mitch Gallagher done? Many gear junkies know his name from the numerous articles he has written for Sweetwater and books that he has written such as Guitar Tone: Pursuing the Ultimate Guitar Sound. Aside from being a well-known writer of over a thousand articles, he was also editor-in-chief of EQ Magazine and senior technical editor of Keyboard Magazine. He has made over 1,500 informative gear videos. His list of credits also includes engineering and producing. Mitch has certainly worn many hats in the industry and we can now tack two more onto his list: composing and playing.
Mitch Gallagher - Foundation
Genre:
Melodic Jazz/Funk/Blues/Rock
Musicianship:
4.0
Songwriting:
3.5
Production & Engineering:
4.0
Vibe:
3.5
Overall Rating:

3.75 (out of 4)
Mitch Gallagher ignites his passion for music as composer and guitarist on his new solo album, Foundation But what a surprise! We assumed that with his background, this was going to be some kind of rock record. Boy were we wrong! He totally caught us off guard with this tasty collection of jazz, funk, and blues material.
We were very impressed by the musicianship throughout Foundation. Gallagher is in good company, playing with Keith Carlock on drums (Steely Dan, Mike Stern, Sting, Toto) and Adam Nitti on bass (Michael McDonald, Dave Weckl, Kenny Loggins). Add to that special guest guitarist Carl Verheyen, Tyler Summers on Saxophone, and one of Nashville's best horn sections and you have the makings of musical perfection!

This five-song EP is an absolute treat whether you are a musician or music lover. Although this album is strictly instrumental, Mitch Gallagher knows how to create singable melodies. His love of music clearly comes across with use of multiple genres in his compositions. The first track, "Foundation," with its Latin-inspired drums, has an almost Santana-esque feel to it. Other tracks like "Naturally Clean" and "Cascade" seemed to encompass elements of Jazz Fusion, Big Band and Bebop Jazz. Each track has a unique character to it and with each listen you find more to appreciate about Mitch's skillful writing.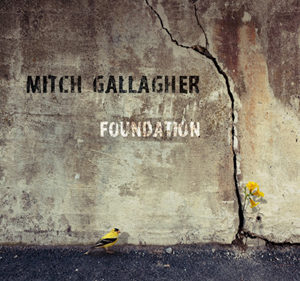 We think one of the many things about Foundation that held our attention was the rich instrumentation. With a horn section that includes saxophones, trumpets, trombone, three different pianos (Hammond B3, electric piano, and grand piano), there is not one moment of boredom. Mitch also shines as a masterful guitarist on this album whether he is playing a tasty linear or harmonic guitar solo.
On Foundation, Mitch Gallagher truly shows why he has been a recognized expert in the music community for decades. He backs up his written smarts with musical chops aplenty. His writing is spot-on for the genre and provides space for all players on the record to shine. We look forward to hearing more from Mitch in the future.