It's hard to imagine an album like Are You Experienced? getting made these days. Even harder to imagine is a major label picking up such a record, with its expansive combination of pop, rock, soul, jazz, funk and stoned experimentation. The marketing people would have a fit trying to figure out how to sell it to the kids today!
dUg Pinnick Tribute to Jimi
Genre:
Classic Rock
Musicianship:
3.5
Songwriting:
3.5
Production & Engineering:
4.0
Vibe:
4.0
Overall Rating:

3.75
But King's X frontman dUg Pinnick (yes, that's how you write it), much like Jimi Hendrix himself, likes to throw a wrench in the music industry assembly line. His new release, Tribute To Jimi (Often Imitated But Never Duplicated), masterfully recreates the Hendrix sound with an unrivaled authenticity, transporting you to a time of chaos—in music, and in the world.
And how did dUg up the ante on the tribute album game? In the studio. His analog recording process for Tribute To Jimi was meant to mirror the original recording process. Time was invested into researching and using Hendrix's classic gear in order to replicate as many of the original tones and effects as faithfully as possible. Take note, because it's this attention to detail where dUg sets the standard for how a tribute album should be done.
But this is not merely recycling the music of an icon. dUg's vocal tone is already similar to Hendrix, but without stellar arrangement, that would soon become a single-dimensional sideshow. This is where the players on this record also deserve the authenticity nod. Mike Hansen (drums, percussion), Tracey "Spacey T" Singleton (lead guitar, acoustic guitar), Tommy Baldwin (lead guitar, background vocals), Mike Farrell (keyboards), Reinhold Schwarzwald (saxophone) and dUg (vocals, rhythm guitar, bass, piano, percussion, more) combine to create all the psychedelic flummeries and multi-colored embroidery that watermarks the album, rarely detracting from the stand-out, casual brilliance of the music. Or of Hendrix.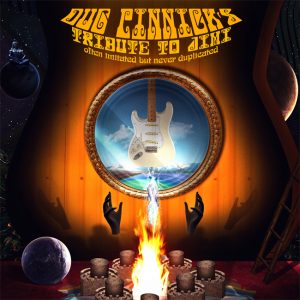 So, with solid foundation in place, dUg's vocals are engaged to deliver what Jimi's always had: Spirit. Not too unfitting for a man with Gospel in his background, dUg—like Hendrix—conveys, through the way he sings and the way he shapes his notes, that what he's doing matters. For Hendrix, there was always something deeper on the line, and dUg's emotional intensity applies this existential quality to Jimi's music beautifully.
"I've been wanting to do this for a long time, so when Joe at Rat Pak Records brought the idea up to me, I couldn't wait to get started… I'm very happy with how this turned out and I hope everyone enjoys listening to this music as much as I enjoyed recording it in memory of Jimi Hendrix," says Pinnick.
Whilst some of the licks and riffs shot-blasted across this power-packed eight-song album are of the twangy pop tone variety reminiscent of the era, there are many more—including the entirety of the album's final track "Voodoo Child (Slight Return)"—that sound as though they're being beamed in from another dimension altogether. And of course, dUg's signature distorted bass tone figures perfectly into this record. His tone is classic, as is this collection of material.
If Jimi Hendrix was the sound of the future arriving, then the awkward, inspirational, exciting and at times perplexing performances that dUg and team offer here, is the future revisited.
Stand Out Tracks
Are You Experienced
Purple Haze
Voodoo Child (Slight Return)