A built-in speaker, an on-board rechargeable battery, multiple playing modes and premium sound content make EWI Solo the most portable EWI to date
Ft Lauderdale, FL USA (August 25, 2020) — Akai Professional, a leading manufacturer of music equipment for performers and producers, today announced the latest addition to their Electronic Wind Instrument family, EWI Solo. This next-generation wind instrument is primed for any setting, fusing all the expressive musical capabilities and control found in traditional acoustic wind instruments with the versatility of an electronic instrument and a go-anywhere specification.
Standalone Performance
Woodwind and Brass instrumentalists will appreciate EWI Solo's completely untethered performance capability. New to the EWI Series is EWI Solo's built-in speaker, calibrated for the most natural sound reproduction experience to recreate every subtle nuance of the instrumentalist's performance. When fused with an internal, rechargeable long-life lithiumion battery for 12+ hours of uninterrupted play time, EWI Solo is perfect for practice and impromptu performances alike.

Hundreds of Sounds Included
Akai Professional's EWI series has a reputation for sounds that inspire creativity and guarantee multi-genre application right out-the-box. EWI Solo is no exception, primed for any performance with 200 premium onboard tones that react immediately to even the most subtle of inflections. From luscious, evolving synth pads to an authentic, sultry jazz clarinet, every genre is covered with an expertly curated catalogue of exclusive tones. EWI Solo's ultra-responsive mouthpiece, with an air-pressure level sensor and bite sensor, precisely controls volume and pitch dynamics for uncompromising response. Combine this with dedicated FX controls to add Reverb, Delay and Chorus, plus editing facilities for Pitch, Tuning and Dual LFOs, and EWI Solo provides everything musicians need to shape their signature sound.

Connect for More Control
Whether it's practice, live performance or studio recording, EWI Solo's arsenal of connectivity options provide complete hookup flexibility. Delve into a world of software instruments with EWI Solo's USB-MIDI connectivity. Connect directly to PA systems with the 1/4-inch output. Practice privately, at any hour, with the 1/8-inch headphone output. Users can even connect a playback device to the EWI via the 1/8" aux input to play along with a backing track. Whatever your needs, EWI Solo delivers.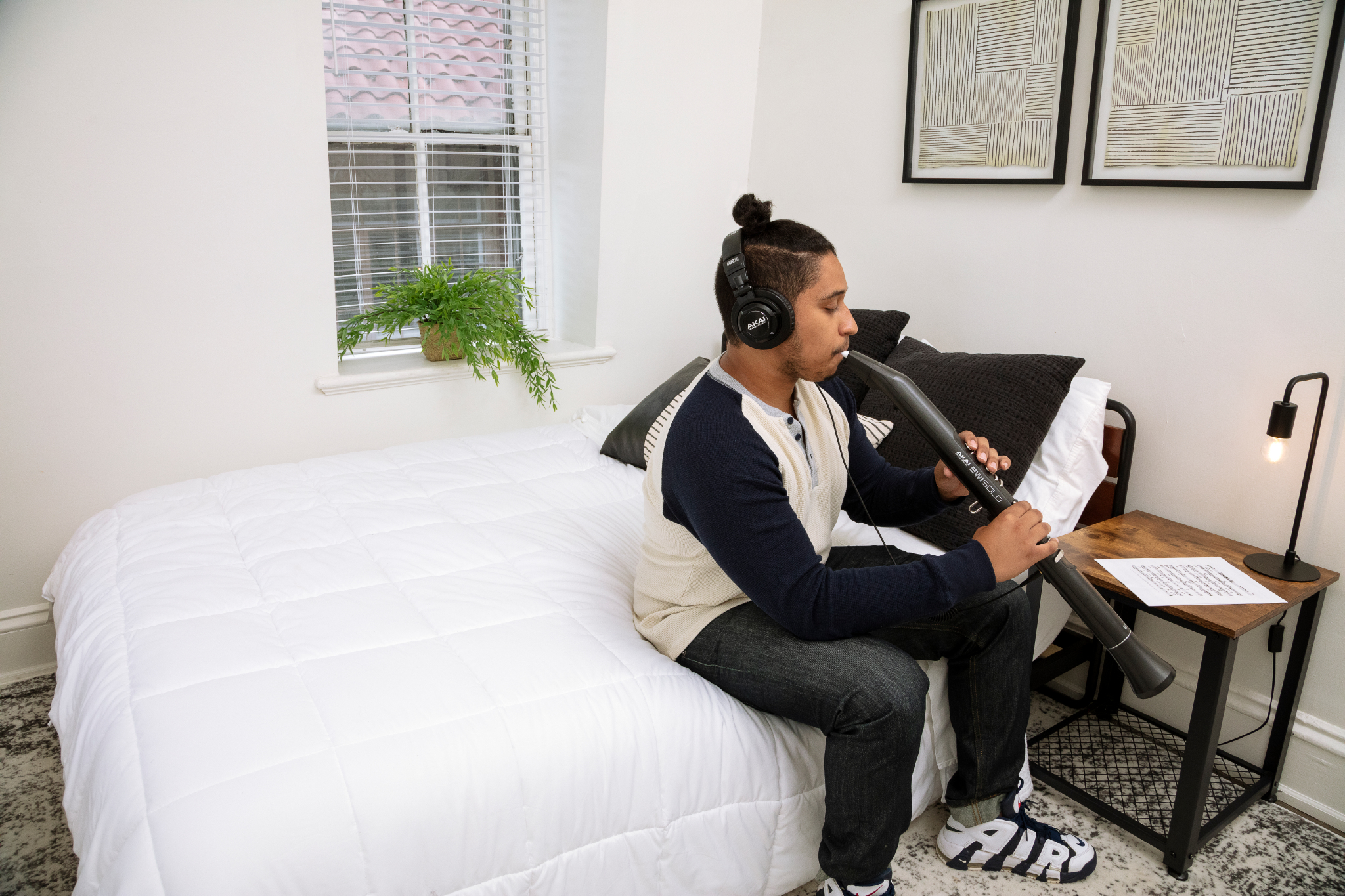 Building Upon a Legend
EWI mainstays from Akai Professional's flagship EWI5000 are also thoughtfully included for optimal performance capability. Octave rollers instantly shift the note key's range, effortlessly changing the playable register. Users can add portamento using the conveniently located glide plate. Get exactly the expression needed with an adjustable pitch bend plate. Musicians can even save any program edits and recall them on the fly with the handy favorites feature.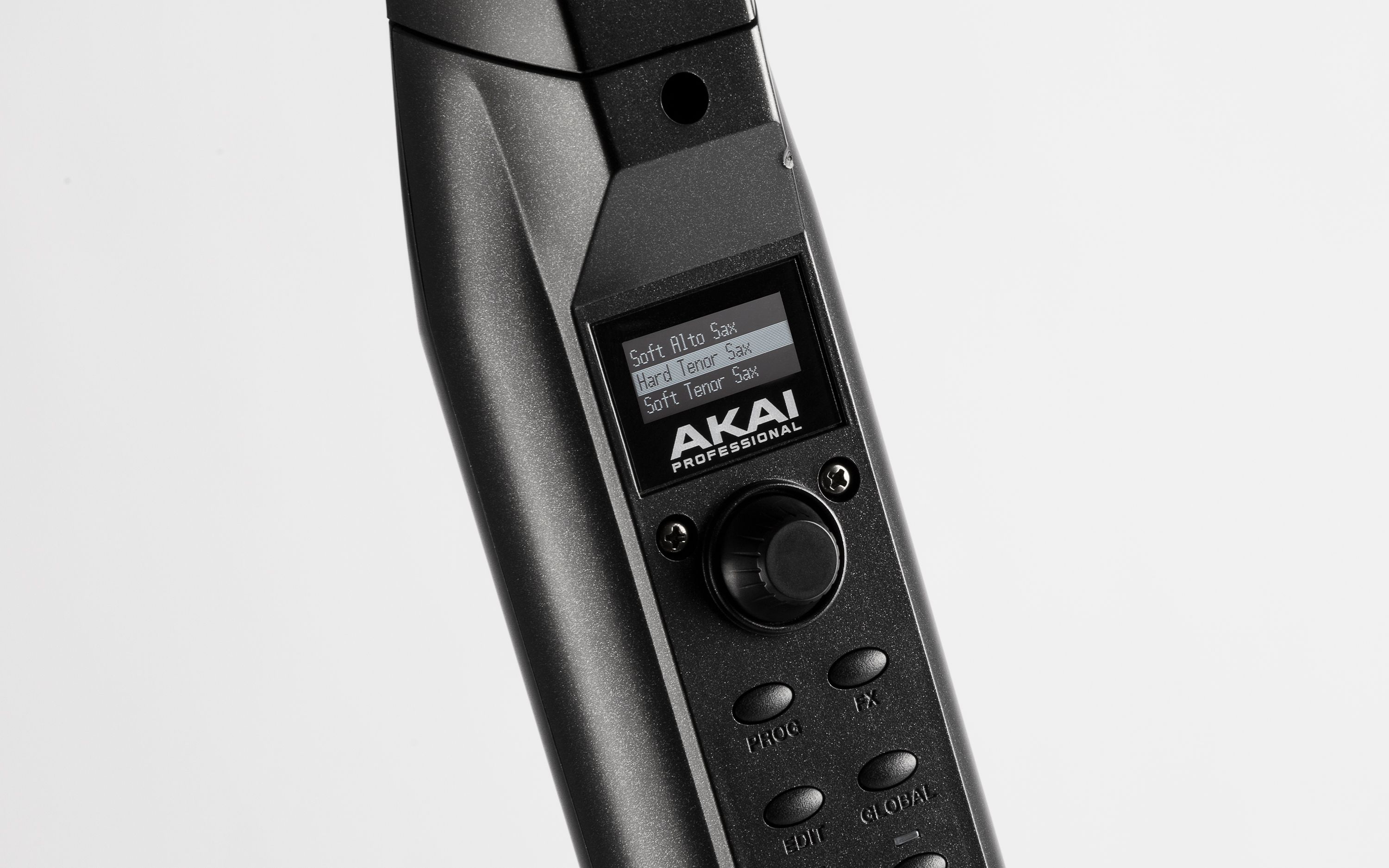 Familiar Technique
For Woodwind and Brass instrumentalists, no additional fingering technique is needed. EWI Solo adapts to all main fingering styles at the twist of a dial, offering flute, oboe, saxophone and EVI (Electronic Valve Instrument) fingering modes.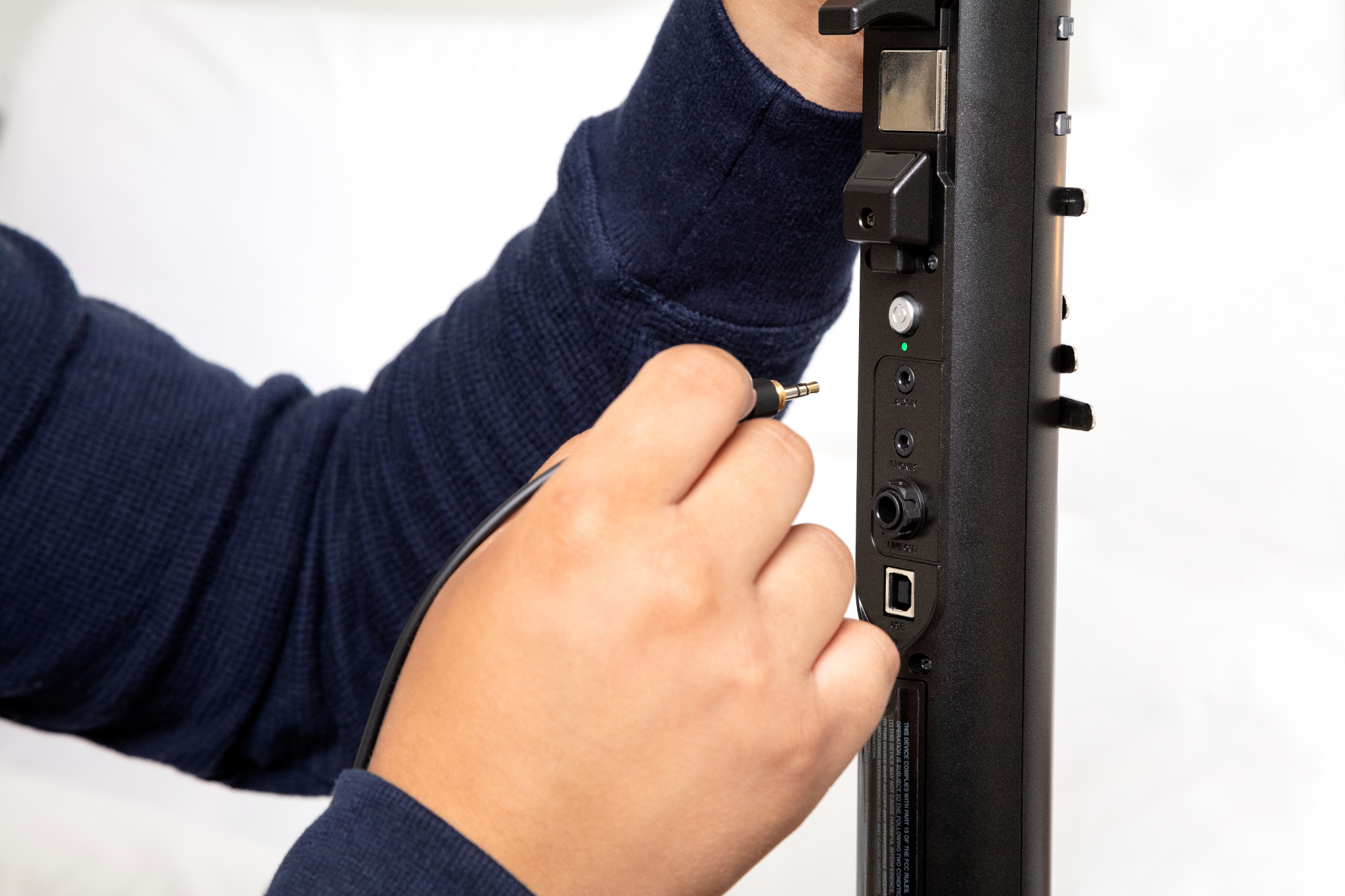 EWI Solo Highlights
• Authentic wind-instrument performance and response for the digital era
• 200 onboard premium acoustic and synth sounds
• 12+ hours of play time using the rechargeable lithium-ion battery (charging adapter included)
• Built-in speaker calibrated for the most natural sound reproduction experience
• OLED display to easily view presets and parameters
• USB port for USB-MIDI connection and battery charging
• 1/4" audio output, 1/8" headphone output
• 1/8" auxiliary input
"EWI Solo represents the true evolution of our EWI line, fusing the response players demand with complete versatility for any performance or practice setting," says Dan Gill, Senior Product Manager for Akai Professional. "For the seasoned instrumentalist, EWI Solo lets you expand your sonic pallet without compromising the technique you have honed over years of practice. For beginners seeking the perfect blend of versatility and convenience, EWI Solo is the ultimate starting point. No matter your skill level, the EWI Solo is the world's most versatile, go-anywhere wind instrument."

EWI Solo is available immediately and ships with a US Retail price of $499. For more information visit akaipro.com