Additional reporting by Matt Abrams, Jason Buchwald, Dominic Guss, Bruce Sokolovic, Angel Sokolovic
The 2023 Post-NAMM Show Wrap-Up. What Really Impressed Us?
After the Pandemic put a halt to our favorite musical gathering, we were very excited to return to The NAMM Show this year. There was a "first show back" last summer, but our team—along with most of the industry—wasn't quite ready to return to social gatherings, and it was a smaller event with a drastically reduced attendance. But now that the Pandemic was well behind us, we were looking forward to seeing our musician friends and industry colleagues again, and of course, we couldn't wait to see what new products had been waiting for their public debut!
As you've probably heard by now, The NAMM Show was smaller than the historic levels it had reached in pre-Pandemic years, and a fair number of major musical instrument manufacturers opted not to return. Further complicating things, April just isn't as good a time of year for new product introductions as the usual January event. Put all of that together and what we got was a smaller show with fewer new product introductions, but the vibe was extremely positive, and that mattered!
It was obvious that the MI industry (Musical Instruments) was really happy to be back together, and the manufacturers we spoke with at the show were very positive about the event, and their outlook for future NAMM events. Although we don't have as much to report on as with typical past shows, we expect that when the show returns to its normal schedule next January, things will be back in full swing. Hopefully, a number of companies who skipped this oddly timed show will mark their own triumphant returns next winter.
And now… on with the show!
Gear Gear Gear!
No matter the time of year, manufacturers can't wait to show off their latest products, and as self-professed gear junkies, we couldn't wait to see what was new. But the reality is, there wasn't that much new during this time of year, and many of the companies we love to connect with weren't even in attendance. But even at this smaller show, there were some really fantastic new products that stood out, and new companies whose products we were just discovering for the first time. So now that the dust has settled and The NAMM Show is back on track, here are the new products that we think you need to check out.
Most Exciting Product We Saw:
Artesia Pro EFNOTE PRO Electronic Drums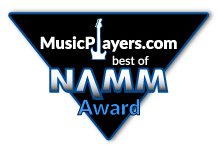 If we had an award for the singular most exciting product of the show (err... we do!), we would give it to Artesia Pro for their line of electronic drums, capped with the premium PRO kit. Multiple editors from our team, each of whom play multiple instruments, came away extremely impressed.
It's not every day that a company goes up against established industry giants, but in the case of EFNOTE, this is no mere startup. Five years ago, a group of electronic drums engineers in Japan left the leading eDrums company to form their own company, and their goal was to create electronic drums without compromise or limits.
Based on what we heard and what we played, EFNOTE has made some remarkable improvements over the competition. While two-ply mesh drum heads are nothing new, what really impressed us were hi-hats that felt natural and responded to nuanced playing, sampled cymbal sounds that just sounded completely alive and resonant, and we loved the additional cymbal options including a China crash, a splash, and an effects cymbal. No, we're not talking about more cymbal samples. We're talking about physically unique cymbal shapes that enhance the playing experience and make it more like sitting behind a real acoustic kit. EFNOTE's expanding range of full-sized wooden shells further added to the vibe that many players demand, though we think the company's shallow shells on some of their kits have a very cool and modern flair to them.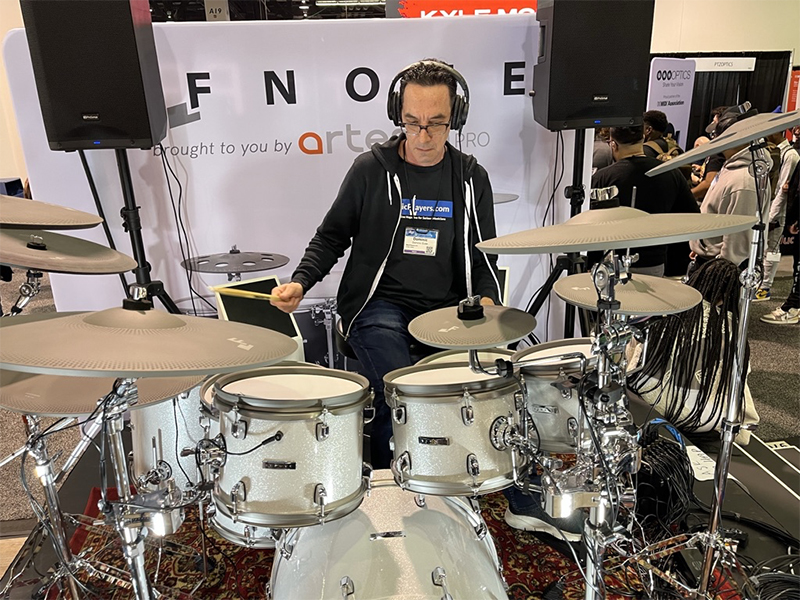 And at the opposite end of the drums spectrum…
Gretsch 140th Anniversary
Gretsch showed a number of new, limited-edition items celebrating their 140th anniversary. First up was a new 7x14" commemorative snare drum featuring a six-ply maple/gum shell with a beautiful, figured ash veneer. In addition to nickel-plated hardware, this snare drum comes with a special-edition 140th Anniversary commemorative bag.
Next up from Gretsch was the unveiling of two new 140th Anniversary, limited edition, full kits: The Renown Limited Mahogany Drum Set and the 140th Anniversary kit. The Renown kit incorporates features not available in other Renown kits and is available only this year. Featuring seven-ply mahogany shells and Gretsch's exclusive silver sealant for the inner ply and 30-degree bearing edges (which contributes to that famous "Gretsch sound"), this kit adds a layer of warmth and fatness provided by the their custom mahogany shells. Known for their deep and rich finishes, this Renown kit adds a white pearl inlay in the center of the shells for a special touch.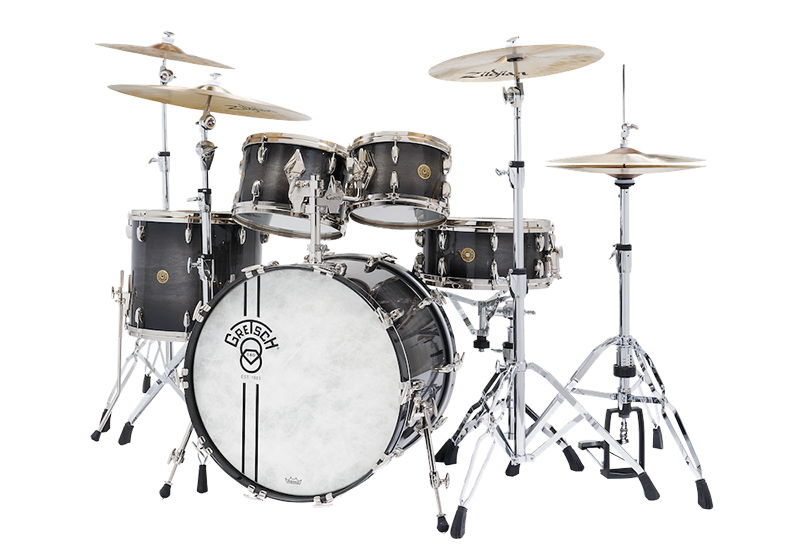 The new 140th Anniversary kit on display incorporated a unique shell construction design featuring three different species of wood: Maple, gum, and poplar in a six-ply configuration. The finish is a beautiful "Ebony Stardust Gloss Lacquer," which was created exclusively for this limited-edition kit. As with the Renown kit, it also features nickel-plated die cast hoops, and each drum of the Anniversary kit comes with its own 140th Anniversary commemorative bag.
---
Guitars
What's Old is New Again!
Peavey 6505 1992 Guitar Amplifier
Back in 1992, Eddie Van Halen worked with Peavey to develop the iconic 5150 amplifier. Eventually, he parted with the company to develop amps under his own EVH brand name, and Peavey continued developing the amp series under the 6505 moniker.
But over time, multiple updates and revisions led to newer amps that just didn't have quite the same, legendary tone. Peavey went back to the original plans and re-engineered components to bring back the classic tone that was loved by millions of guitarists. There's no more need to hunt for old Peavey amps on the used market.
"Made In Mexico" Isn't Just Limited to Fender Anymore!
Introducing Cream Guitars
Cream Guitars first launched at NAMM 2022, but NAMM 2022 was, well, the warmup NAMM event. Consider this Cream's official Do Over. There are currently two main guitars in their lineup set to launch shortly, the Voltage and the Revolver. It's refreshing to see some unique style and bold looks that isn't too far out there to appeal to a wide range of rock and pop players. The Voltage is a double humbucker, Explorer-style guitar but with modern and unique appointments including an aluminum headstock insert with resin for added sustain. Spec models come with a Seymour Duncan PAF 59 in the neck position and a Seymour Duncan JB in the bridge. Quality parts such as Kaiser Piezo bridge, CTS pots, Orange Drop capacitors, Switchcraft jacks, and Sony 3-way switches round out the well-appointed guitars. There are 11 colors to choose from in the standard solid-body model and three in deluxe (resin + glitter) model.


The second guitar in their debut release is the Revolver, a truly unique body shape with an HSS pickup configuration and a Kaiser piezo bridge. This one comes with Seymour Duncan SS1 pickups in the neck and middle position and a Seymour Duncan JB in the bridge. Similar premium parts round out this model. Currently there are 10 colors to choose from if you want a solid color. But there is also a Deluxe model with resin and glitter, and a Prisma available in two different colors. If these two models don't have enough options to find your unique guitar, Cream also has a Custom Shop.
When Only the Best Will Satisfy Your Tone Snobbery
Two Rock Introduces New Vintage Deluxe and Joey Landreth Signature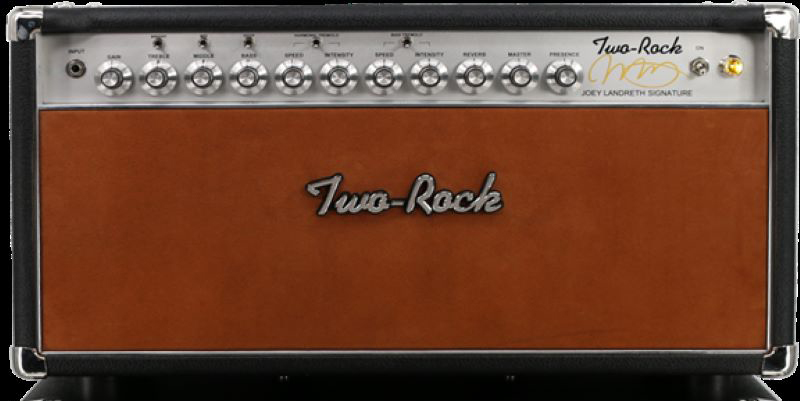 The Vintage Deluxe pays homage to vintage amps while introducing some more modern and reliable features. The Vintage Deluxe is a single-channel amp with a steel chassis and features a full tube, analog reverb with a bias tremolo circuit. Two Rock also added a Texture switch which changes the feel of the amp from a soft scooped front-end to a faster attack with an increased amount of harmonic content and texture. Another unique feature on this amp is the Tone Stack switch, which when engaged, the tone stack on the front of the amp is bypassed and a secondary tone stack with a single tone control on the back of the amp becomes active. These features can take your sound from dark and wooly to high gain lead tones. The amp will be offered as a 35-watt 2 x 6L6, single GZ34 rectifier version, and a 40-watt 6V6 version that will be switchable down to 20 watts. There is a gain control along with master volume, treble, middle, and bass along with the Tone Stack control and the tone Texture switch, and a presence knob. There is also a passive effects loop and reverb send and return controls, along with a standby switch and speed and intensity for the tremolo controls.
The second new model is the Joey Landreth signature amp, designed in partnership with Landreth, a long-time Two Rock endorsed artist. It is a single-channel amp with built-in analog spring reverb and an all-new tremolo circuit. In addition to a more traditional tremolo, a new Harmonic Tremolo modulates higher and lower frequencies separately at the same rate but offset from one another. It gives a faux doppler-effect that is created by the phase shifting between the high and low frequencies. The Landreth comes as 100w head (with a 50w half-power switch) with 4 x 6L6 tubes. This amp also includes a passive effects loop, and has options for 4, 8, or 16 Ohm speakers. Aesthetic appointments include a suede front baffle and metal trim.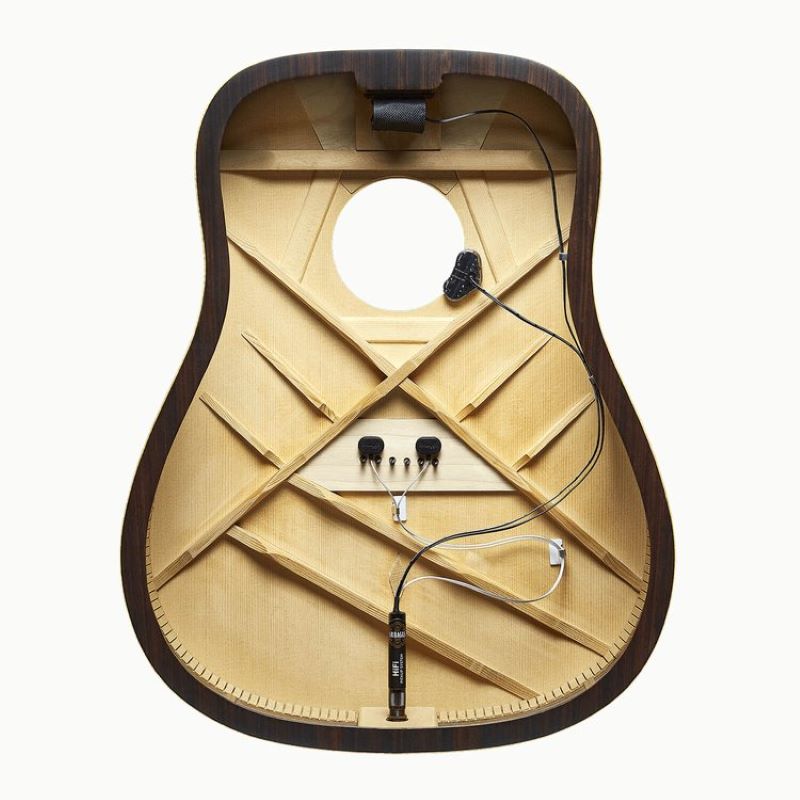 Has Your Favorite Acoustic Guitar Ever Sounded So Good When Amplified?
L.R. Baggs HiFi Acoustic Pickup System
L.R. Baggs introduced a new non-invasive pickup design for acoustic guitars that pairs dual bridge plate sensors with hi-fidelity electronics at a very affordable price with simple installation. What you get is a very balanced tone with the definition, dynamics, and good feedback resistance you need from your acoustic guitar that doesn't color its natural acoustic character.
Features include a discrete high-fidelity endpin preamp, prewired bridge plate transducers, sound hole mounted volume and tone controls, and a simplified peel-and-stick installation. It runs on a single 9V battery with over 700+ hours of battery life. Head over to the L.R. Baggs YouTube channel for a quick video and hear the tones and dynamics. You can easily replace most acoustic electric guitars' inferior onboard electronics with this system without risking any harm to your beloved instrument. https://youtu.be/f5EN45nlO38
Great Guitar and Bass Wireless Gets… Greater?
Shure GLX D+
Hot off the success of their previous wireless incarnation (which we reviewed, loved, and own), Shure released the GLX D+ family of wireless systems. Paired in a variety of configurations for both instrument and voice, the GLX D+ is offered at a competitively attractive price point, especially given its feature set.
Designed to be a plug-and-play device, the GLX D+ offers both 2.4 and 5.8 GHz bands, allowing the best chance for a RF free channel. The system automatically scans for the clearest channel, leaving you with no need to manage scanning for frequencies when you've got more important business to attend to. There is plenty of room for the whole band, as you can utilize up to 16 units on stage.
In its half rack format, space is not a critical concern for large band systems, and charging your receiver is done by simply inserting the removeable LiON battery from your pack and inserting it into a charging slot on the face of the unit.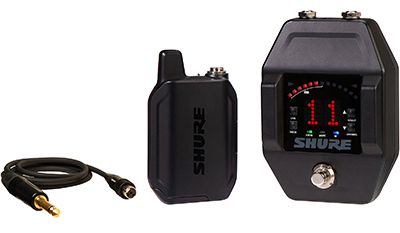 ---
Bass
Play that Multiscale Bass, John!
Dingwall John Taylor Signature "Rio Dream" Bass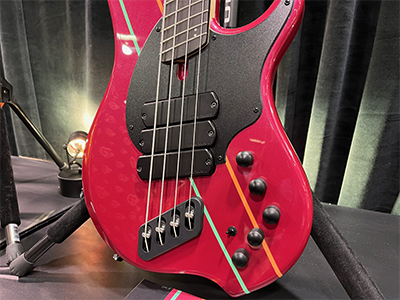 One of the most respected bass players in all of pop music, Duran Duran's John Taylor was identified with Peavey's Cirrus bass line for decades before he discovered the multiscale wonders of Sheldon Dingwall's remarkable instruments while on tour in Canada. And now, after years of tweaking and refining instruments to John's liking, they arrived at a standard configuration that features the first on-board Neve bass guitar preamp!
Although the 82 instruments with the Rio Dream custom finish sold out in a matter of an hour or two, expect to see production models in the Dingwall lineup later this year in a range of equally flashy colors. We can't wait!
Other Notes on the Bottom Line:
EBS Session Mk3 Compact Combos
EBS introduced a few new compact amps that will be music to your bass playing ears. It's not always feasible or practical to bring your premium EBS bass rig to a show, and we were happy to explore the new EBS Session Mk3, which boasts upgraded features including not only an improved speaker, but the addition of a tweeter to this super-compact practice amp. Available in 30W and 60W versions, the Session also includes a headphone output, XLR recording output, and the ability to stream external audio via Bluetooth, making it a great practice amp as well.
EBS is also releasing a high-current pedalboard power supply. The Runsten features ten isolated outputs that each provide up to 900mA and 9V DC (and eight of the outputs can be run at 12V). As with other premium power supplies, the included combo cables enable you to combine outputs in serial for 24V DC operation as well.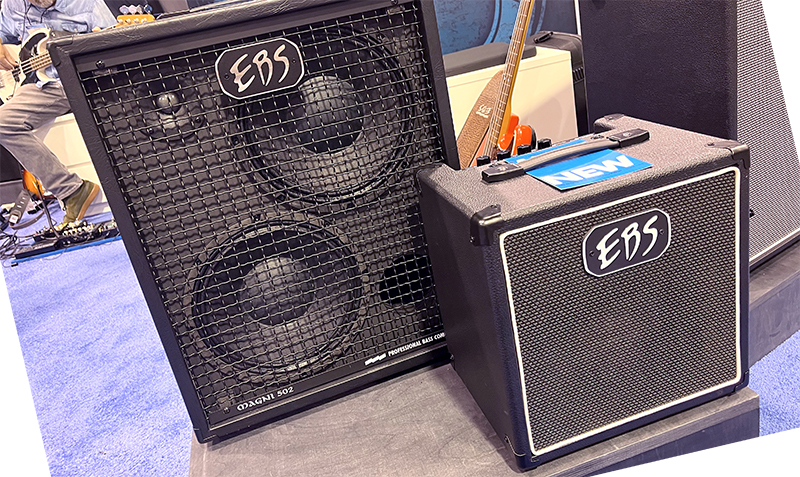 ---
Keyboards
Without the "Big Guys" There to Distract Us,
We Got to Fall In Love All Over Again:
Groove Synthesis 3rd Wave Synthesizer
A pleasant surprise was spending some time with Groove Synthesis, a company founded by music industry veterans from Avid/Digidesign and Sequential. The 3rd Wave is a 24-voice, four-part multi-timbral wavetable synth with three oscillators per voice, analog low-pass filters, a state-variable filter, six-stage wave envelopes per oscillator, and something called the Wavemaker tool, which enables users to create custom wavetables in a single step. Each of its three oscillators can generate a classic PPG-era wavetable, a modern high-resolution wavetable, or an analog modeled waveform.
3rd Wave combines their digital wavetable expertise with an analog low-pass filter with variable saturation and resonance compensation, and a second, SEM-style state-variable filter (low-pass, high-pass, notch, and band-pass) for additional tone-sculpting. Both can be used in series.
Several of us had the pleasure of playing the 3rd Wave, and we were very impressed by the richness and fullness of the sounds it was able to generate. The vibe contained a bit of Wavestation, PPG, and even some classic Casio CZ sonic goodness at times, but unlike the aforementioned synths, the 3rd Wave has with a much simpler, physical programming interface that really makes it enjoyable to design new sounds. We look forward to an in-depth review soon.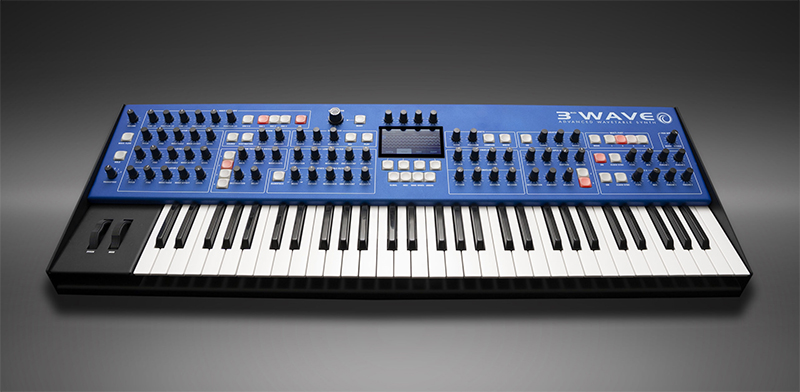 And what better way to steal the stage than with a...
Nord Stage 4
Long renowned for their great sounding keyboards, the Stage 4 represents the pinnacle of Nord's keyboard lineup. The Nord Stage 4 comes with a new, enhanced collection of grand pianos, uprights and electrics from the Nord Piano Library, combined with new features such as dynamic compression and unison.
The Synth section saw significant refinements and now features three independent layers and is based on the Nord Wave 2 synth engine. It includes Virtual Analog synthesis, Samples, FM, and Wavetable. The Organ section features simulations of B3 Tonewheel, B3 Bass, classic Vox and Farfisa, as well as two pipe organ models.
However, perhaps more impressive than the sonic upgrades themselves are the workflow improvements. EVERY Stage model now includes physical drawbars—no more pushbutton ladders! Even better, the synth section has been significantly redesigned to be much more synth-like, with far more hands-on sound sculpting controls, just like you would expect on a dedicated synth. Usability enhancements were a major focus with the Stage 4, and there's much less need for menu diving. We already have the keyboard in our studio for review, so look for more details soon!



Or Steal the Stage With This:
Yamaha CK61/CK88
Ironically, Yamaha's new stage pianos (CK61 with synth action and 61 keys, CK88 with 88 keys and weighted action) are in some ways similar to the Nord Stage 4.The CK combines the sounds of the Yamaha CP Stage Piano with the sounds of the organ- and synth-focused YC Stage Keyboard. In addition, there are physical drawbars, which we were told are derived from the Reface series. Yamaha designed the physical interface to be more one-to-one, so there's little need for menu diving. The focus is on portability as well. There are buil- in speakers, and it can be battery powered for a few hours at a time as well. It can also be used as an audio and MIDI interface, and even accepts Bluetooth audio. The weighted 88-key version still weighs in at less than 30 pounds! Most importantly, the demo we experienced revealed that sonically, this is pro level stuff through and through. In the do-it-all stage piano category, this is definitely another keyboard you'll want to consider.


Synthogy Ivory 3
Ivory has long been regarded as one of the top, if not THE top, virtual piano plug-ins. Synthogy has upped the ante with the new version of Ivory. To quote Synthogy, "Ivory 3 represents a major leap in virtual piano recreation, and the platform offers some truly ground-breaking tech and features. At the heart of this technology is our new RGB engine that makes possible expressive new features that behave like modeling technology, yet maintain the complex, rich and realistic sound of real world recorded acoustic instruments."
The new Ivory 3 German D features all new recordings of a Hamburg Steinway D Concert Grand Piano. In a nutshell, you have a plug-in that now utilizes both samples and modeling to produce an even more realistic sound than before. Even better, all this new power is under a newly designed (and improved) graphical user interface. But don't panic. Your existing Ivory II presets and libraries are still compatible. At the moment, only the Mac version is available, but the Windows version is promised to be coming soon. We have to say, the new Ivory plug-in sounded so rich and realistic that it even made some of our guitar editors stop and take notice. Review coming soon!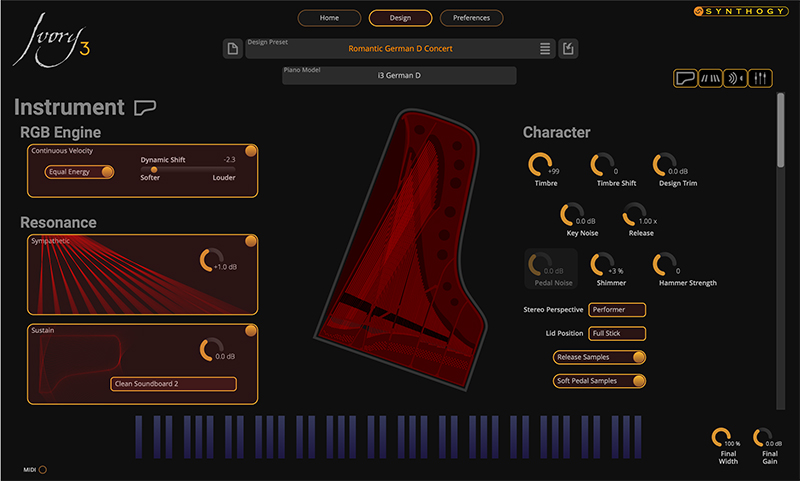 ---
Recording & Live Sound
The Sound That Was Music to Our Ears:
Ultimate Ears Professional, UE Premier In-Ear Monitors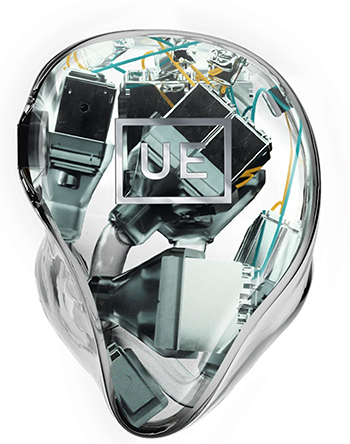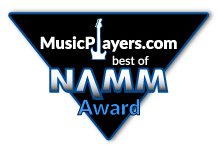 Whoa. In the ever crowded market for in-ear monitors, UE Professional is firmly entrenched as one of the market leaders, and the new UE Premier IEMs are sure to further distance their lead for quite some time. With the tiny drivers (armatures) found in in-ear monitors, multiple armatures are employed in more costly models in order to direct narrower bands of frequencies to separate drivers for an undistorted sound. Less costly IEMs have between 1-3 armatures, while pricier models like the fabulous UE 18+ Pro and UE Live Pro have 6 and 8 drivers apiece.
The new UE Premier features a remarkable 21 drivers and a five-way crossover. Our first thoughts were "Insane!," "Who needs that many drivers?" and "How do you even fit that many in there?" Then came the demonstration in a quiet and private meeting room. Wow! If you're as picky about a good monitor mix as our editors are (we want to hear everything sounding fantastic), you'll be very impressed. With a frequency response of 5Hz—40kHz, we were truly floored by the difference (and we own a few of UE Pro's impressive 6 and 8 driver models). At nearly $3,000 these aren't an impulse buy, but if you perform at the pro level and require uncompromising performance on stage or in the studio, you'll want to check these out. Look for a full in-depth review shortly.
Why Did Nobody Think Of This Until Now?
Nugen Audio Jotter
"You know, the part where the bass goes…? And, at the end of the 2nd verse leading into the 3rd chorus, where the keyboards do that warp thing?" Audio Jotter is a mix engineer or producer's dream plug-in that takes all the guess work and frustration out of the "Can you fix this?" descriptions from their clients, especially with remote mix sessions, by enabling artists to mark up your rough mixes with precise time markers attached to their comments and feedback.
How it works: You (the mix engineer) purchase the plug-in and place it anywhere in your session (mix bus, for example). The client then downloads the free companion app allowing them to review your mix audio file. They can then make notes at exact points in the mix, export a very small text file that you then import it into the session's plug-in. Like magic, all of your clients' notes will appear exactly at the points in the song where they made them, taking any room for error away from the intended message. You can even export the notes as a CSV file, for viewing and editing as a spreadsheet.
While this utility plug-in may not transform your mix or help your kick cut through any better, what it will do is keep you off the phone with your clients trying to figure out where exactly they heard something in need of tweaking. Look for a review shortly.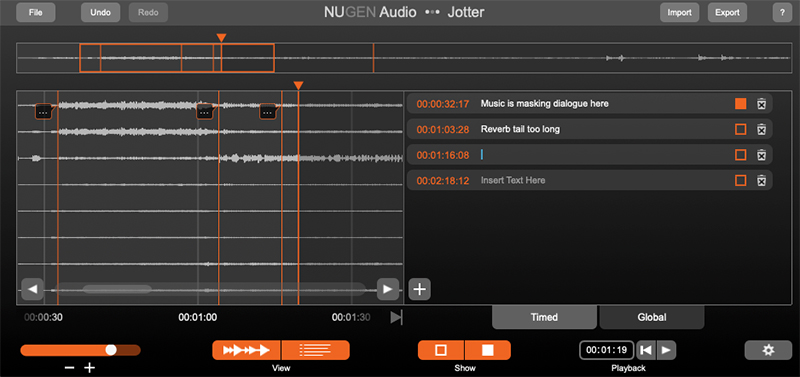 Antelope Audio introduces innovative monitor speakers:
Atlas i8
Antelope Audio made their foray into the professional loudspeaker monitoring market by unveiling their new Atlas i8 3-way active monitor, featuring an internally sealed, isobaric configuration incorporating two eight inch low frequency drivers, one in front of the other. The idea behind this design is to attain a frequency response down to 35Hz while achieving relatively high output with a minimal footprint. In addition, the mid and high frequency drivers are arranged in a coaxial configuration, qualifying as a point-source solution for this frequency range, providing pin-point imaging free of phasing artifacts from nearby room boundaries (not to mention allowing the mixing engineer more freedom to listen at relatively closer distance to the speakers than typical 3-way solutions). The internal Class-D amplifier feeds 200 watts to the woofers, and 100 watts to the coaxial mid and high frequency drivers. To top it off, this new monitor speaker features the renowned D-to-A conversion Antelope Audio is known for. We can't wait to hear if Antelope has delivered a speaker solution as great sounding as their audio interfaces. Expected pricing is approximately $2,500 apiece.
An SSL Board For The Rest Of Us?
BiG SiX Analog Mixer and USB Interface
Solid State Logic unveiled their new BiG SiX all-in-one hybrid analog mixer and USB interface, featuring their new SuperAnalogue technology modeled after their SL 9000 series consoles. This relatively compact analog and digital mixer/interface offers a truly hybrid approach to the pre- and post-production process while providing that famous SSL sound which their most famous large format consoles are known for.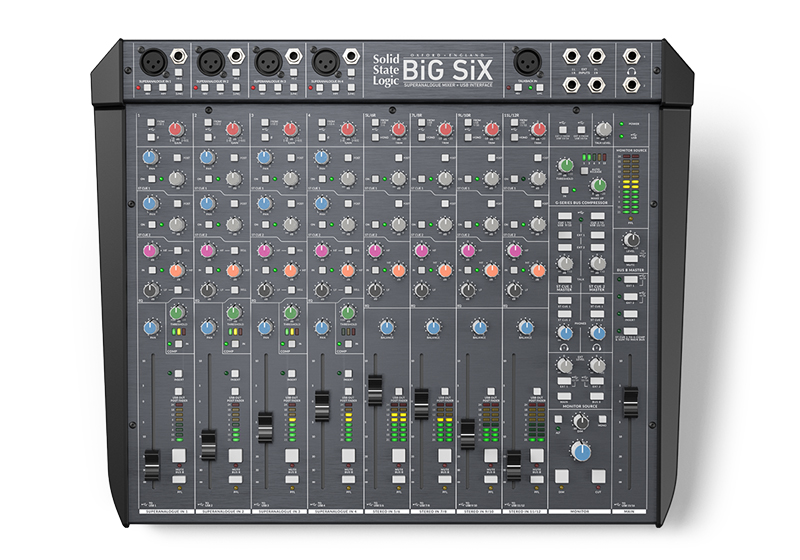 At just under $3,000, notable features included in the BiG SiX include:
• Four channels with wide-gain mic preamps, Hi-Z, and discrete 48V Phantom power
• Four stereo line inputs
• Four external inputs (non-fader controlled - 16 analog inputs in total)
• 16 USB channels
• 16 A/D and D/A converters
• Class-compliant 96 kHz/24-bit recording
• Fixed 3-band SSL E series EQ per channel with selectable shelving or bell curves
• Independent high and low shelving filters
• Classic SSL compressor on channels 1-4; G-series bus compression for monitor section
• Two independently controlled headphone outputs
• Talkback input
• 8 long-throw channel + 1 long-throw master faders
To recap lots of other cool products introduced at The NAMM Show, see all of our NAMM Show News here!
To watch video coverage from the show, visit our YouTube channel here.