Legendary amp-modder to the echelons of guitar royalty delivers 5 rare 4x12" cabinets recorded at Sunset Sound Studios, outfitted with hard-to-come-by Celestion® drivers.

Saint Gély-du-Fesc - France - February 10th, 2022 - Two notes Audio Engineering, the world leading innovator and manufacturer of load boxes, attenuators and digital cabinet emulators, has just announced the 'Dave Friedman Collection'. Comprising 5 flawless captures of super-rare 4x12" cabinets, all tuned to Motor City's favourite son's exacting standards, this is a sure-fire hit with legions of Friedman Amplification® fanatics and the ever-growing army of Two notes users. Available as single DynIR purchases or collectively in the Dave Friedman Collection, Two notes is truly kicking-off 2022 in unequivocal style!
About Dave Friedman
If you haven't been living under a rock for the past 25 years, David Friedman needs no introduction. A legendary amp-modder to the the echelons of guitar royalty, including Eddie Van Halen, Steve Stevens and Jerry Cantrell to name but a few. An innovative amp and cabinet designer, with a roster engineered to fuel an army of discerning tone enthusiasts internationally. A perfectionist, inspecting every amp, ensuring it meets his exacting standards. If you haven't gathered it by now, he knows a thing or two about stellar tone!
Check-out Michael Nielson Demo'ing the Dave Friedman Collection:
Introducing The "Dave Friedman Collection"
For his inaugural DynIR release, Dave provides a selection of 5 rare, tonally distinct 4x12" cabinets outfitted with a selection of must-have, hard-to-come-by Celestion® drivers. Even better, these DynIRs were captured at the infamous Sunset Sounds studio, LA. The result is truly breathtaking. A veritable melting pot of powerhouse cabinets primed for the modern creative to harness some of Dave's next-level tone-bending knowhow. From original 70's G12-65's to mainstay Vintage 30's - not to mention a super-rare cab from a 70's Laurel Canyon rock and roll legend - everything the discerning tone chaser demands is here, ready to enrich your sound with some iconic Friedman® wizardry.
The following cabinets are included in this release:
Friedman® Vintage 412 Black - Mighty tone is the name-of-the-game with this DynIR, inspired by a vintage 4x12" Marshall® slant cabinet complete with a classic chequered grill cloth and Celestion® G12H-30 "Black Back" 55Hz 30W speakers. Sharing some of the character of its 75Hz cousin, this 55Hz version is deeper and darker in its tonal output; think of this BB30 as a more aggressive "Greenback" speaker with sublime bite, punch and depth, perfect for hard-rock!
Friedman® Vintage 412 G12 - This vintage 4x12" cab has been outfitted with a G12-65 speaker heralding from the late 70's. Its massive dust cap and higher power handling translates to a warmer, fat sound, and was widely regarded as one the best speakers you could put into a 4x12". Featuring a tight and punchy low end, this cabinet is a sure-fire hit with hard rock players seeking to inject some 80's-style power into their performance.
Friedman® 412 Green - Captured from a thunderous Friedman® 4x12" cabinet loaded with Celestion® Greenback Speakers, this unique DynIR guarantees to faithfully deliver that legendary tone synonymous with classic British cabinets. No half-hearted attempts here, the Friedman® Green is the iconic modern tone of rock 4x12" cabinets, complete with the perfectly scooped midrange and airy top. If you're seeking the ideal partner for British-voiced amplifiers, you've found it!
Friedman® 412 Vint - Captured from a Friedman® 4x12" cabinet loaded with Celestion® V30 speakers, this DynIR is a sure-fire hit for tone chasers seeking legendary tones synonymous with British cabinets. Pushing out a formidably aggressive midrange, the Friedman® 412 Vint is perfect for contemporary high-gain tone enthusiasts who demand the perfect blend of power, depth and uncompromising articulation.
Friedman® 412 Vint 6402 - It really doesn't get any rarer than this! The Friedman® Vint 6402 is a faithful capture of the iconic 'naked' cabinet that has been a mainstay in Dave Friedman's workshop since the very beginning. Acquired from the backline of a 70's Laurel Canyon rock and roll legend, "For What It's Worth" it has no tolex so the bare wood resonates more musically and allows your amp to 'sing'. This cabinet is loaded with a quartet of early 90's "Greenback" speakers; these rare 6402 coned speakers are often considered to have a smoother tone than Celestion's® current Greenback speakers. If you're in the market for something a little special - dare we say it, a genuine piece of rock-and-roll history - you've certainly found it with the Friedman® Vint 6402.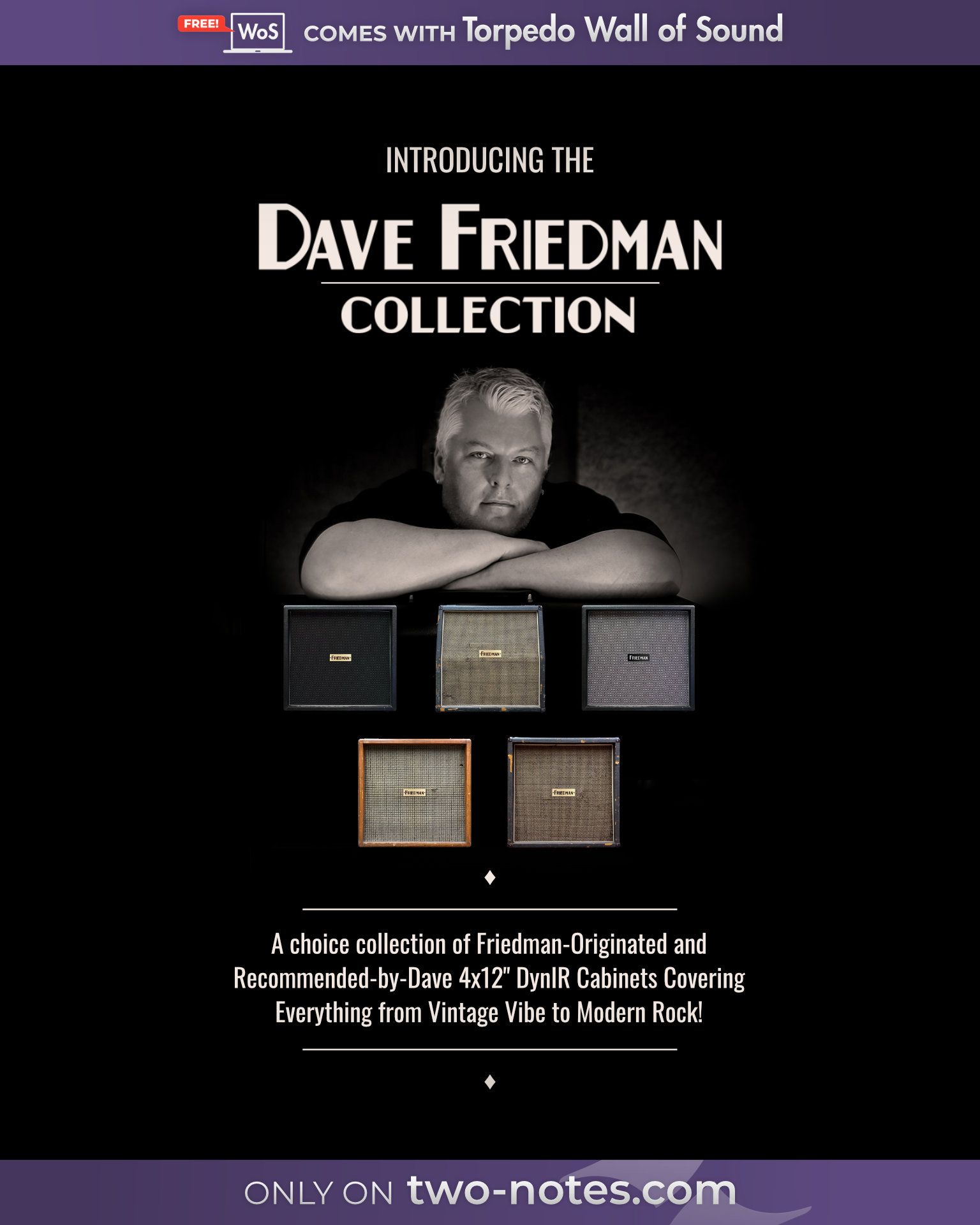 All 5 cabinets have been expertly captured with 8 industry standard microphones including the Blue® Dragonfly, Shure® Unidyne III 545, Heil Sound® PR30, Sennheiser® MD409, Shure® SM57, Coles Electroacoustics® 4038, Beyerdynamic® M160 and Royer® R-121. Each DynIR was recorded through the legendary 68x16 Sunset Sound Custom Discreet Console via a HH Electronics power Amp using only Mogami® cables.
The all-new Dave Friedman Collection of DynIR virtual cabinets are compatible with all DynIR-enabled Torpedo hardware (including Captor X, C.A.B. M+ and digital legacy products), 3rd party Torpedo embedded devices and the Torpedo Wall of Sound v4 audio plug-in (Mac/PC).
This artist release is truly set to sky-rocket to legendary status given their tone-centric pedigree!
The Dave Friedman Collection retails at 39€ / $39 (USD) and is available from the Two notes store exclusively via the following link: https://www.two-notes.com/en/product/the-dave-friedman-collection/
For more information on Two notes' groundbreaking product roster and DynIR technology, please visit www.two-notes.com