Category

Value

Rating

Features

20%

Usability

25%

Sound

25%

Documentation & Support

10%

Price

20%

OVERALL RATING = 3.7 Stars,
which earns it a WIHO Award!


3.6 stars or better: Outstanding, WIHO Award




3 stars or better: Worth considering




2 stars or better: Suited to specific needs




1 star or less: Not recommended
Back in 2017, we reviewed a Stratocaster from Fender's then-new American Professional series guitars, an updated series related to the core American Standard line.  Although it was a nice guitar, we felt that there were not many changes compared to the American Standard line and the pickups were fairly typical sounding. Strat lovers that we are, however, we were excited to explore what had been updated in this second generation of the product line.
Fender definitely listened to their customers and artists on this one, and to our excitement made a few key updates. One, the V-Mod pickups were tweaked to deliver more sparkle and clarity. Two, Fender added a tapered heel to the neck where it meets the body. Third, they added a push-push feature to the lower tone knob to add the neck pickup to positions one and two, thus enabling seven different Strat tones. The other thing Fender did was add some sexy new colors that will appear to a broader range of guitarists.  Overall, the sum of these updates makes for a very exciting new Strat!
Features
The main new features that differentiate the new American Professional II Series from the American Professional include the upgraded Tim Shaw-designed V-Mod 2 pickups, tapered neck heel, rolled fretboard edges, and push-push tone control to add the neck pickup to positions one and two on the 5-way switch. In addition, the necks have been tinted a bit more yellow (but tastefully so), and the bridge block has been upgraded to cold-rolled steel, which improves sustain and note clarity. Features that were greatly welcomed and have been continued are the Modern Deep C neck profile, bone nut, 22 narrow-tall frets, pop-in tremolo arm, treble bleed circuit, and the inclusion of an elite, molded, hardshell case.

The Stratocaster we reviewed had a glossy, Miami blue body with a maple neck and headstock topped with a dark rosewood fretboard. The rosewood fretboard was too dark, said no one ever! This one has a deep espresso brown with no light areas. The back of the neck is covered in a matte satin urethane finish. Although we reviewed one with a rosewood fretboard, we also checked out a model at the local guitar store with a maple fretboard as well. We were pleasantly surprised that the gloss on the maple fretboard was not as thick as they had applied in 2017. The twenty-two frets continue to be narrow-tall to improve bending and chords higher up on the fretboard. The body is covered in a gloss urethane. The solid-body wood is Alder, common for many Fender guitars.
The headstock remains a standard Stratocaster headstock, not the large design found on vintage '70s-style Strats. The Fender decal is the modern decal with metallic gold Fender lettering with black border and is very classy, adding to the overall upscale appearance of the guitar.  The front of the headstock is covered in a tinted gloss urethane. The tuners remain a staggered modern style but with a new modern style string tree.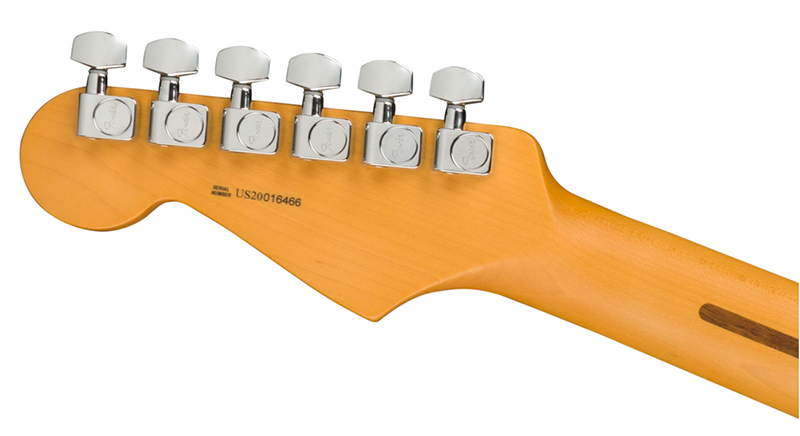 The neck is a standard 25.5" scale found on virtually all Stratocaster models. It has a 9.5" radius and a thickness of 0.82'" at the first fret and 0.920" at the 12th fret, though dimensions can vary slightly. The tapered neck heel features a beveled neck plate to make it even more seamless when you're whaling away at those upper frets.
The truss rod remains a bi-flex dual adjust. This is a Fender exclusive design that can correct not just concave neck bowing (like a single-action truss rod) but can also correct for convex neck bowing.
The pickups are now the second version of the Tim Shaw-designed single coil. The development and  research behind the original V-Mod pickups is well discussed on the fender website at this link.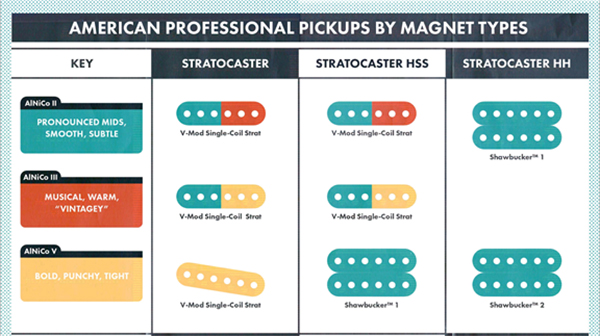 With the American Professional Stratocaster, all three single-coil pickups vary, with a blend of alnico II and III for the neck, alnico II and V for the middle and alnico V for the bridge.  The poles on the pickups are vintage staggered. As we stated before, there are many discussions of this online and whether this is appropriate for modern day fretboards that do not sport a vintage 7.25" radius (we'll share our thoughts in the Sound section).
Another great enhancement is the treble-bleed circuit, which preserves treble tone when lowering the pickup volume.
The tremolo continues to be the upgraded pop-in style for enhanced stability. Often, there is a challenge finding that right balance of the arm being too loose or too tight. The pop-in style solves this problem by utilizing an arm tension adjustment to find just that right swing in the arm. The adjustment screw is located under the bridge. Speaking of which, the bridge is a standard American, two-point design, and the bridge saddles are a vintage bent steel style. Also, although not often listed in the specs, the bridge spacing is the narrow 52mm compared to the 56mm found on vintage Strats (and which was used on American Standards prior to the late 2000s).
Other feature worth noting: the guitar includes Fender's Elite Molded case, which is extremely durable for travel and is TSA compliant.
Usability
This guitar felt great in our hands right out of the box. The rolled fretboard edges and tapered neck heel made the guitar feel broken-in and ready to play. The fret edges were well groomed with no sharp edges. Also, the slightly more tinted neck and headstock gave a tasteful balance to modern appointments while honoring the history of the Stratocaster. The guitar comes with 9-42 strings, which although light for our taste, were well intonated with perfectly balanced action.

As we noted in our review of the first incarnation of the American Professional Strat, the Deep C neck curve felt like a happy meeting point between Fender's Modern C and D shapes. The slight change seemed more comfortable in our hands, particularly at the 12th fret and above, and there was no fret buzz nor fretting out with aggressive bending. And again we greatly appreciated the pop-in tremolo and being able to adjust the tension to our liking. Although having a tension screw above the bridge instead of underneath it would be more convenient, it didn't take much effort to adjust it. Having a Strat's whammy bar stay in position while not being too tight was a joy. Even after minutes of use, the guitar stayed in tune.
A few notes: Some of the areas of the fretboard where the edges were rolled could have been smoothed a little better as there were a couple of minor rough spots (easily fixed with the flat side of a screwdriver). We would have liked to see locking tuners standard on the guitar, but that's an easy upgrade to make for yourself (or treat yourself to the even more sophisticated Strat Ultra, which includes those and a number of other upgrades). The springs on the guitar are black oxide coated springs, which reportedly have somewhat less tension than "vintage" nickel-plated steel springs but also less spring squeak. We can confirm the quiet nature of them in particular.
Although this is a three single coil pickup guitar where only positions 2 and 4 are hum cancelling, these pickups were not particularly noisy when played through an amp.
Some players may prefer the wider bridge spacing of older Strats, although others complain the high E string rolls off the fretboard edge too easily with that design. Whatever your preference, we quickly forgot about this detail once we started jamming with this guitar.
Sound
Here's where the updates shine. The V-Mod pickup version one was—let's just say—"meh." But the version two V-Mod pickups in this Strat are all Strat with all the chime and sparkle one would expect from a single-coil Strat. Had we purchased the first generation guitar, we would have likely replaced the pickups. But we found no reason to do that with the American Professional 2 whatsoever. We tested it through a number of amps and despite the pandemic, we even had the opportunity to try it live at a local gig. (OK, so really the gig was just a live jam with our band, outside, on the driveway, masked and socially distanced.) Besides being mesmerized by the sexy Miami blue color, everyone involved with the jam thought the guitar sounded great.
Before we ever plug in an electric guitar in we like to hear how it sounds acoustically. As soon as we picked it up, the sustain and improved resonance was evident. The first hour we played it we just noodled around without it plugged into an amp and we were perfectly content.
We started testing the guitar with a new Fender Tone Master Deluxe Reverb amp that we were also reviewing, and the tones were just as heard in Fender's demo videos and what you expect from a Stratocaster. Although we liked the Tone Master Deluxe Reverb amp, plugging into a boutique tube clone of a Fender '57 Deluxe took us to Strat heaven. The bridge pickup was gnarly and raunchy, not harsh, and rolling off a bit of the treble made it sound warmer and smooth. Rolling off the treble completely presented a really wonky vocal quality that was very unique sounding. Also rolling off the tone a bit worked well with higher gain settings.
Position 2 with the bridge and middle pickup engaged was perfect for some funkier grooves. The middle pickup position, a spot frequented by Clapton, by itself gave a nice balance of tone. The fourth position, which includes the middle and neck position, is another favorite for funkier strumming but also great for bluesier tones when you don't want that single coil noise. Position 5 is the neck pickup alone and delivered full-on bluesy tones without any muddiness.
There's not much you can't use a single-coil Strat for, and the addition of the push-push feature to bring in the neck pickup to positions 1 and 2, added tones similar to Telecaster middle position or even a dual humbucker guitar's middle position. You can't blend the balance of the bridge and neck pickup since there is only one volume control, but you would be hard pressed not to find the tone in your head from the seven available pickup options.
Fender never fails with demo videos with product releases and you can checkout Artur Menezes, Vanessa Wheeler, Christopher Watson, and Andrew Martin demo the guitar for Fender:
Also check out Devon Eisenberger demo the guitar and highlight the features:
Documentation and Product Support
The guitar includes a basic manual (which can also be found online) but use of this particular guitar is pretty self evident.
All Fender guitars feature a 2-year limited warranty.
Price
The Fender American Professional II Stratocaster as tested sells for $1,499. It's only $100 more than the outgoing American Professional Stratocaster but delivers a better overall experience. This remains a good price to pay for an American-made guitar with this particular level of quality and tone.
Contact Information
Fender
www.fender.com