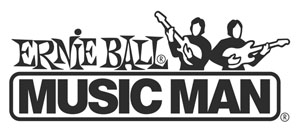 SAN LUIS OBISPO, CA (APRIL 26, 2022) ––
Today
Ernie Ball Music Man
is proud to launch the latest installment in the
Joe Dart

 
artist series signature bass collection:
The Joe Dart II
. In the words of the groundbreaking player himself: it's truly "the ultimate live axe."
"The design aim was for high speed, smooth playability on the neck, and a deep, rich Music Man tone from the pickups, all on an old-school passive bass," Joe continues. "I think we nailed it, and I think I'll be playing it on stage for years to come." 
The Dart II features a premium ash body, select maple neck, and passive split-coil pickups at the heart of its warm, punchy tonality. Dual volume controls are standard, but there are no tone controls to color the sound; therefore, the tone is manipulated solely by the user's technique and finesse. Finished in Natural Velvet, it comes with 22 frets and a custom artist series neckplate and is tuned to E standard with custom gauge .045 - .105" Ernie Ball stainless steel round wound bass strings.
The first 100 Joe Dart II basses will ship with a limited edition premium G&G case, numbered neckplate, and a signed certificate of authenticity.
Select Ash body / Natural Velvet finish
Custom made Music Man "60's" style single-coil pickups with Alnico 5 magnets
EBMM proprietary split-coil design pickups for quiet, hum-free operation.
Dual volume controls (one for each pickup)
Oil and wax finished maple neck
Custom Joe Dart artist series neck plate
The Joe Dart II is available for purchase exclusively from the Ernie Ball Music Man Vault.
More information: https://www.music-man.com/instruments/basses/joe-dart-ii