New LOVE DRIVE, is a Clean-Boost/Preamp/Drive Pedal with Wave-shaping 3 Band EQ
New pedal released in partnership with the Christy Lynn Mitchell Foundation, a provider of merit scholarships for college-bound high school seniors who exhibit the intrinsic motivation to be kind and compassionate.
NASHVILLE, TN – August 22, 2022 – 3RD POWER and Christy Lynn Mitchell Foundation team up to introduce the Love Drive Pedal, a hand built, clean-boost/preamp/drive pedal designed to create, optimize and refine your guitar signal with immersive wave-shaping 3 band EQ.
The original Roosevelt Drive was inspired by the venerable Ibanez Mostortion pedal, a soft-clipping overdrive pedal that became incredibly popular with players everywhere. The goal then was to remedy the negatives; original units were expensive, hard to find and costly to re-house in order to sturdy them up for road use.
Like its predecessor, the LOVE DRIVE pedal still gets its inspiration from the original MOSFET unit but now with improved dynamic range, feel and headroom that's more like one of 3rd Power's amplifier creations.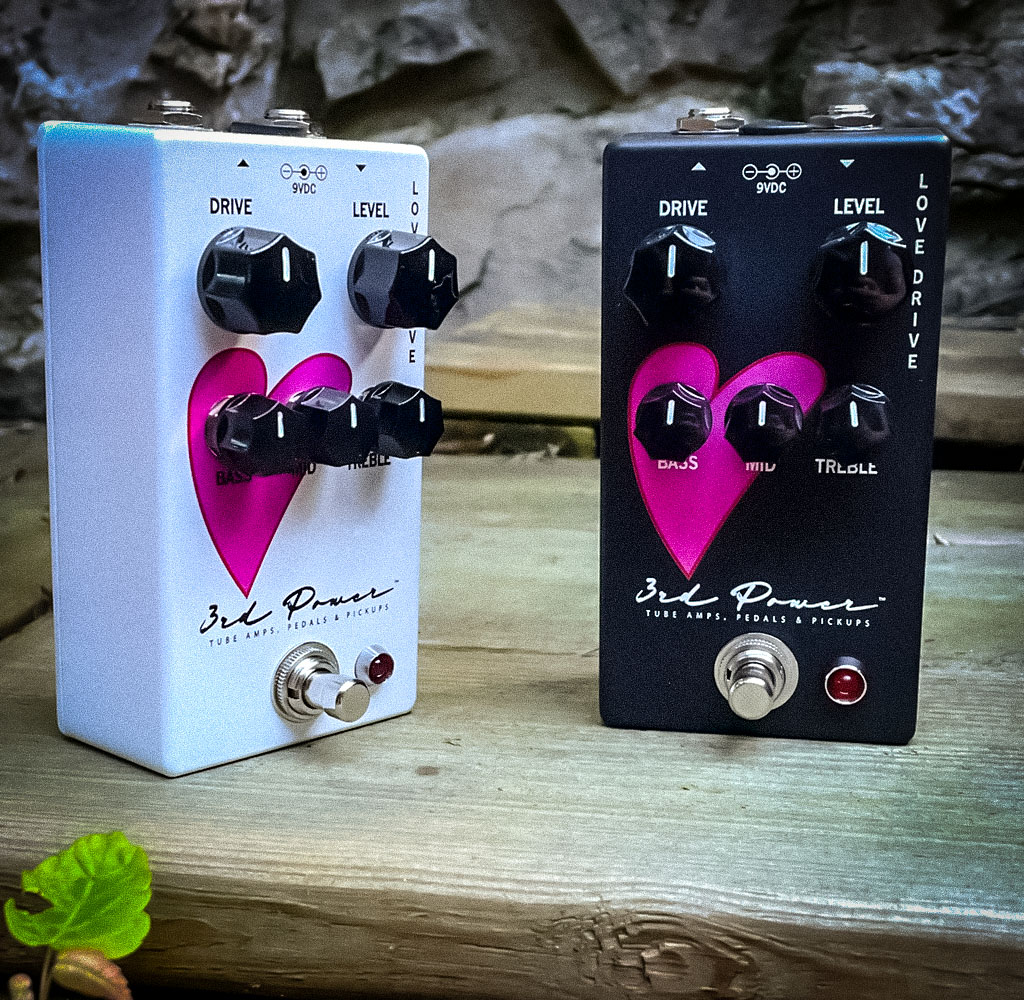 The LOVE DRIVE features an updated high-quality soft-touch relay switching system for silent and effortless on-stage operation, along with enhanced long-term durability. The unit also features a rugged enclosure and is outfitted with top-mounted jacks, for even easier pedalboard implementation.
The true-bypass, buffered input and output (when active) allow you to place the Love Drive at the beginning, middle or end of your chain. When active, the input buffer ensures your signal will enter the FET circuitry under optimal conditions. This ensures that the two gain stages and 3-band EQ will sound their absolute best. The output buffer means the LOVE DRIVE will drive longer cable runs while keeping your tone intact. When cascading with other dirt pedals, the dual buffer stages of the LOVE DRIVE will ensure that your tone soars without collapsing into itself due to mismatches in circuitry. This will be especially appreciated when you cascade a LOVE DRIVE with fuzz-style pedals. When inactive, the unit will be in true-bypass mode (no buffering).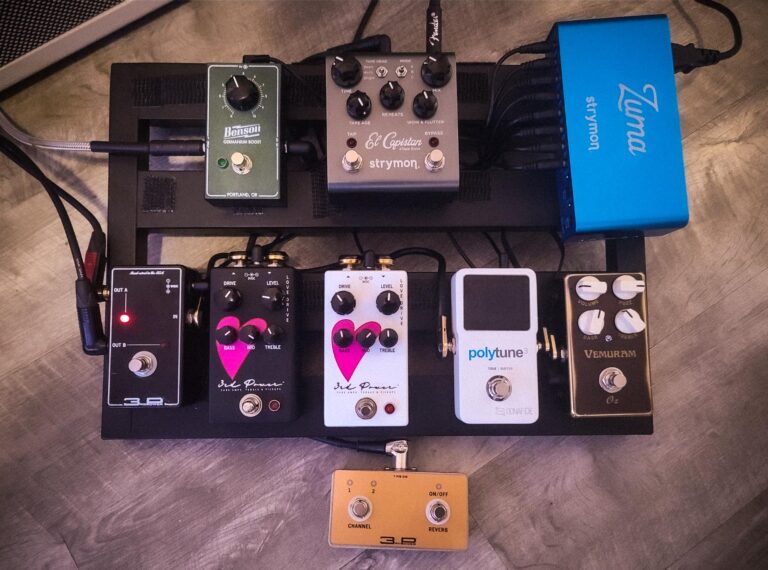 It's possible to craft and enhance your tone in a variety of styles thanks to the Love Drive's unique wave-shaping EQ that's driven by the Analog Devices AD822ANZ op amp. The low frequencies have girth, traction and punch - like you would expect from one of our tube amplifiers. The mid frequencies bloom and track with an instantaneous percussive feel. The high frequencies sparkle and sing without any of the typical harsh overtones associated with most stop box devices. This means that you can open your amp tone controls back up so that when pedals are bypassed you get the full spectrum of tone out of your guitar.
There's plenty of output gain on tap, so driving any amplifier or long cable run won't be a problem. Unity is around 9-10 o'clock and everything above that will push your signal mightily.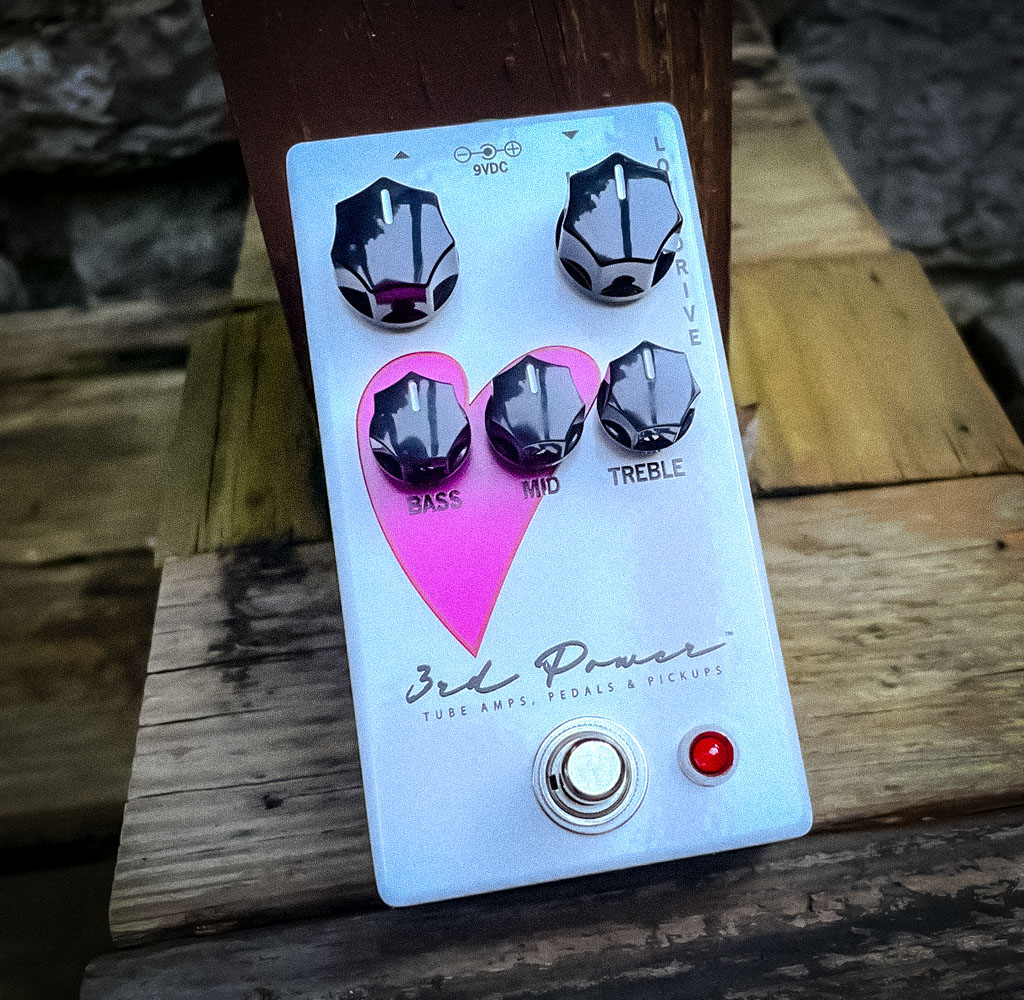 Hand built at our shop in Nashville, TN, each component of the LOVE DRIVE is hand picked, placed into the board, and soldered by hand. Each lead is carefully trimmed. Each wire is carefully placed, twisted and trimmed to length for optimal performance and low noise. Every single nut and screw is hand tensioned to ensure a solid and rugged assembly.
Love Drive Features:
Through-hole construction
Critical amp-style components
Wave-shaping 3-Band EQ (Controls include: Drive, Level, Bass, Middle and Treble)
Soft-touch Foot-switch for True-Bypass Operation
Top mounting Input, Output and Power Jacks
Limited Lifetime Warranty
Street prices for the LOVE DRIVE will are around $279 and are available now in limited edition matte black, and gloss white heart graphic enclosures.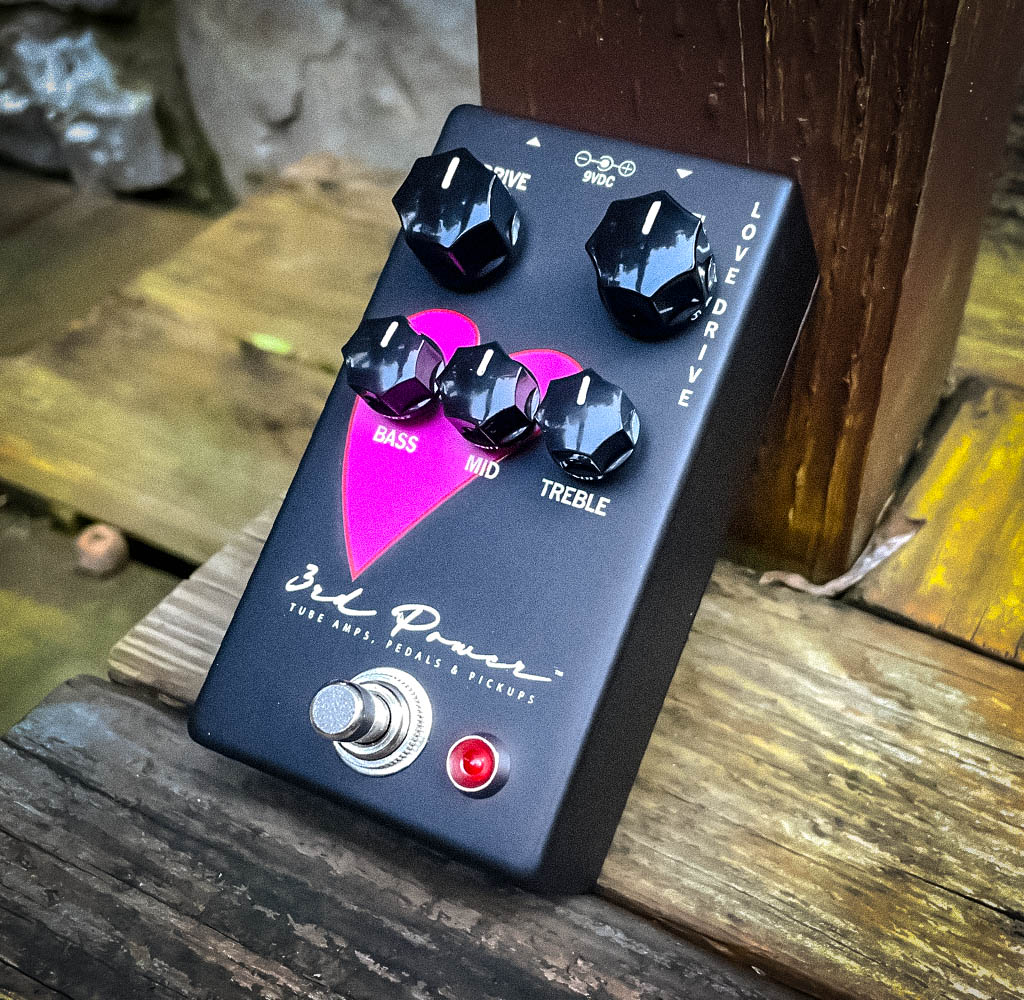 5% profit from LOVE DRIVE sales go to Christy Lynn Mitchell Foundation providing merit scholarships for college-bound high school seniors who exhibit the intrinsic motivation to be kind and compassionate.
Learn more about the foundation here:
https://www.christylynnmitchell.foundation/
For more information, please visit www.3rdPower.com.