FENDER HONORS U2 ROCK LEGEND ADAM CLAYTON WITH FEATURE-PACKED SIGNATURE COMBO BASS AMPLIFIER
Perfect for Both Gigging and Recording Bassists, the Adam Clayton ACB 50 Bass Amp Offers Warm, Harmonically Rich Tube Tones in a Portable, Classic Fender Package
HOLLYWOOD, Calif. (March 7, 2023) — Fender Musical Instruments Corporation (FMIC/Fender) announced today the launch of the Adam Clayton ACB 50 Bass Amp, the brand's first signature all-tube bass combo for over 40 years, inspired by U2 founding member, Adam Clayton. Over the last four and a half decades, Clayton's melodic playing has laid the foundation for some of the most seminal albums and popular tracks of all time, inspiring countless bassists in the process. Offering both warm, rich tube tones and pure Fender® tube-driven thump in a compact combo with classic Fender® aesthetics, the Adam Clayton ACB 50 Bass Amp is a tribute to these achievements, as well as to Clayton's instantly recognizable sound and harmonic style.
Clayton first picked up the bass guitar at the age of 14, whilst at Mount Temple School in Dublin, Ireland. It was at school where Adam met Bono, The Edge and Larry Mullen Jr. and in 1978, U2 was formed. Throughout the following decades and the myriad different genres and styles that U2 have played and experimented with in that time, Clayton's bass playing has remained a steady, driving force for the band, helping them to achieve, amongst other things, 22 Grammys and an induction into the Rock and Roll Hall of Fame.
"I've worked very hard with Fender on the Adam Clayton ACB 50 Bass Amp and I'm immensely proud of our creation," said Adam Clayton. "I always found when I was starting out that it was very hard to find an amp that offered the mid-range distorted sound that I liked. This amp offers it in spades. It's also very versatile, and if you're moving around a lot or if you don't have much space where you practice, then this is the amp for you."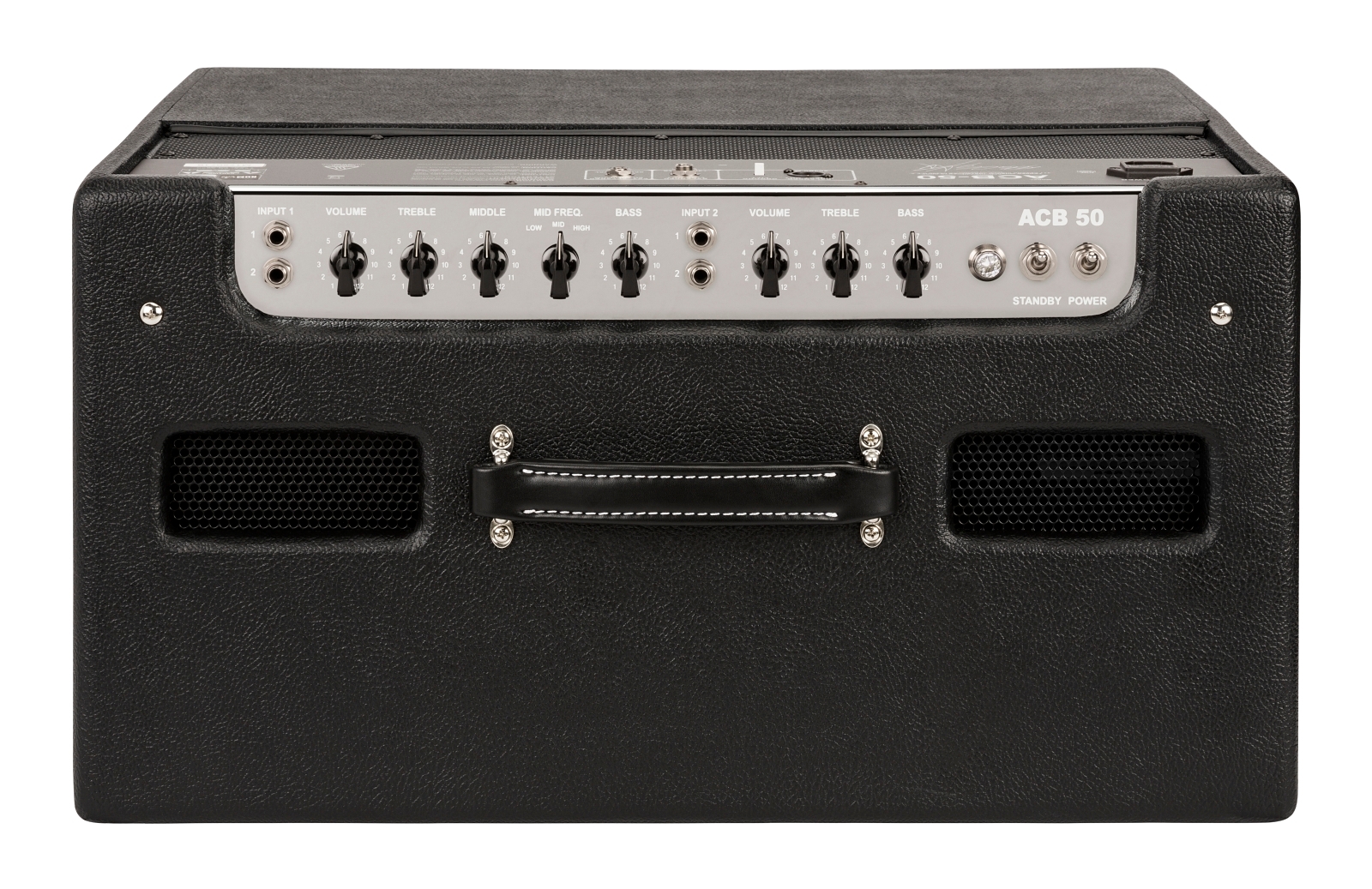 Featuring two distinctly different channels – a classic Fender® sound and a more modern hi-fi, flat EQ tone, the Adam Clayton ACB 50 Bass Amp achieves all the sounds needed in any musical situation and is the perfect companion for any bassist, whether they're playing in a studio, a club or on an arena stage. Classic Fender® cosmetics: black textured vinyl, chrome panel, chicken head knobs and an aged silver grille cloth give the Adam Clayton ACB 50 Bass Amp a look that players around the world have come to love. The Adam Clayton ACB 50 Bass Amp includes a lightweight Eminence Neo 15" speaker that helps accentuate its fat, powerful sound and features an XLR line out to send that great tone to your home recording rig or front-of-house.
"Adam Clayton is a true icon and working with him on the Adam Clayton ACB 50 Bass Amp has been an absolute privilege," said Justin Norvell, Executive Vice President of Products at FMIC. "This is the first signature bass amp we've ever done and the first all-tube bass combo Fender has produced for over 40 years. We are extremely excited by the project and we've worked tirelessly to make it extra special. Designed for the pros, by the pros, the amp has a unique combination of that classic Fender® look with contemporary style and features like the dual channels and the lightweight Eminence speaker that we're sure are going to make it incredibly popular with bassists."
In true tradition, the Fender® Artist Signature Series honors iconic musicians through product progression and storytelling, creating instruments inspired by the unique specifications of the world's greatest guitarists and bassists. Explore the Adam Clayton ACB 50 Bass Amp designed in collaboration with the renowned bassist of U2. This amp delivers warm and harmonically rich tube tones, making it an excellent choice for any musician performing in the studio, club, or arena. High-resolution artist, lifestyle and product images of Adam Clayton and the Fender® Adam Clayton ACB 50 Bass Amp can be found HERE; full product descriptions and specifications can also be found HERE.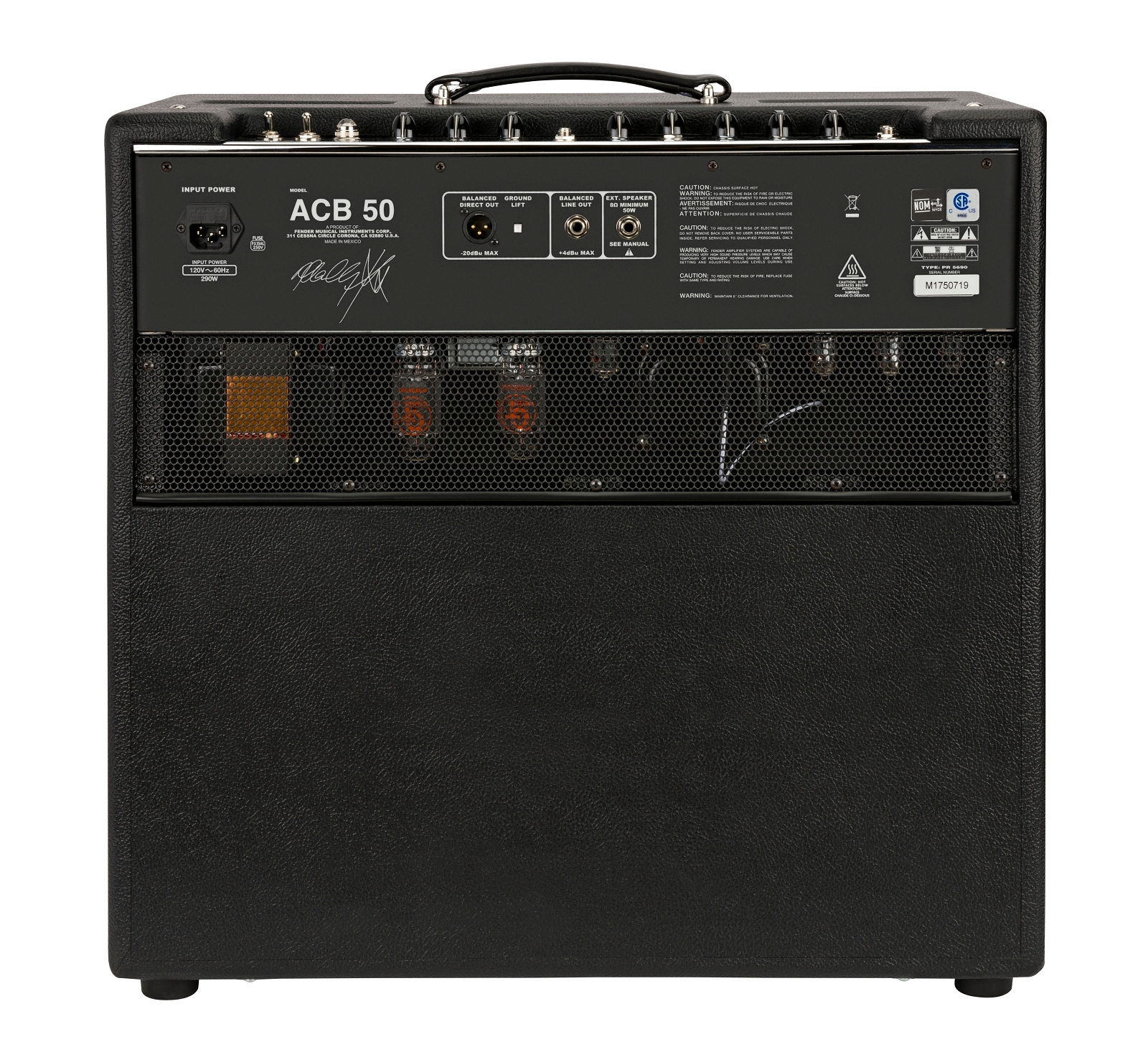 For technical specs, additional information on new Fender products and to find a retail partner near you, visit www.fender.com. Join the conversation on social media by following @Fender.