SAN LUIS OBISPO, CA (SEPTEMBER 5, 2023) –– Today, Ernie Ball Music Man proudly introduces the Ryan "Fluff" Bruce Artist Series StingRay guitar. Born out of a long-standing partnership between the multitalented guitarist and content creator and the Ernie Ball Music Man company, the Ryan "Fluff" Bruce Artist Series StingRay is a unique offering built around Fluff's needs for touring, recording, and video content creation.
Features:
● Mahogany body for added weight and sustain
● Hardtail bridge for added resonance
● Dual-voice Fishman Ryan "Fluff" Bruce signature humbucking pickup
● Volume-only push-pull potentiometer for two distinct humbucking sounds
● Custom neck plate
● Certificate of Authenticity
● Mono Case
The Ryan "Fluff" Bruce Artist Series StingRay guitar will be offered in limited quantities and in two exclusive finishes. Aqua Sparkle is limited to 25 units and is available exclusively in the Ernie Ball Music Man Vault. Tealy Dan is limited to 25 units and is available exclusively from Sweetwater. Both finishes are available today.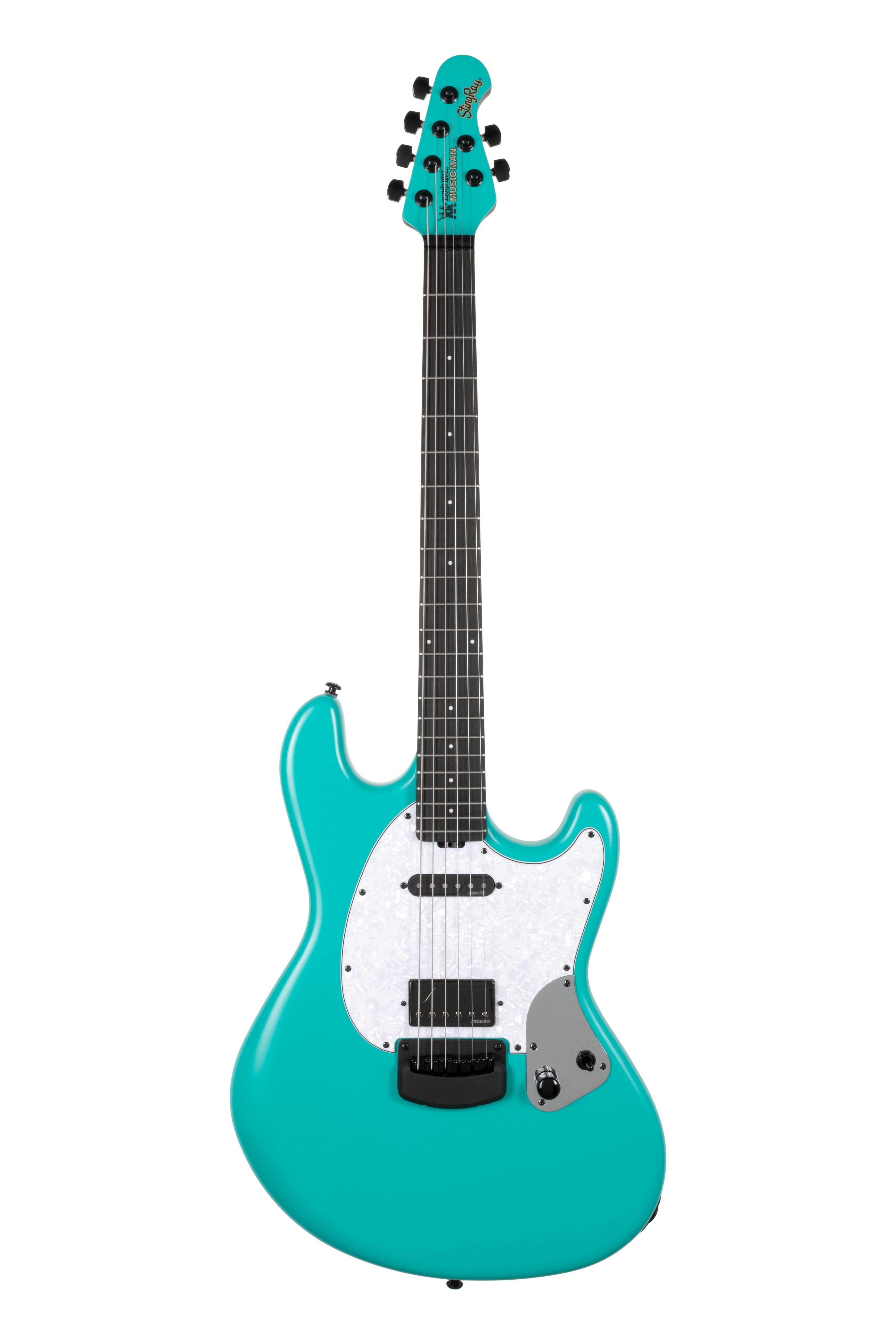 ABOUT ERNIE BALL
In 1962, veteran player and guitar teacher Ernie Ball created Slinkys®, the innovative light gauge electric guitar strings widely revered by thousands of iconic players including Eric Clapton, Keith Richards, Jimmy Page, Paul McCartney, Metallica, Brad Paisley, Slash, John Petrucci, Angus Young, and John Mayer. The strings are all crafted in Coachella, CA. Ernie Ball also offers state-of-the-art instrument accessories that are carried in more than 6,000 stores in the U.S. and 120 countries worldwide. Officially purchasing the Music Man® company in 1984, Sterling, joined later by his sons Scott and Brian, has built a team of dedicated professionals based in San Luis Obispo, CA who collectively share a common goal: crafting the highest level of hand-crafted instruments available. Originally founded by Tom Walker, Forrest White and Leo Fender in 1974, Music Man built its name leading an industry revolution, introducing active electronics on its production instruments. As part of the team during the '70s, Sterling Ball played an important role in the design and development of the iconic StingRay basses. The family-run company maintains its founder's dedication to preserving the musician's playing experience and delivering superior sound quality through the development of new products, such as Cobalt Slinkys, M-Steel, Earthwood, and the revolutionary Element Shield Packaging, keeping each set as fresh as the day they were made. The company also fosters artist development through musician-focused programs such as the world's largest and longest-running unsigned artist programs, where bands compete each year for the chance to play live on national tours, festivals, and events. Visit them online at www.ernieball.com and www.music-man.com.
ABOUT RYAN 'FLUFF' BRUCE
Born and raised in the Pacific Northwest, Ryan 'Fluff' Bruce is a man of many things: YouTuber, former guitarist for Dragged Under, audio engineer, videographer, and (most importantly) a guy with a beard. Primarily known for his guitar-based YouTube channel Riffs, Beards & Gear and his casual yet informative video style, Ryan has collaborated with brands such as Audible, Guitar World, Storyblocks, eBay, Dollar Shave Club, DistroKid, Sweetwater, and Sennheiser while also being an Instructor at Tom Morello's Guitar Camp. Utilizing skills developed over the 12-year history of the channel, Fluff has found success with multiple signature guitar amp sim plugins with ML Sound Lab and now his new signature guitars with Ernie Ball Music Man. Future plans include world domination and auditioning for a ZZ Top cover band.
YOUTUBE | TWITTER | FACEBOOK | INSTAGRAM | OFFICIAL SITE