Look At You Now, is out now! The Prog Rock legends The Flower Kings return with their 16th studio album. Nearing 30 years as a band, the group once again embraces vintage vibes and the warm, inviting sounds reminiscent of legendary and classic 70's albums. Look At You Now is a stunning collection that will transport you to a bygone era of rock with swirling synths & guitars and thematic long-form pieces.
"Essential listening" - 10/10
Powerplay Magazine
"Beautiful and spectacular"
Echoes & Dust
"A collection of songs that is one of TFK's best yet"
The Prog Report
Look At You Now can be listened to HERE
The new "Mother Earth" video can be seen here:
Roine comments on the new single: "Mother Earth" is the 3rd 'single' from our new album; a song written by our bass man Michael Stolt - with help from Jannica Lund. A song looking at our environmental crises - at a time when we see them unfolding with terrifying precision - while our leaders seem to be ignoring much of the urgency of these matters. The "looking at us NOW" - is real - we're nearing the eye of the storm and yet profit goes before concern about our wounded planet. A time for healing is imminent. So, enjoy our new single boys and girls - this track is a free agent but also a part of our new concept piece.
Order Look At You Now here: The Flower Kings - The Dream (lnk.to)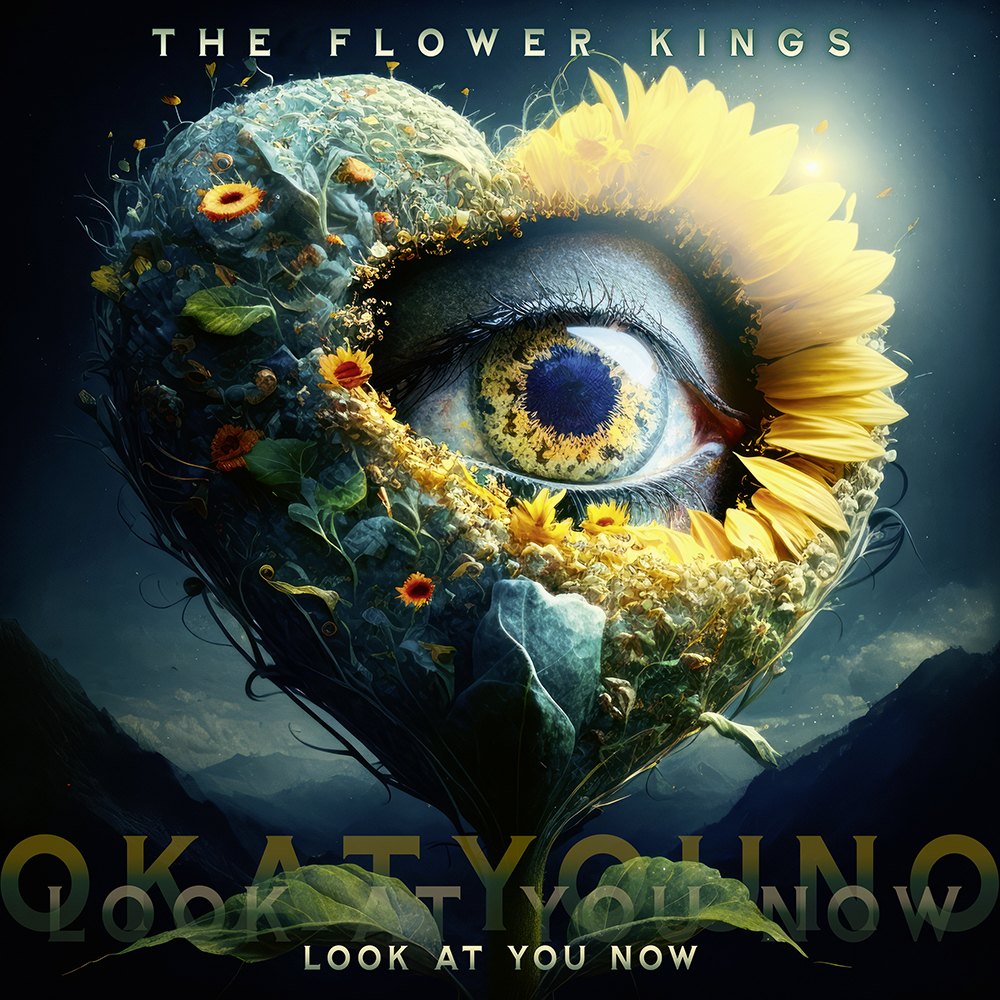 Artwork by Joey Tessier
Look At You Now Tracklist:
1.Beginner's Eyes
2.The Dream
3.Hollow Man
4.Dr. Ribedeaux
5.Mother Earth
6.The Queen
7.The Light in Your Eyes
7.Seasons End
9.Scars
10.Stronghold
11.Father Sky
12.Day For Peace
13.Look At You Now
Order Look At You Now now at: https://TheFlowerKings.lnk.to/LookAtYouNow
Ltd. CD 6-Panel Digipak
Ltd. Gatefold Black 2LP 180g Vinyl
Ltd. Gatefold Transp. Orange/Black Marbled 2LP 180g Vinyl – Limited to only 500 copies
Ltd. Gatefold Transp. Blue 2LP 180g Vinyl – Limited to only 300 copies
Ltd. Gatefold Transp. Sunflower Yellow 2LP 180g Vinyl – Limited to only 300 copies
Digital Album
Roine comments on the new album: 1994 - A time of small beginnings - the music embryo of The Flower King/Roine Stolt came out - with little or no budget, but it did a big splash, globally. The band name was taken from Carl Von Linneus who was local and traveled worldwide finding and giving Latin names to all flowers. Today almost 30 years later the band has established themselves as the iconic alpha father of modern melodic prog and a great live act – always delivering the goods.
The new album named Look At You Now is a testament to the persistence and tireless work of the highest level of composition, playing, singing, and production. No other modern melodic prog band has even touched the level of the 70's prog icons like The Flower Kings does. This new album shows a regenerated will to experiment with styles and sounds, very much like the earliest albums from the band.
Music consistent in quality - and on this new album, they prove their case - A collection of songs that rings with the Nordic melancholy and the joyous inventions of classical, art-rock, fusion & pop. It has been said more than twice - The Flower Kings music grows on you - over time, just like a fine wine, or a classic book.
Remember to catch The Flower Kings on their upcoming EU Autumn Tour:
16.09.2023 SWE-Uppsala - TFK Fan Day & Release Party
17.09.2023 SWE-Uppsala - TFK Fan Day & Release Party
04.10.2023 DK-Kopenhagen – Beta
05.10.2023 DE-Berlin – Frannz-Club
06.10.2023 PL- Poznań – 2Progi
07.10.2023 PL-Rzgów - GOK
08.10.2023 PL-Piekary Śląskie - OK Andaluzja
10.10.2023 CZ-Olomouc – Bounty Rock Café
11.10.2023 HU-Budapest – Analog Music Hall
12.10.2023 SLK-Bratislava – Majestic Music Club
14.10.2023 IT-Borgomanero – Teatro Rosmini
15.10.2023 DE-Regensburg – Evenhalle Airport
16.10.2023 DE-Augsburg - Spectrum
17.10.2023 CH-Pratteln – Z7
19.10.2023 UK-Southhampton - The 1865
20.10.2023 UK-London - Powerhaus
23.10.2023 BE-Verviers – Spirit Of 66
24.10.2023 DE-Aschaffenburg – Colos-Saal
25.10.2023 DE-Köln – Yard Club
26.10.2023 DE-Übach-Palenberg - Rockfabrik
27.10.2023 NL-Uden – De Pul
28.10.2023 NL-Zoetermeer - Boerderij
29.10.2023 DE-Hamburg – Logo
The Flower Kings line-up:
Roine Stolt - Vocals, Guitars, Keyboards, Percussion
Hasse Fröberg - Vocals
Michael Stolt - Bass, Vocals, Keyboards (Track 5), Guitar (Track 5)
Mirko Demaio - Drums, Percussion, Keyboard (Track 12)
With:
Hasse Bruniusson - Percussion (Track 3)
Lalle Larsson - Synthesizers (Tracks 4,9)
Jannica Lund - Backing Vocal (Tracks 1,2,3,5,7,11,13)
Marjana Semkina - Vocal (Track 12)
Jörgen Sälde - Nylon Guitar (Track 6)
THE FLOWER KINGS online:
WEBSITE • FACEBOOK • INSTAGRAM • SPOTIFY • TWITTER