Helix LT delivers the same advanced HX Modeling technology as the Helix Floor and Helix Rack guitar processors, in a streamlined and more accessible package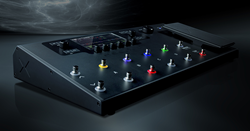 "Our Helix products have set a new standard in professional amp, cab, and effects modeling accuracy combined with unparalleled flexibility and ease of use," - Marcus Ryle, President, Line 6.
 CALABASAS, CA. (PRWEB) APRIL 18, 2017
Since their introduction in 2015, Line 6 Helix® guitar processors have garnered widespread acclaim for their authentic sound, innovative user interface, and advanced flexibility—both onstage and in the studio. Now, Line 6 has expanded the Helix family of products with the release of the Helix LT guitar processor. Helix LT delivers the same next-generation HX Modeling technology found in the flagship Helix Floor and Helix Rack models, but with a streamlined design that makes the world's most powerful guitar processing platform even more accessible.
The culmination of two decades of Line 6 technology development, HX Modeling leverages powerful dual-DSP performance to accurately recreate the sound of vintage and modern tube amps, speaker cabinets, microphones, and effects with a level of authenticity and nuance that had not previously been attained through modeling. This precision extends to individual electrical components, which have been measured and matched to the originals. With uncompromised Helix sound quality and 123 dB of dynamic range, Helix LT ensures an authentic and responsive playing experience.
Another unique aspect of the Helix LT processor is the user interface, which allows guitarists to create and interact with guitar tones more intuitively. Whereas many multi-effects processors require guitarists to navigate complex workflows, the Helix LT processor is designed to eliminate complicated menu diving and make tone creation fast and easy.
Touch-sensitive footswitches allow guitarists to select tones and patches for editing with a tap of a finger, and the footswitches are surrounded by color-coded LED rings that correspond to different types of effects, such as distortion and modulation. A large color LCD displays the entire signal chain, making it easy to access amp, effects, and other parameters.
Extensive signal-routing capabilities allow guitarists to create complex presets with ease, while a robust selection of analog and digital inputs and outputs facilitates easy integration of external effects pedals and outboard gear.
Presets created in Helix LT are compatible with all of the other members of the Helix family, including Helix Floor, Helix Rack, and the Helix Native software plug-in. This provides unmatched flexibility, and enabling guitarists to take tones created in the studio to the stage—and back again.
Availability
The Helix LT guitar processor is now available worldwide. Learn more at line6.com/helix/helix-lt.