[
Originally posted June 3, 2019, updated August 27 and December 20
]
A few years ago, I wrote the somewhat disturbing feature, "Why Your Next Studio Macintosh Will Possibly be a PC Running Windows," lamenting the state of Apple computer development and the horrible value proposition presented by the 2013-redesigned Mac Pro, affectionately (appropriately?) referred to as the "trash can." Over the past 18 months or so, there have been some exciting developments in the Macintosh product line, but pro users were left waiting for the machine they pined for the most: a new Mac Pro. Apple promised that they heard the user complaints about the trash can, and that they would resolve those issues. With today's introduction of the next-generation Mac Pro (shipping sometime in the fall, presumably late October if past releases are indicative), Apple has addressed many of the complaints. Unfortunately, though, a few key points were overlooked, including the lofty price tag.
For audio professionals who have been holding out desperately waiting for a new Mac Pro to replace their aging trash can (the small, black, desktop cylinders) or the beloved "cheese grater" (Mac Pros from 2008-2012 in the tall, aluminum enclosure), it's time to stop waiting and move on with an alternate solution that meets your needs today. 
Cutting to the chase: While the new Mac Pro is a monster workstation, specifically intended for movie production studios and VR/application development, it is vastly over-engineered for the needs of most "typical" creative people (from a price/performance perspective), and extremely overpriced for use at the heart of a typical audio production environment or home/project studio.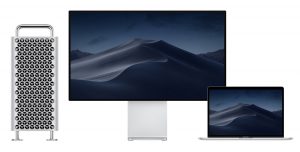 The entry level configuration starts at $5,999 before AppleCare, has an 8-core Xeon 3.5GHz (turbo boost to 4GHz) CPU, and includes 32GB RAM. In typical Apple fashion, the base configuration will need at least a small touch-up as it includes only 256GB of SSD storage on an M.2 card. And while the new tower has massive expansion potential with eight PCIe slots of various capabilities and insane graphics card options, there are only two m.2 storage connectors for internal storage. With an upgrade to 500GB SSD, AppleCare support, and tax, you're really at $7,000 for the base configuration without a display.
There are no drive bays to load up with hard drives and solid-state drives like in the classic cheese grater. However, drives should be able to be added as modular storage options on PCIe cards. Promise Technologies Inc. concurrently announced a pair of module kits, one that includes four 7200rpm hard drives configured for RAID use, and another smaller kit that has one hard drive with room for a second to be added. Their external four-drive RAID units sell for more than $1,000, so we can only imagine what their internally-designed products are going to cost. Unknown at this time is whether someone will sell drive enclosures in which to load your own drives entirely, but we would expect those to cost at least a few hundred dollars without any SSDs or HDs.
The new Mac Pro (maybe we should call this new design the credit card shredder?) is a big box, with optional wheels to help roll the 40-plus-pound enclosure around your studio (a $400 option, seriously), but you'll still need another external enclosure for your data storage. Maybe Apple should work on giving us a solution to cable clutter?
If you're a film or television studio-employed filmmaker or editor, or your profession otherwise involves editing 4k and 8k video, the new Mac Pro is a dream, especially with support for up to 28 cores (and a price tag that goes up to around $50,000 when maxed out). For the rest of us, we'll just have to dream of owning one. (Note that today, the Xeon Skylake 28-core 3.1GHz (3.8GHz turbo) W-3175X CPU sells for $3,000 before you add a computer to host it, so a Mac Pro configuration with this CPU will cost significantly more). 
Xeon vs. Core
While we're on the subject of CPUs, don't be misled into thinking that Xeon processors yield the best performance. For audio tasks in particular, they don't. Intel is pretty clear on this: the Core i-series CPUs are the performance chips for high end desktop systems, and the Xeon CPUs are the chips for servers.
Xeon is great for processing thousands of simultaneous web page requests, database transactions, and file serving requests, and this multi-core/thread performance benefits professional video editors whose video rendering time is measured in hours and sometimes days. But due to the linear nature of processing audio streams, which are too small to be efficiently broken apart into chunks for multi-core processing, most audio apps see greater performance gains from the faster clock speeds of the i7 and i9 CPUs.
If you're scraping up money for the entry-level eight-core system, consider that you can purchase a faster Windows workstation better suited to your audio production tasks, with more features overall, for under $3,500, and that computer will run nearly all of the same audio apps that you've come to love (unless you're an Apple Logic user, of course).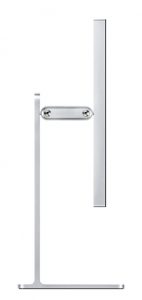 What about that fantastic new 32-inch Pro Display XDR? The display is another stunning marvel of engineering, but with a starting price of $4,999, it will remain beyond the reach of most professional photographers and graphic designers for at least a couple of years, and it is completely unnecessary for your pro audio requirements (the nano-texture glass surface version costs $5,999). And in a moment that caused the keynote audience to gasp, it was revealed that the actual stand for the display will set you back an additional $999. Oh my! (You'll probably opt for Apple's VESA mount, a simple metal bracket priced at a lofty $199, but at least then you can mount the display on the stand or arm of your choice.) With these prices, Apple clearly didn't design this new computer "for the rest of us." It is vastly beyond reach for the graphic design crowd, photographers, and music creators. The new Mac Pro is a marquee product to be sure, but it is not really intended to help 95% of the creative professionals who have been waiting years for the arrival of a new Mac Pro. And it's not the right Mac for most audio recording studios.
So where does this week's announcement leave you if you're ready to replace your aging Mac Pro with a new Macintosh? You have a few options to consider that I would suggest looking at:
iMac Retina 5K computer, upgraded with the 9th generation Core i9 CPU. This eight-core processor runs at 3.6Ghz with a turbo boost to 5.0GHz and should blow you away performance-wise compared with your older Mac Pro. 32GB RAM and 512GB SSD storage will set you back $3,399 today.
Don't need a built-in display? Check out the re-engineered Mac Mini. My minimum recommended configuration upgrades it to an 8th generation Core i7 CPU, 3.2GHz (turbo boost to 4.6GHz), 32GB RAM, and 512GB SSD. With keyboard and mouse (not included by default with Mac Mini configurations), your total comes to $2,502.49.
Need to keep it mobile? The new MacBook Pro was introduced without much fanfare this spring, but it will give each of these desktops a run for the money. This one includes the 9th generation eight-core (a first for Mac laptops) Core i9 CPU, 2.4GHz (turbo boost to 5.0GHz), 32GB RAM, and 512GB SSD, and will set you back $3,399.
All three of these solutions will require investment in external hard drives/SSDs and possibly some additional displays. You'll definitely want to add AppleCare, plus various external i/o docks and storage enclosures. The iMac Retina looks like a solid value when you consider the built-in 5k Retina display, at least. But you'll still need to spend a few hundred dollars more just for an enclosure to hold your hard drives/SSDs (as you will with the new Mac Pro, too). Skip investing in the iMac Pro if audio is your main focus. As with the new Mac Pro, you'll be overspending on graphics capabilities optimized for the high-end video editor or VR/application developer.
Yes, you can make music on less costly Macs. But if you're doing pro-level work, these are the base systems you'd want to invest in today if you're leaving behind an older Mac Pro and still require top performance. What do we use? Our team has a mix of high-end iMacs as described above, as well as classic cheese grater Mac Pros (see our feature on how to upgrade your old Mac Pro to get the most useful life out of it), MacBook Pros, and custom-built Windows PCs (from Different PC) optimized for our studio requirements.
For audio production, a high-end workstation built around the Intel Core i7 and i9 processor families makes far more sense than the designed-for-server-use Xeon processors. The new Mac Pro is stunning, but despite our high-end performance requirements in the world of audio recording and virtual instruments, it just isn't the right machine for our studios. Fortunately, the right machines can be had for a lot less money.