Whether you play live gigs or studio sessions, you almost always need to bring two guitars to a gig. In a typical set, there's no time for string changes if you break one — you need to be able to grab another instrument and keep on rockin'. This necessitates bringing two instruments along, which is usually a cumbersome affair since you're likely dealing with two guitar cases. And the problem is only confounded if you're traveling to the gig on an airplane, where only a single gig bag will make it onto the aircraft with you.
Bass players have less to worry about in the live setting regarding string breakage, but studio players may certainly want to bring a few different instruments to a recording session.
We've been waiting for something like the Mono M80 Dual case for years, and this superbly engineered gig bag delivers the holy grail of guitar and bass transportation: it transports two instruments securely in a single case, is lightweight and structural rigid, is weatherproof, and it conveniently holds plenty of extras in multiple pockets.
We examined the Electric case and fell in love within a matter of minutes. With sleek looks that remind us of gear for protecting photographic equipment, the waterproof outer shell has weatherproofed zippers, and ABS rubber panels around the bottom and headstock areas add to the structural rigidity.
Internally, each guitar has its own compartment, accessed by unzipping either the left or right side of the case. Inside each compartment, the instruments are secured in a very plush environment, held securely in place by a padded neck brace with a strap that runs across the fretboard. The case has room around the headstock so that your tuning pegs don't brush against the case, and foam bumpers in the bottom of the case are split in the middle to allow room for your strap pin. With this design the guitar's bottom rests directly against the padding, so if you drop the case hard on its ass, your guitar doesn't crash down on the strap pin, and the foam captures the impact instead of your instrument(s). It's a subtle detail, but a very nice one.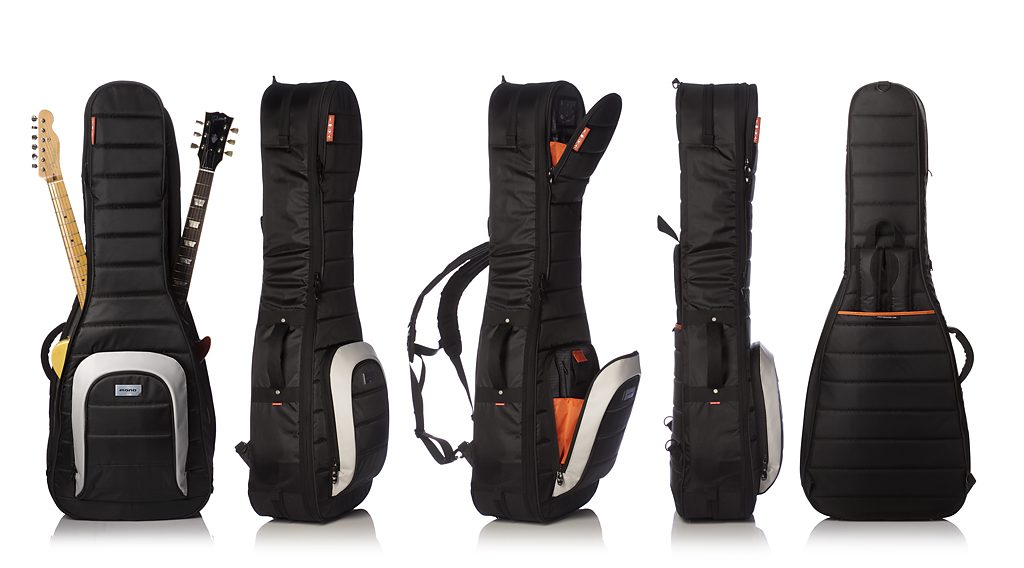 Storage is abundant in the M80 Dual case. The external storage compartment has a Velcro hook to attach an instrument cable (for the anal retentive gear junkie, obviously, who doesn't want the strap to just flop around loose in the compartment like in other bags), and it has room for miscellaneous stuff like your tuner, headphones, bag of earplugs for your friends, etc. There is also a shallow zipper compartment at the headstock — useful for storing things like pens (for autographs and groupie phone numbers), cell phone, your wallet, etc. It has separate holders for these types of things inside. And the Velcro cover that secures your instrument neck to the padded neck brace has a clear zipper compartment for stashing picks. The case even has space to stash the dual shoulder straps in case you just want to carry it by one of its handles (top or side).
We loaded the case with a few guitars: our very heavy Ibanez RG-series guitar with a mahogany body and a Music Man JP6. It was very easy to transport our guitars, and so convenient! Carrying guitars in two hard cases would be far more inconvenient, and the case is so well padded and protected that we wouldn't worry about the occasional tumble at a gig if someone knocked it over. And thanks to the rigid bottom, it even stands upright when fully loaded!
The dimensions of this case make it suited to guitars in the solid body family — don't expect to stuff your ES 335 into one of these (but you're OK with your Les Paul). Most rock and country guitar players should have no issues.
The Dual Bass case is identical in its feature set, but is longer to accommodate that instrument's size difference. Mono also makes single instrument cases, and that range of products includes similar cases for acoustic guitars and semi-hollow instruments.
We have other gig bags that provide far less protection for individual guitars than this bag provides to two, and while the bag isn't going to offer full hard case-like protection, the usefulness and cleverness of its design leaves us with no interest in using our hard cases for anything other than transportation by way of a shipping company and road crew. This is the case we'll be carrying on board aircraft and bringing to local gigs. It is exactly what we've been waiting for, and with a street price under $300, it's the case you've been waiting for, too. Bravo, Mono!
Contact Information
Mono Hybrid Cases
www.monocase.com