When it comes to selecting the right audio interface for your studio, the range of options on the market can seem overwhelming. It's no longer just a choice between the number of inputs and USB vs. Thunderbolt, HDX or Native. One trend we've seen over the past five to ten years has been the inclusion of digital signal processing features built into audio interfaces, enabling the use of various manufacturer-specific audio plug-ins that benefit from dedicated hardware acceleration instead of running natively on your computer's CPU.
Category

Value

Rating

Features

20%

Usability

25%

Sound

25%

Documentation & Support

10%

Price

20%

OVERALL RATING = 3.7 Stars, which earns it a WIHO Award!


3.6 stars or better: Outstanding, WIHO Award

3 stars or better: Worth considering

2 stars or better: Suited to specific needs

1 star or less: Not recommended
While this approach may be useful in the home, prosumer, or project studio, where you often work independently, it's not a great option for professional studio use. If your mix relies on processing from a specific manufacturer's hardware, your options can be extremely limited when it's time to collaborate and work in other studios. And, actually utilizing these integrated platforms can add a big layer of complexity to working with your interface and your favorite DAW.
For many of us on the MusicPlayers.com team, we dislike the integrated plug-in features found on so many interfaces as they are cumbersome to implement, buggy, and they lock you into a single manufacturer's solution. We prefer to select among various popular plug-in products that are utilized by many of our pro audio peers as well as unique options that bring something special to mixes from our studios.
And that's why we absolutely fell in love with the Focusrite Red 8Line (and the rest of the Red 8 family) audio interface. It doesn't get bogged down with complex software integrations that always seem to be one OS update away from incompatibility, but rather it focuses on the needs of a professional engineer: low latency, stellar audio quality, flexible system integration, ease of use, and reliability that never acts up in the middle of your important tracking or mixing sessions.
Features
The Focusrite Red range sits at the top of the Focusrite product line and there are a few different configurations to suit various studio configurations. Common features include Thunderbolt 3/2 connectivity (with two ports and an included Thunderbolt cable!), Dante audio-over-IP, two mini-DigiLink ports for direct connectivity to Pro Tools | HD cards, 16-channel ADAT I/O (at 48kHz) ports, BNC connections for Word Clock and Loop Sync, S/PDIF, and internal power supplies.

The subject of this review, the Focusrite Red 8Line, is a 58-in, 64-out, Thunderbolt 3 and Pro Tools | HD interface (for Mac OS and Windows) that features a pair of Red Evolution mic pres and eight balanced line inputs and outputs via DB25 connectors. The intention here is to use this interface to connect your nice outboard preamps to the host computer while also having a set of Focusrite's premium preamps on board for additional use. The preamps have a pair of balanced XLR connections on the rear of the unit but also shares access via a pair of instrument-level, quarter-inch, inputs on the front panel. You can toggle between the front or rear inputs easily via the front panel interface or via software (more on that later).

There are huge expansion possibilities here since the Red 8Line includes a pair of ADAT connectors that support from eight channels at 48 kHz down to two channels at 192 kHz.
Networked connectivity has become extremely popular, and the Red interfaces each sport Dante connectivity over a pair of Ethernet RJ-45 ports, enabling you to route an additional 32 channels of audio through the interface.
The Red interfaces feature 24-bit/192kHz converters with 119dB dynamic range A-D and 121dB dynamic range D-A. The Red Evolution preamps have up to 63dB of gain, independent phantom power on the internal preamps, a high-pass filter preconfigured to 80Hz, phase reverse, and Focusrite's now-ubiquitous Air mode, which emulates the sound of classic Focusrite analog console preamps (quite authentically, as we've determined in reviewing many other Focusrite interfaces and preamps). Frequency response for the preamps is 20Hz – 35kHz and THD+N is -101dB.
The line inputs can be individually configured for use at either +24dBu or +18dBu.
The Red 8Line interface has built-in monitor control for mono, stereo (over quarter-inch balanced outputs or S/PDIF via RCA), and up to 7.1.2 multi-channel mixing via a DB25 connector for eight line-level outputs. Alternately, of course, you could use the pair of DB25 ins and outs for interfacing with outboard summing amplifiers or premium multi-channel effects processors like the Eventide H9000.
The front panel provides understated elegance, with three sets of colorful displays that reveal detailed metering and easy, direct control of most hardware settings. A pair of headphone jacks completes the physical interface.
RedNet Control software provides control of the interface on both Mac OS and Windows: signal routing, custom monitor mixes, etc., and Focusrite provides their own Thunderbolt drivers for Windows 10 and 11.
Finally, although Focusrite doesn't integrate software products into their interfaces, they do bundle various software applications and plug-ins with their audio interfaces. We've discussed some of the plug-ins in other reviews, like the exceptional Red compressor and EQ, and ISA-range emulations. Those are included here, too, along with a few other bundled products from various partners including Antares, Brainworx, and more that are nice to have, but beyond the scope of this review.
Usability
We installed the Red 8Line in our studio attached to a Different PC DPC2 audio workstation (a powerful, Intel I9-based system with integrated Thunderbolt 3). We connect four of our favorite ADL preamps to the Red 8Line via a DB25-to-XLR audio snake and a Focusrite Clarett 8PreX eight-channel preamp/interface via ADAT.
Note: Some Mac users may need to purchase a Thunderbolt 3 to 2 adapter for connectivity.
Installation of the software and drivers only took a few minutes. After using this interface for the past few months, for the first time in years, we've had a completely crash-proof experience in the studio where our interface is concerned. For everyone who has struggled with OS updates causing their interfaces to lose connectivity to the host computer, or software apps that crash, break connectivity to the interface, etc… we simply didn't have any of those issues with this interface (including upgrading to Windows 11 and going through numerous updates during our evaluation period). Major kudos to the Focusrite developers who wrote extremely solid Thunderbolt drivers and an equally stable management app (RedNet Control). Additionally, the Focusrite drivers fully supported Windows Audio, so routing basic audio from our DPC2 workstation required zero configuration. Some other premium interfaces can't handle this basic task over Thunderbolt without third-party software installation.
Using the Red 8Line is simply delightful, and not just because the software always works! At a glance, the RedNet Control bears some resemblance to the Focusrite Control utility that is bundled with the prosumer range of Clarett interfaces, but honestly, this software is
much
nicer. We wish that Focusrite would update the desperately old-looking software from their Clarett range and integrate things a bit so that one app could be used with all Focusrite interfaces.
Bottom line: don't pre-judge the professional Red line from your experience with the Focusrite Control app.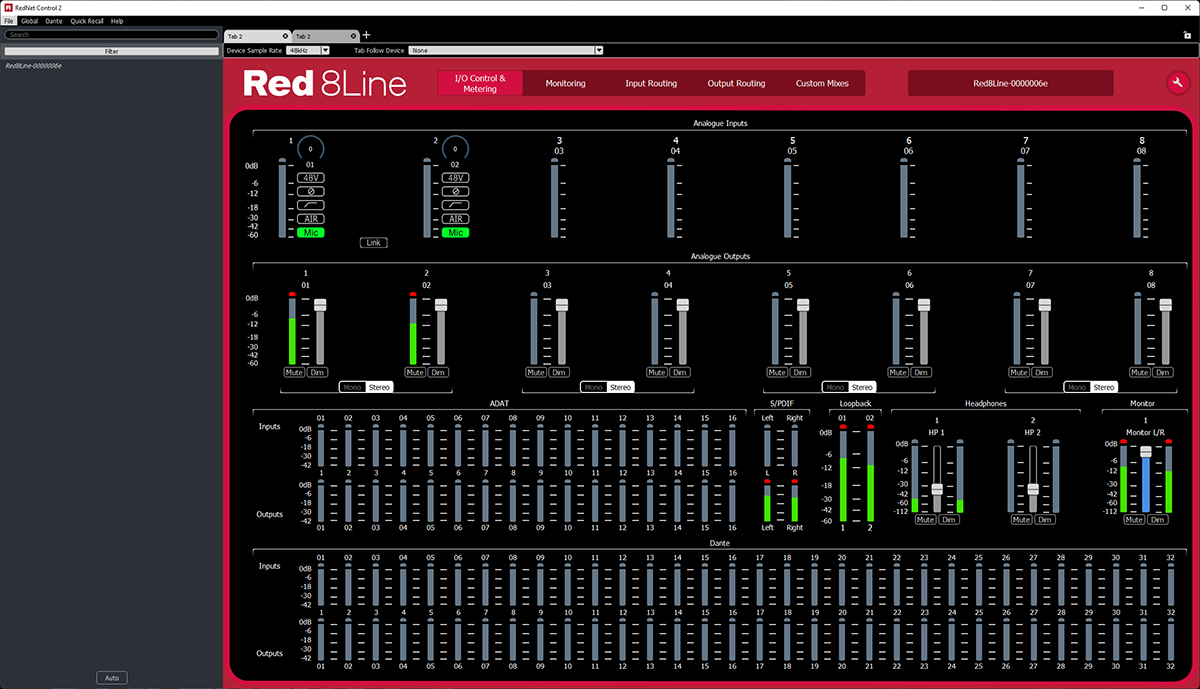 We loved that in the RedNet Control application, we could see
all
of our inputs and outputs for the entire device on a single, easily resizable screen. This made working with the interface extremely fast, and with it running on a secondary display in our studio, it was easy to glance over at the meters while tracking to spot any clipping signals. Additional tabs in the interface enabled us configure custom audio routing and mixes, but other than a few minutes adjusting the Input Routing, we spent nearly all of our time on the I/O Control & Metering screen.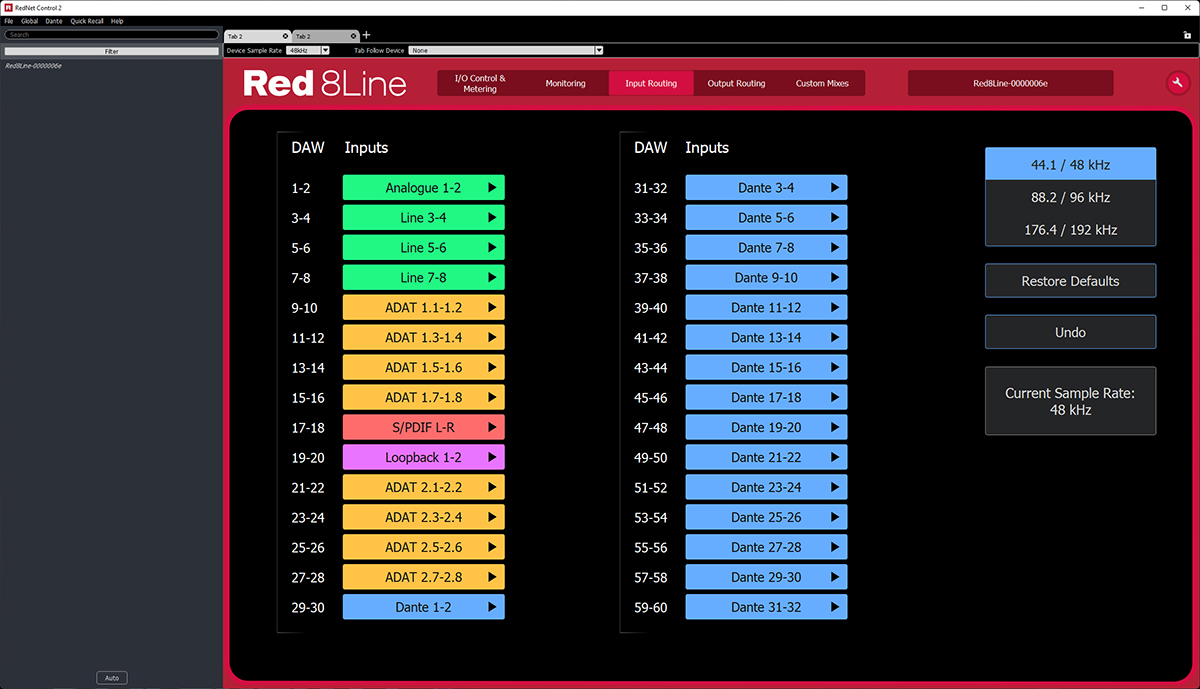 Speaking of fast work, let's talk about the other reason you want to spend for a premium interface like the Red 8Line: Latency. Or, rather, the lack thereof. Focusrite doesn't publish numbers for this, but real-world use told us something more important. Running Pro Tools Ultimate 2022.4 (Native), we had no trouble tracking and mixing at 64 samples, and yes, we were even able to track guitars with Pro Tools dropped down to 32 samples. Considering 128 samples is more than fast enough for us to enjoy latency-free tracking, this performance was simply astonishing. Granted, we have one of the fastest PCs you can get, but still, for professional studio use, this felt like working with an HD system.
Sound
There's not much to cover here other than to say the sound quality from the Focusrite Red range is outstanding and on par with anything else you'd want to use in your pro studio.
The Air circuit emulates the sound of the ISA preamp transformer, with attention paid to two characteristics in particular: it shifts the input impedance to match the original preamp design, and it shifts the frequency response to emphasize the higher frequency content within the signal. It was these functions combined with low distortion and the high linearity of the ISA preamp design that led engineers to desire the "Air Effect" and in the Red range, that classic "transformer resonance effect" sounds great.
Many of our studios are equipped with interfaces from Avid, Antelope Audio, and RME, and the Focusrite Red 8Line delivers comparable pro studio sound—and it does so with outstanding reliability and ultra-low latency.
Documentation and Product Support
Focusrite has an extensive user's guide that covers all interfaces in the Red range. It was informative and easy to read, but this interface was straightforward enough to get up and running without having to first look at the documentation.
Price
The Focusrite Red 8Line sells for $2,999, and we have to say, that's a good price to pay for rock solid, pro studio performance. This is a no-frills interface that gets right to the point and doesn't bog you down with layers of extra software. It delivers pro studio sound quality with lightning fast (err, make that Thunderbolt-fast) connectivity and an easy-to-use interface. And, it's also a Pro Tools | HD interface, too! Just add an HDX card and you're good to go!
Additional Comments
If you don't have an investment in analog preamps, there are multiple versions of the Red 8 line that include more than two onboard preamps. The Red 4 Pre includes four preamps on XLR combi inputs (plus a pair of quarter-inch instrument jacks on the front panel that share inputs 1-2) while the Red 8 Pre utilized a DB-25 connector for its inputs, so you'll want to use it with a patch bay or a cable loom/snake that goes from DB-25 to (8) XLR female ends. It also has the same instrument inputs on the front panel.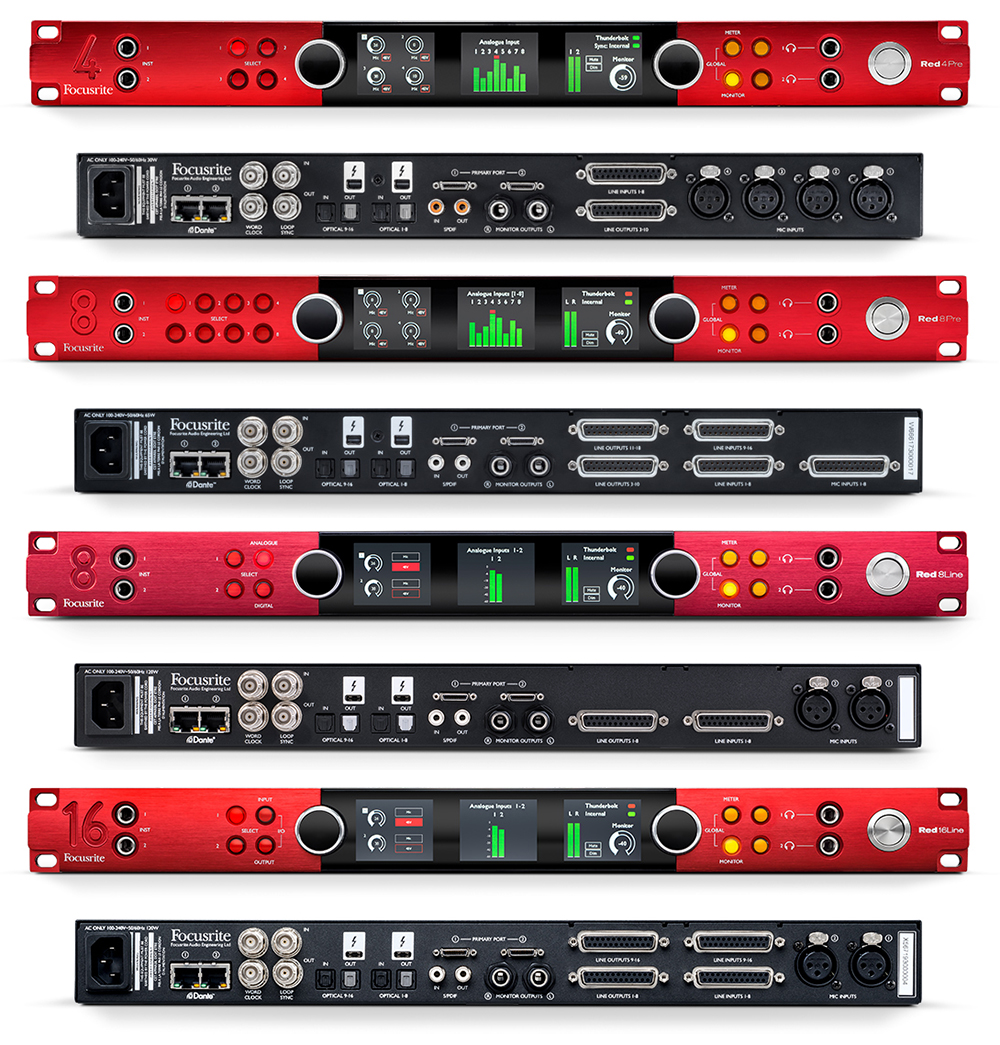 Contact Information
Focusrite Pro
www.focusritepro.com