As Godsmack and Shinedown gear up for their co-headlining summer amphitheater tour, the two multi-platinum rock groups have revealed an additional run of dates keeping them on the road together into the fall. Newly added dates on the hard-hitting trek--featuring support from Asking Alexandria--include Greensboro, Fort Wayne, Billings, Spokane, Boise, and Portland. In addition to previously announced tour stops in Los Angeles, Las Vegas, Dallas, Denver, New York, Chicago and Atlanta, plus many more, the tour will reach over 40 cities in total. Both bands are touring in support of their new chart-topping albums: Godsmack's When Legends Rise and Shinedown's Attention Attention, out now. Tickets for the newly announced fall tour dates are available to the general public starting this Friday, June 8 at 10:00 AM local time.
"We really believe this could be a great moment in our band's career and we plan on running on the road until at least fall of 2019," Sully Erna of Godsmack says. "We love the guys in Shinedown and we all go way back. There is a very strong mutual respect between our camps and we feel that this tour is going to be a must see!" Adds the singer, songwriter, and guitarist: "We're preparing ourselves to be on the top of our game!"
"It's all about impact, and making a statement," says Brent Smith, Shinedown's lead singer. "We are creating a show for the fans that is powerful, passionate, and sonically inspiring. The audience has given us a platform to be ourselves, and create something spectacular. That being said Shinedown, and Godsmack will most certainly NOT let them down. This will be the Rock & Roll event of the year. In other words 'IT'S ABOUT TO GET HEAVY!!!'"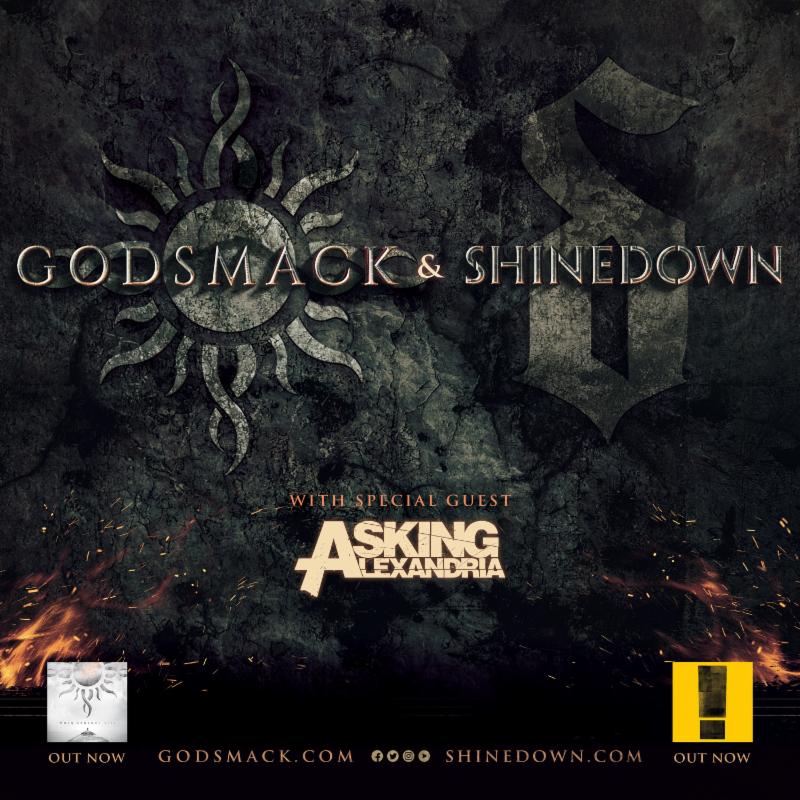 Godsmack exploded onto the album charts with their latest release, When Legends Rise, the band's seventh studio album and their first in four years, available now via BMG. The 11-song collection, fueled by the #1 Mainstream Rock Song and video "Bulletproof" plus the title track "When Legends Rise," entered the Billboard Top 200 album chart in the top ten (#8), with four #1 placements on other charts: Top Rock Albums, Top Hard Music Albums, Top Independent Albums and Top Alternative Albums. Purchase or stream When Legends Rise here. Loudwirehailed, "The band is painting with a broader palette and delivering one of their most well-rounded albums to date" with Billboard adding, "When Legends Rise is not only the opening and title track for Godsmack's seventh studio album but also the band's statement of purpose." Louder (U.K.) noted, "When Legends Rise exposes a band who are not afraid to develop and show how experience has colored their style" and AllMusic summed it up saying, "Legends presents a little of the old Godsmack--crunch, grit, and all--with an added dose of polish and melody."
Shinedown is at the top of their game and the charts with their critically acclaimed sixth studio album Attention Attention, out now on Atlantic Records. Click here to listen to the LP, which is being called their best work yet. The album simultaneously hit #1 on Billboard's Alternative, Top Rock and Hard Rock Albums Charts and debuted Top 5 on the Billboard 200 and #1 on iTunes. Lead single "DEVIL" recently returned to #1 at Active Rock, the 13th #1 for the band at the format, racking up more than 7 million streams worldwide and immediately landing on the Spotify Global Viral 50 Chart. "DEVIL" continues SHINEDOWN's unparalleled streak: every single released throughout the band's career has hit Top 10 on the rock charts - a feat unmatched by any other band.
Tour Dates: