Reedsburg, WI, June 13, 2018 — Sound Devices, LLC, the audio manufacturer whose products are trusted by Grammy award-winning artists and popular productions including Deadpool 2 and Atlanta, introduces the MixPre-3M and MixPre-6M – powerful multitrack audio recorders with built-in USB audio interface. Designed specifically for musicians, the ultra-portable M-Series record up to 12-tracks of studio-grade audio (up to 96kHz/24-bit) and integrate features like overdub, track laying, punch in/out, bounce, reverb, vocal air, and metronome.
Available now for $549 and $799, the MixPre-3M and MixPre-6M are the newest members of the versatile MixPre M-Series for music creators and performers. The M-Series models feature Sound Devices' world-class Kashmir™ mic preamps and ultra-low-noise A-to-D architecture — offering the tone and warmth of analog recordings desired by all musicians and audiophiles. The M-Series can also stream multiple channels of audio via USB to a computer, which is ideal for music composers working with a DAW.
Meticulously engineered to offer extreme flexibility and sound quality, the versatile M-Series sets a new standard for what's possible from an audio recorder. Although musicians can find countless ways to use a MixPre-3M or MixPre-6M, a few of the common uses include:
Track-laying and overdubbing a multi-layered song without a DAW
Premium-quality USB audio interface for any DAW
Streamlined tracking-to-editing workflow in a DAW
Mixing and recording small ensemble live performance
Playback of multichannel pre-recorded backing tracks
Recording live events, concerts, and band rehearsals
"Sound Devices' first musician-targeted audio product—the MixPre-10M—was unveiled earlier this year and laid the groundwork for its smaller siblings—the MixPre-3M and MixPre-6M," says Matt Anderson, CEO of Sound Devices, LLC. "While most audio capturing devices are meant to sit in a studio, one of the true benefits of M-Series recorders is their portability. Whether you're a recording or performing musician, the MixPre-3M or MixPre-6M will be the one piece of gear you carry with you at all times – at home, on stage, or on the road."
12-track recorder, up to 3 tracks at once
Three Kashmir mic preamps with analog limiters
High-performance USB audio interface (5-in/2-out)
3 XLR inputs and a 3.5mm Aux in connector
Ideal user: singer/songwriter
https://www.sounddevices.com/mixpre-3m
MSRP: $549
12-track recorder, up to 6 tracks at once
Four Kashmir mic preamps with analog limiters
High-performance USB audio interface (8-in/4-out)
4 XLR/TRS inputs and a 2-ch 3.5mm Aux/Mic in connector
Ideal user: songwriter/band member
https://www.sounddevices.com/mixpre-6m
MSRP: $799
The M-Series' musician-friendly, touch-screen interface lets musicians quickly get vocal melodies, instrumental hooks, and rhythms down. Use the built-in reverb and vocal air effects to easily add character to the sound of instruments and vocals. The bounce feature can be used to free up tracks to allow the layering of more instruments or for rendering in effects. After laying and overdubbing tracks, musicians can mix their song using dedicated knobs to control levels, pans, solos, and mutes. Render recordings for uploading to website/social media, sharing with band members or exporting to a DAW for further production.
Connect instruments and/or mics via the XLR/TRS inputs or the Aux in connector. Featuring a digital patchbay, any of the physical inputs, including USB, can be conveniently routed to any track, eliminating the need to plug and re-plug inputs just to record to a different track. The built-in metronome can also be selected as an input, so users can record its click to a discrete track.
For existing MixPre-3, MixPre-6 and MixPre-10T users, Sound Devices has also released a Musician Plugin. For $99, the Musician Plugin adds all the musician-inspired features of the M-Series, including overdub, punch in/out, track laying, bounce, reverb, vocal air, and metronome. The plugin can be purchased from Sound Devices' new online store—store.sounddevices.com.
The MixPre M-Series of recorders are available at Sound Devices authorized audio resellers and distributors.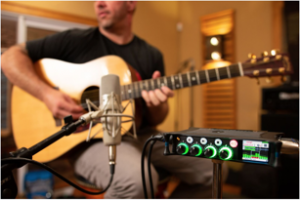 About
Founded in 1998, Sound Devices creates premiere audio equipment for Hollywood's award winning sound departments. The audio manufacturing pioneer, offers portable audio mixers, digital audio recorders and related equipment for feature film, episodic television, documentary, music recording, news gathering, live-event, musical and acoustical test and measurement applications. Sound Devices is headquartered in Reedsburg, Wisconsin with offices in Madison and Chicago. For more information, visit www.sounddevices.com.