Tony Lewis From The Outfield today (6/29) has released his debut solo album, via Madison Records, marking his first album for the Atlanta-based label. The 12-track album--featuring lead single "Into The Light"--was written, recorded and produced by LEWIS, who also played all the instruments featured on the record, over the past two years.
OUT OF THE DARKNESS takes on the spirit of The Outfield, the '80s rock group he fronted and founded with the late John Spinks, while letting Tony's own style shine through. As he explained to Goldmine Magazine in their August issue, "I didn't want to try and compete with The Outfield. What I wanted to do was make it with the same spirit as The Outfield. I wanted to re-emerge as a solo artist, and I wanted to show I have more strings to my bow." Yet, as writer Chris M. Junior pointed out, Tony does channel his former band at times on the album. For the first two tracks on OUT OF THE DARKNESS, "Into the Light" and "Here and Now," LEWIS said he wanted the songs "to have that sort of Outfield intro and big chorus, but with my own verse style."
The new album has been receiving early critical praise with Scott Kahn from MusicPlayers.com exclaiming, "This is a gem of a release, picking up right where The Outfield might have otherwise continued, and if Josie's on a vacation far away, she's probably kicking back on the beach, earbuds in, bopping to the sound of the aptly titled, Out of the Darkness. From the opening track, 'Into the Light,' we're immediately hooked by the classic Outfield vibe: chugging guitar riffs, driving bass line, big drums, and Tony's fabulous tenor voice, which doesn't seem to have aged one bit...Out of the Darkness is a welcome, feel good release full of happy vibes that is sure to bring a smile to the faces of this artist's loyal and enduring fan base" (6/6/18).
AXS.com's James Wood noted, "There's a new magic in Out Of The Darkness that's undeniable. Perhaps it's because Lewis showcases other strings in his musical bow as songwriter, producer, guitarist and drummer...Out Of The Darkness is not only a nod to the past, it's also a welcoming wish to the future" (5/17/18) and Eric Sandberg from Classic Rock Revisited, who gave the album an A++ rating, declared, "Practically every song on Out Of the Darkness is an earworm" (5/22/18). Elsewhere, Skip Daly from Guitar International said "[Out of the Darkness] is fantastic and full of [Tony's] signature sound, but also sounds very fresh and new in a lot of ways" (6/14/18) and Icon Vs. Icon's Jason Price added, "This new collection of songs isn't a rehash of his musical past but an exciting new chapter in [Tony's] career and paves the way for an exciting future of possibilities for him as an artist" (6/5/18).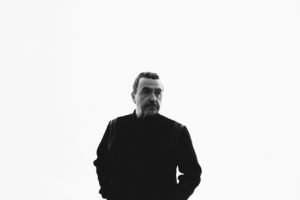 This summer, Tony Lewis will be hitting the road on the Retro Futura Tour alongside Belinda Carlisle, ABC, Modern English, Kajagoogoo's Limahl and Bow Wow Wow's Annabella. The July and August outing--including a July 28 show at the Wiltern Theatre in Los Angeles--will mark the London-based musician, songwriter and record producer's first tour in over 13 years. See below for all upcoming tour dates and go to www.retrofuturatour.com for additional information.
The Outfield took the '80s by storm with their infectious pop songs, including "Your Love," "All The Love" and "Say It Isn't So." Their 1985 debut album, Play Deep, reached triple platinum sales status and Top 10 on the U.S. album charts. "Your Love" peaked at #6 and is still featured in a number of compilation albums and commercials, and has been covered or remixed over 1,000 times by other artists. More than 30 years later, "Your Love" continues to make waves with an average of 1 million streams per week on Spotify and over 5 million monthly views of the video on YouTube, while still in rotation at over 300 major market radio stations across the country. The massive single has also been featured on various TV spots including recent episodes of "The Goldbergs" and "Family Guy" and a long-running Bounce commercial, airing since 2014. Collectively, The Outfield has over 170 million total views on YouTube videos and 125 million streams on Spotify.
Tracklist:
Into the Light
Here And Now
Only You
The Dance of Love
All Alone
I'll Still Be Here
Loving You
Melt The Ice
Dreams and Wishes
You Think That You Know Me
Thank You (For Breaking My Heart)
I Know
Tour:
DATE - CITY - VENUE
Wed 7/11 Atlanta, GA State Bank Amphitheatre at Chastain Park
Fri 7/13 Westbury, NY NYCB Theatre at Westbury
~Sat 7/14 Englewood, NJ Bergen PAC
Sun 7/15 Lynn, MA Lynn Auditorium
Tue 7/17 St. Charles, IL Arcada Theatre
Fri 7/20 Salt Lake City, UT Red Butte Garden
Sat 7/21 Las Vegas, NV Mandalay Bay
Sun 7/22 Saratoga, CA Mountain Winery
+Wed 7/25 Phoenix, AZ The Van Buren
Thu 7/26 Costa Mesa, CA Pacific Amphitheatre
^Sat 7/28 Los Angeles, CA The Wiltern Theatre
Sun 7/29 Tucson, AZ Anselmo Valencia Tore Amphitheater
Wed 8/1 Milwaukee, WI Pabst Theatre
Fri 8/3 Northfield, OH Hard Rock Live
Sat 8/4 St. Ignace, MI Kewadin Casino Resort
~ No Annabella
+ Belinda, Modern English and Tony only
^ No Belinda Carlisle