The new Wingsnake…er…Whitesnake album, Flesh & Blood, recently hit the shelves, and we couldn't be more excited about this release! A love for Hair Bands is a given amongst the MusicPlayers.com team, and Whitesnake is one of the names that continues to stand out and deliver within the subgenre, even years after their mainstream popularity.
Whitesnake, Flesh & Blood
Genre:
Progressive Rock, Metal, Pop
Musicianship:
Songwriting:
Production & Engineering:
Vibe:
Overall Rating:
3.63
We affectionately refer to Flesh & Blood as a "WINGsnake" album because not only does it once again include longtime Winger lead guitarist, Reb Beach, but his influence on this album's songwriting is hard not to notice. Knowing any band lineup is useful to better understanding how certain albums are created, but this is especially true when it concerns the band, Whitesnake. This group has had so many different notable musicians in the lineup throughout its history, with stints lasting years, albums, or just filling in for a guy in a music video, photo shoot, or tour/live performance. It takes a lot of research to find out who is truly playing on any given Whitesnake record, and who is just serving as eye candy for the album photos and tour posters.
Thankfully, we know exactly who and what we're getting on Flesh & Blood, and the completed lineup delivers one hell of a punch throughout. Reb Beach is at the top of his game, and alongside Joel Hoekstra (fantastic guitarist who has toured with TSO, Night Ranger, and Cher, and who joined Whitesnake in 2015), this duo of guitarists deal out powerful riffs and stylish solos. There isn't much to say about longtime drummer Tommy Aldridge that hasn't already been said—the man can still keep a powerful beat! Aldridge's drumming sets an excellent rocking pace as usual, providing a huge kick to the album's overall energy, and demonstrates that when it comes to Whitesnake's rocking vibe, he's still got it. Top it off with some strong bass lines and keyboard tones from Michael Devin and Michele Luppi respectively, and you get a powerful, straightforward, and well-driven album on Flesh & Blood.
But we can't forget about the heart and soul of Whitesnake. David Coverdale is a fine example of a rock vocalist and frontman whose performances can not only stand the test of time, but seem to improve with age like fine wine. Sure, a hint of age can be sensed on Flesh & Blood when comparing his voice to some of the classic Whitesnake albums, as expected with any singer. But here, Coverdale defies the "gets worse with age" notion placed on rock singers and surprises all comers. With incredible vocal flexibility, rip-roaring vocal diction that flawlessly complement the instrumentation, and still able to hit the high notes, the leader of Whitesnake never disappoints.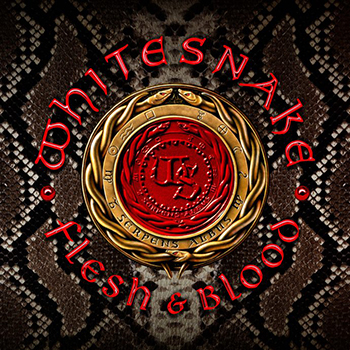 The energetic pace that ripples almost all throughout Flesh & Blood breathes new life into Whitesnake's sound. There are so many powerful tracks that we could consider highlights, such as the singles "Shut Up & Kiss Me," "Trouble is your Middle Name," and "Hey You…You Make Me Rock." Even the ballad "When I think of You (Color me Blue)" keeps the album's rocking vibe moving. While your humble reviewer enjoys the heavy pace of the new record, some solace can be found in a break near the end of the album in the excellent acoustic track, "After All," which shows that Whitesnake still has an emotional side.
Overall, Flesh & Blood is a strong achievement for Whitesnake and Coverdale, not only by retaining the classic hard-rocking form we know and love from them, but also by expanding upon it. It's quite the step up from their previous 2011 studio album Forevermore (purposely overlooking 2015's The Purple Album, a re-recording of Coverdale's Deep Purple material). While we really enjoyed Forevermore, the band opted for a different approach to their sound on that one, and many longtime fans were less excited by it. Flesh & Blood succeeds because it not only harkens back to Whitesnake's hard rock roots, but delivers a new and rejuvenated energy that pulses from it. After 40+ years of history, it's certainly not an album that makes you think "Whitesnake is back" (since they never left!), but rather a gem that gets you cheering "Wow, Whitesnake is better than ever!" 
Pick up a copy, especially the deluxe edition with five bonus tracks. It's sure to become the Flesh & Blood of your music collection!