Untitled Art, 13
Genre:
Alternative Rock, EDM
Musicianship:
Songwriting:
Production & Engineering:
Vibe:
Overall Rating:
3.63
13 is the first full-length album from alt rock musician David Sempier in more than a decade, and it was definitely worth the wait. An alternative rock musician for decades, Sempier gained accolades for earlier work in the underground NJ and NYC alt music scene performing with his band as Untitled Art (we still have the original cassette tapes to prove it), then the group released a fantastic alt rock record under the band name Five Star Dive, and then with a string of new singles and EPs, he resurrected the original name.
While most of Sempier's previous output was solely his musical vision, 13 (and the recent EPs) finds Sempier partnered with producer/remixer/musician/engineer James Linton, who took classic Five Star Dive and Untitled Art material and transformed the songs into EDM masterpieces. This transformation not only brought new life to some classic alternative rock material, but inspired a wave of new musical output from Sempier, now writing with modern production values clearly in mind.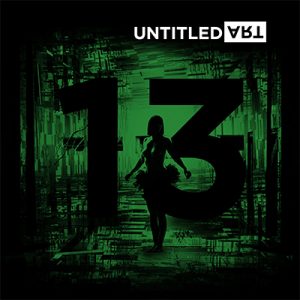 The result is that 13 does what most EDM simply can't accomplish: infuse your brain with fresh and musical hooks and melodies. Unlike EDM songs created entirely in the box, frequently by "artists" who lack actual music performance skills, this is music created with an alternative rock musician's mindset, with parts played on keys, guitars, and basses, topped off with Sempier's familiar baritone bark. It's not a repackaging of loops that someone else wrote and sold in a download library, but freshly created art (yes, with titles!) courtesy of Linton's fantastic production work.
Fans of previous UA/5SD output will recognize half of the songs in this nine-song collection, completely transformed into something fresh and new. While earlier output (and the original version of some of these songs) displayed a heavy dose of Joy Division and The Cure vibe, the production transformation that Linton brought to the music has taken the songs to an entirely new place, and we love it. Ironically perhaps, there's a cool remake of "Love Will Tear Us Apart" on 13, though we think Sempier's original material is the better stuff.
Whoever you are, what you'll find on this impressive record is music that sounds like nothing else. Nothing. The new, reinvigorated Untitled Art has cleverly created something new out of something old (and borrowed, from himself!). There's punk attitude (always a part of Sempier's vibe), dark melodies, angry and sad lyrical content, EDM beats and electronic grooves, big synth textures and aggressive sawtooth synth lines, and mangled guitars. Really, 13 is fun for the whole family, as long as they're over 18 and can handle some adult lyrical content.