Melville, NY—Premium Japanese keyboard stand company SEQUENZ has just announced their first hard-shell case offering dedicated to KORG's volca series. The CB4 is a stylish, shock-resistant case made with EVA, a high-density plastic resin that offers excellent protection. The interior features volca-sized padded spaces to safely store up to four volcas with additional space to include necessary AC adaptors and cables. ͞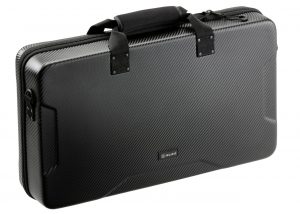 We're proud to see SEQUENZ applying the same drive for premium quality stands to case accessories and the CB4 is an awesome custom solution for the volca series,͟ says James Sajeva, Director of Music Technology Brands at KORG USA, Inc. ͞We can't wait to see what additional cases will be added to the line,͟ concludes Sajeva.
The lid of the semi-hard case is attached to the body by a durable zipper which can be easily removed. For convenience, it can be carried by hand or transformed into a comfortable over-the-shoulder bag. They will be available in July 2018 for $139.00.
For more information, visit https://sequenzmusicgear.com/en/.