Bayside Announces Full Band Acoustic Tour Presale Tickets and VIP Packages On Sale at Bayside.Shofetti.com
Acoustic Volume 2 Out September 28th via Hopeless Records Now Available for Presale
Watch New Video "It Don't Exist"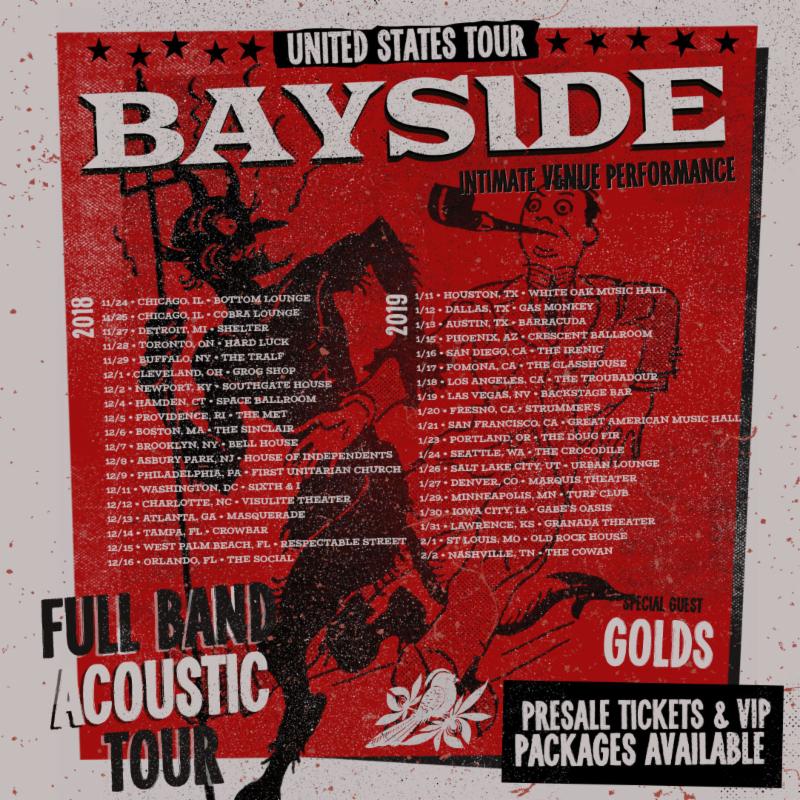 August 20, 2018 - Bayside has announced a full-band acoustic tour in support of their forthcoming album, Acoustic Volume 2. To celebrate the release, the band invites fans to join them, along with special guest Golds, for an incredibly special evening with an entire set of completely re-imagined songs. The two-part tour kicks off on November 24th in Chicago, and includes stops in Brooklyn, Atlanta, Orlando, Houston, Los Angeles, and more. Presale tickets and VIP packages can be purchased online at Bayside.Shofetti.com. General on sale will begin this Friday, August 24th at 12pm ET.
Acoustic Volume 2 will be released on September 28th, 2018 via Hopeless Records. The record features one brand new track, "It Don't Exist," in addition to ten re-imagined versions of songs from across the band's discography. Fans can check out the music video for "It Don't Exist," which stars actors Jonah Ray (Mystery Science Theater 3000) and Deanna Rooney (Hidden America), here: smarturl.it/ItDontExistVideo. To pre-order the album, please visit: smarturl.it/AcousticVolume2
Bayside represent a lifestyle, a counterculture, and a deeply held conviction, diverse in thought and background but united by a shared desire for authentic expression. It's a spirit that permeates an impressive and storied discography, including Sirens and Condolences (2004), Bayside (2005), The Walking Wounded (2007, celebrated with a 10 Year Anniversary tour in 2017), Shudder (2008), Killing Time (2011), Cult (one of Kerrang!'s Top Albums of 2014), and Vacancy (2016).
With a spirit of deconstruction and re-imagination, Bayside returns refreshed and reinvigorated with Acoustic Volume 2. A blend of instantly recognizable fan-favorites and deep cuts, Bayside's latest release throws off convention in search of the distilled melodic essence and emotive power of their catalog. These aren't "stripped down" versions of Bayside songs so much as they are completely new discoveries, refashioned and broadened by possibility.
Unburdened by any expectations or preconceived notions, the band made the record quietly and at their own pace, steadily mining their past to build a new vision for the future. Musicianship and artistry is paramount, with a purposeful urgency throughout.
Acoustic Volume 2 was crafted in Franklin, Tennessee with Jon Howard, a musician and producer who has worked with Paramore, Dashboard Confessional, and New Found Glory. Howard is part of a hyper-local community outside of Nashville that includes members of those bands, as well as Yellowcard, Saves The Day, Grammy-winning producer Nick Raskulinecz, and Raneri, among others.
It was liberating for Raneri and longtime members Jack O'Shea (lead guitar), Nick Ghanbarian (bass), and Chris Guglielmo(drums) to tear down the walls, playing the songs any way they wanted, as though they had just been written for the first time.
In every note of the vibrant Acoustic Volume 2, a record that conjures the spirit of classic performances like Nirvana's MTV Unplugged or The Cure's most adventurous outings, Bayside serves up a confident reminder of their firmly established place in the rock music landscape. It's evident - from all of the lyrics tattooed on fans, the cover version and tributes that permeate YouTube, and the obsessive supporters worldwide - why Bayside continues to thrive on the strength of these very songs.
Bayside will release Acoustic Volume 2 on September 28th, 2018. It is now available for pre-order at: smarturl.it/AcousticVolume2.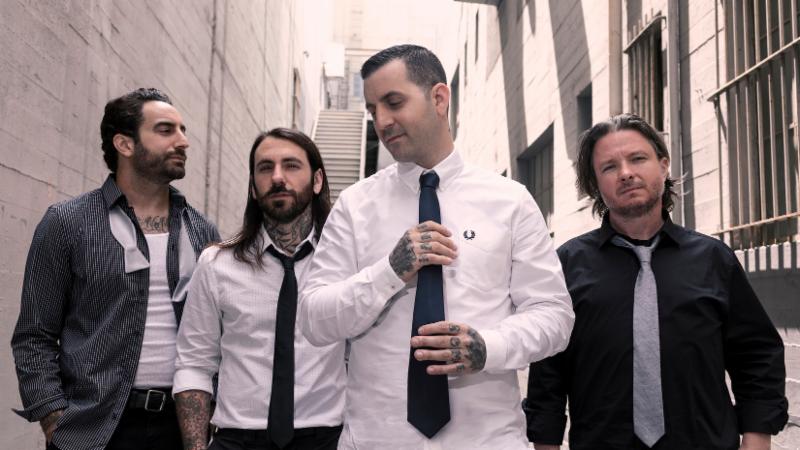 For more information
www.hopelessrecords.com
www.baysidebayside.com
Follow Bayside
www.facebook.com/Bayside
www.twitter.com/baysideband
www.instagram.com/baysideband
www.youtube.com/user/BaysideVEVO
Upcoming Tour Dates:
11/24 - Chicago, IL @ Bottom Lounge
11/25 - Chicago, IL @ Cobra Lounge
11/17 - Detroit, MI @ Shelter
11/28 - Toronto, ON @ Hard Luck
11/29 - Buffalo, NY @ The Tralf
12/1 - Cleveland, OH @ Grog Shop
12/2 - Newport, KY @ Southgate House
12/4 - Hamden, CT @ Space Ballroom
12/5 - Providence, RI @ The Met
12/6 - Boston, MA @ The Sinclair
12/7 - Brooklyn, NY @ Bell House
12/8 - Asbury Park, NJ @ House of Independents
12/9 - Philadelphia, PA @ First Unitarian Church
12/11 - Washington, D.C. @ Sixth & I
12/13 - Atlanta, GA @ Masquerade (Hell)
12/14 - Tampa, FL @ Crowbar
12/15 - West Palm Beach, FL @ Respectable Street
12/16 - Orlando, FL @ The Social
1/11 - Houston, TX @ White Oak
1/12 - Dallas, TX @ Gas Monkey
1/13 - Austin, TX @ Barracuda
1/15 - Phoenix, AZ @ Crescent Ballroom
1/15 - San Diego, CA @ The Irenic
1/16 - Pomona, CA @ Glass House
1/17 - Los Angeles, CA @ Troubadour
1/19 - Las Vegas, NV @ Backstage Bar
1/20 - Fresno, CA @ Strummer's
1/21 - San Francisco, CA @ Great American Music Hall
1/23 - Portland, OR @ Doug Fir
1/24 - Seattle, WA @ Crocodile
1/26 - Salt Lake City, UT @ Urban Lounge
1/27 - Denver, CO @ Marquis Theater
1/29 - Minneapolis, MN @ Turf Club
1/30 - Iowa City, IA @ Gabe's
1/31 - Lawrence, KS @ Granada
2/1 - St. Louis, MO @ Old Rock House
2/2 - Nashville, TN @ The Cowan