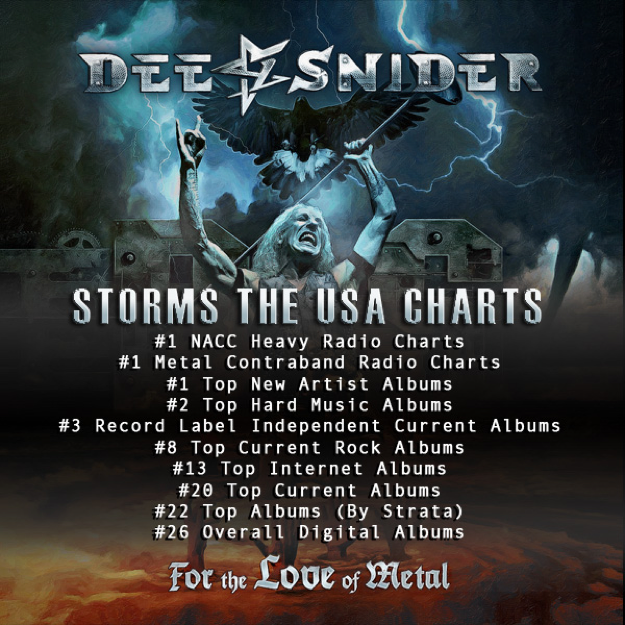 Dee Snider's For The Love Of Metal, released on July 27 via Napalm Records, garnered high chart positions worldwide!
Dee, his team and the Napalm Records crew are very excited to announce the following chart positions:
USA:
#1 Top New Artist Albums
#2 Top Hard Music Albums (2nd to Halestorm)
#3 Record Label Independent Current Albums
#8 Top Current Rock Albums
#13 Top Internet
#20 Top Current Albums
#22 Top Albums By Strata
#26 Overall Digital Albums
Canada:
#9 Top Hard Music Albums
#42 Top Current Albums
#53 Top Albums
UK:
#12 Metal
#32 Independent
Germany:
#26
Switzerland:
#16
Austria:
#65
North American Press on For The Love Of Metal:
"He is the quintessential metal frontman and commands respect as such."
-Metal Wani
"Jamey Jasta is an adept producer and absolutely succeeds in restoring Snider to his previously known Metal God status."
-Metal Wani
"...hands down and horns up, the metal album of the year so far."
-Maximum Volume Music
"I haven't headbanged this much in a long time and I loved it. This is an exceptional album that fans of any genre should pick up. It has everything - great riffs, killer drums, heavy bass, and one of the greatest vocalists of all time."
-Metal Nexus
"For The Love Of Metal is a sanctuary of crushing Heavy Metal ecstasy, proving Snider's immortal staying power and lust for the greatest music genre mankind has ever seen."
-Cryptic Rock
"A blisteringly heavy, catchy and contemporary metal record which, largely due to his performance, also manages to capture the dirty, raw energy of early 1980s Twisted Sister."
-Ghost Cult Magazine
"Dee Snider's love of metal is real and timeless."
-Bravewords
"It is heavy, infectious and full of energy from start to finish and Dee Snider definitely has plenty of gas left in the tank."
-Shockwave Magazine
"Dee Snider's For The Love of Metal shows that the mastermind is back with a vengeance. The new album brings him back as the beast is still reigning terror."
-Echoes and Dust
"A true modern classic"
-My Global Mind
"Dee seemingly lets go of his considerable '80s legacy, saying he doesn't need it because he's got today well in hand."
-Associated Press
Order For The Love Of Metal HERE!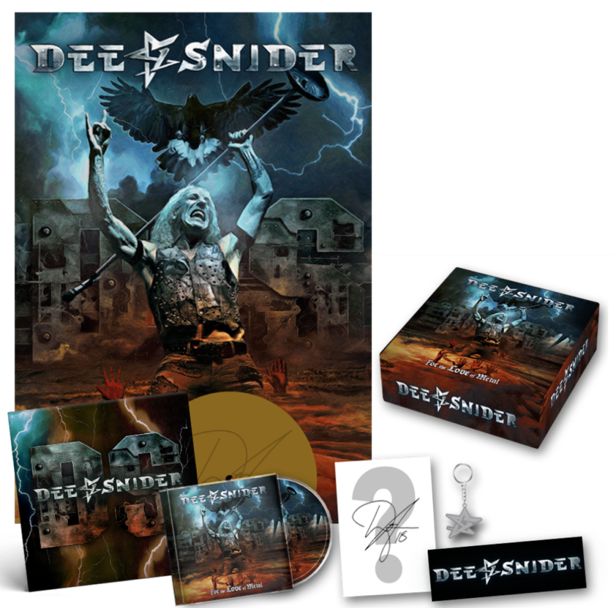 Watch the video for the latest single"I Am The Hurricane" HERE!
Watch DEE SNIDER's Official Music Video for "Become The Storm" HERE!
Watch the Lyric Video for "Tomorrow's No Concern" HERE!
Watch DEE SNIDER's video statement on For The Love Of Metal right HERE!
The album was produced by Hatebreed vocalist Jamey Jasta and features contributions from Howard Jones (ex-Killswitch Engage), Mark Morton (Lamb Of God), Alissa White-Gluz (Arch Enemy), Joel Grind and Nick Bellmore (Toxic Holocaust) and Charlie Bellmore (Kingdom Of Sorrow).
DEE SNIDER on the release:
"I am beyond excited to be working with one of the world's leading labels for heavy music, it's a perfect home for this album! I believe there's something for every hard rock and metal fan on this record and I cannot wait to unleash it on the world July 27th!"
Jamey Jasta comments:
"I'm so happy and proud to have been a part of this project, Dee Snider is an American original, there is no other voice like his on earth, his power and passion really shine through on this album. Metal brings us all together and with Dee still at the forefront, it's a great time to be a fan of heavy music!"
Howard Jones states:
"To be given the chance to write for AND sing with Dee Snider, one of the men responsible for shaping heavy music as it is today, is an absolute honor. The voice, the mind, the swagger...the man is one of a kind."
Alissa White-Gluz comments:
"I am honored and humbled to sing alongside such a truly unique and talented soul. I love that Dee Snider has continued to shock people for decades just by being himself. I can't wait for everyone to hear our duet! It was no easy task matching up to Dee's level of vocal prowess but I was happy to accept the challenge and I'm in love with the results!"
Tracklisting:
1. Lies Are A Business
2. Tomorrow's No Concern
3. I am The Hurricane
4. American Made
5. Roll Over You
6. I'm Ready
7. Running Mazes
8. Mask
9. Become The Storm
10. The Hardest Way
11. Dead Hearts (Love Thy Enemy)
12. For The Love of Metal
Dee Snider Live:
8/10 - Alcatraz Festival - Belgium
8/25 - Rose Music Center - Dayton, OH
8/26 - Jergels - Warrendale, PA
8/28 - Looney Tunes Instore - Long Island, NY
8/31 - 9/02 - Dead Mans Curve Con - Mahwah, NJ
9/12 - Space Westbury Theatre - Long Island NY
9/13 - Purchase Street Records Instore - New Bedford MA
9/14 - Mixx360 - Malden, MA
9/15 - Catskill Mountain Thunder Motorcycle Festival - East Durham, NY
9/21 - 9/23 - Horror Con - Atlantic City, NJ
10/7 - Forcefest - Mexico City, Mexico
10/18 - Rocktopia at Bergen PAC - Englewood, NJ
10/20 - Rocktopia at Tiles Center - Greenvale, NY
10/24 - Rocktopia at The Palace Theatre - Greensburg, PA
10/25 - Rocktopia at Akron Civic Theatre - Akron, OH
10/26 - Rocktopia at Power Memorial Auditorium - Youngstown, PA
10/27 - Rocktopia at Playhouse Square - Cleveland, OH
11/2 - 11/4 - Rhode Island Comicon - Providence, RI
11/9 - 11/11 - Ottawa Tattoo Convention - Ottawa, ON
11/17 - La Generala Biker Fest 2018 - Guadalajara, MX
12/1 - Speaking Rock Entertainment Center - El Paso, TX
12/4 - Special Guest Christmas Show - Rauma, Finland
12/5 - Pakkahuone -Tempere, Finland
12/7 - TBA - Oulo, Finland
12/8 - TBA - Helsinki, Finland
2019
3/2 - 3/9 - The 80's Cruise to Ft. Lauderdale, Cozumel, Costa Maya, Belize, Key West
For more info on DEE SNIDER go to:
http://www.deesnider.com/
https://www.facebook.com/facedeesnider/
http://napalmrecords.com