We've had the opportunity to play and review a number of Taylor acoustic guitars over the years and have never been disappointed. The workmanship and tone always proves to be fabulous. Having reviewed many models beyond the reach of the average musician (like the luxurious 900 series), it was time to check out something in the 500 series, which delivers a premium Taylor experience at a price that any puts it in reach of any serious musician.
We settled on the 524ce in a Grand Auditorium body shape with a single cutaway for the versatility that this design provides. Although somewhat understated in its appearance, as soon as you play your first chord, you know that you've got classic Taylor richness in your hands, and we happily purchased this guitar at the end of the review cycle for permanent use in one of our studios.
Category

Value

Rating

Features

20%

Usability

25%

Sound

25%

Documentation & Support

10%

Price

20%

OVERALL RATING = 3.7 Stars, which earns it a
WIHO Award!


3.6 stars or better: Outstanding, WIHO Award




3 stars or better: Worth considering




2 stars or better: Suited to specific needs




1 star or less: Not recommended
Features
The Taylor 524ce is an all-mahogany, Grand Auditorium, venetian cutaway guitar that now features Taylor's V-Class bracing system, a tropical mahogany top and bod, and Taylor's Expression System 2 electronics for amplified use. You can't help but immediately appreciate the richness of the deep brown mocha colored mahogany. The body depth is just 4-⅝", so even smaller players will not find this acoustic obtrusive in any way.
The body has a glossy finish, a shaded edgeburst, and includes a tortoise binding. The sound hole rosette includes a single ring of grained ivoroid/tortoise/grained ivoroid. The bridge has a micarta saddle with ebony pegs.
The neck has a mahogany back with a satin finish, as does the dark ebony fretboard. It is 1-¾" width and 25-½" scale length with 20 frets. It has a Taylor neck joint and their familiar Century inlays.
The headstock is standard Taylor shape with gloss ebony finish and a grained ivoroid Taylor logo. There are six (3-in-line) Taylor nickel tuners with a 1:18 gear ratio. The nut is black Tusq and the truss rod at the headstock has a plastic cover.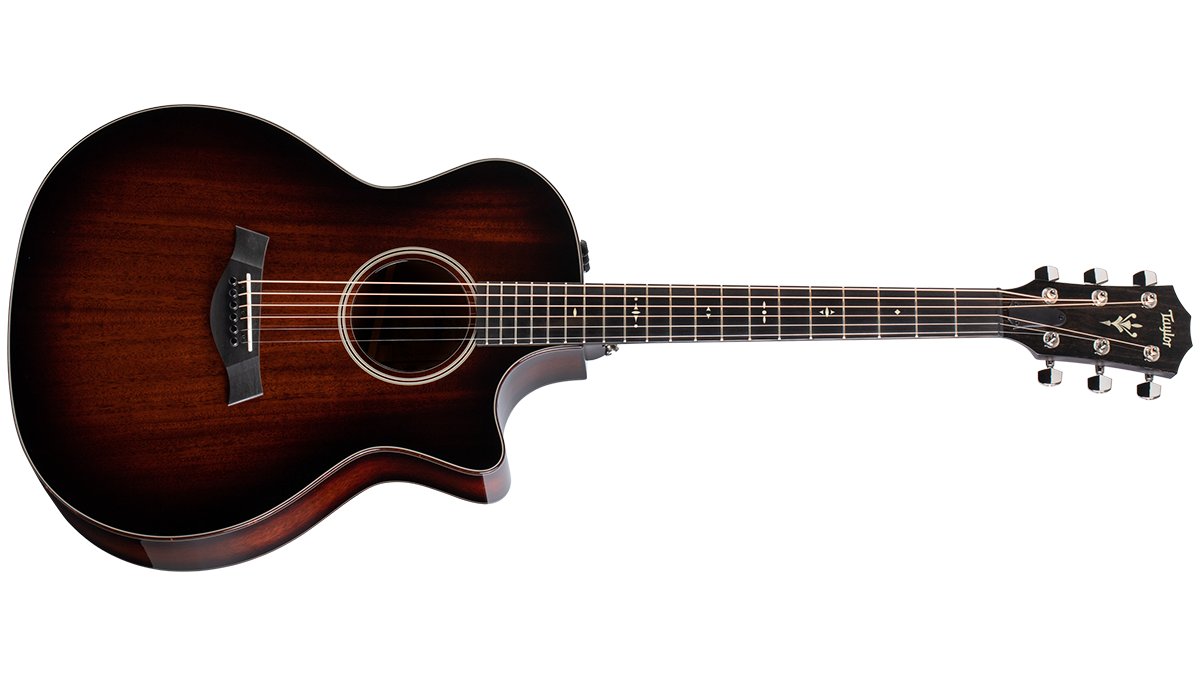 Internally is where some of the magic happens thanks to Taylor's V-Class bracing system (which has only been around since 2018). The V-Class bracing system helps provide louder sound projection, longer sustain, and better intonation/stability.
About the V-Class bracing system,:
For electric-acoustic applications, the guitar is equipped with the Taylor Expression System 2. Unlike most Piezo pickups found under the saddles of the bridge, Taylor relocated them to behind the saddle, creating a more natural and less restrictive vibration and resulting in a more natural acoustic translation. The control features are straightforward: volume, treble, and bass. A phase switch (to help reduce low-end frequency feedback) and battery life indicator LED are accessible through the sound hole of the guitar. The system is powered by a nine-volt battery, which is easily accessed through an external battery compartment door located at the endpin of the guitar. The guitar electronics do not include a tuner, but that would change the overall appearance of the controls on the outside which are subtle and blend well with the guitar.
To read more about the Expression System 2: https://www.taylorguitars.com/guitars/acoustic/features/electronics/expression-system%C2%AE-2.
The guitar includes a Taylor Deluxe Hardshell brown case and is stung with Elixir Phosphor Bronze light acoustic strings.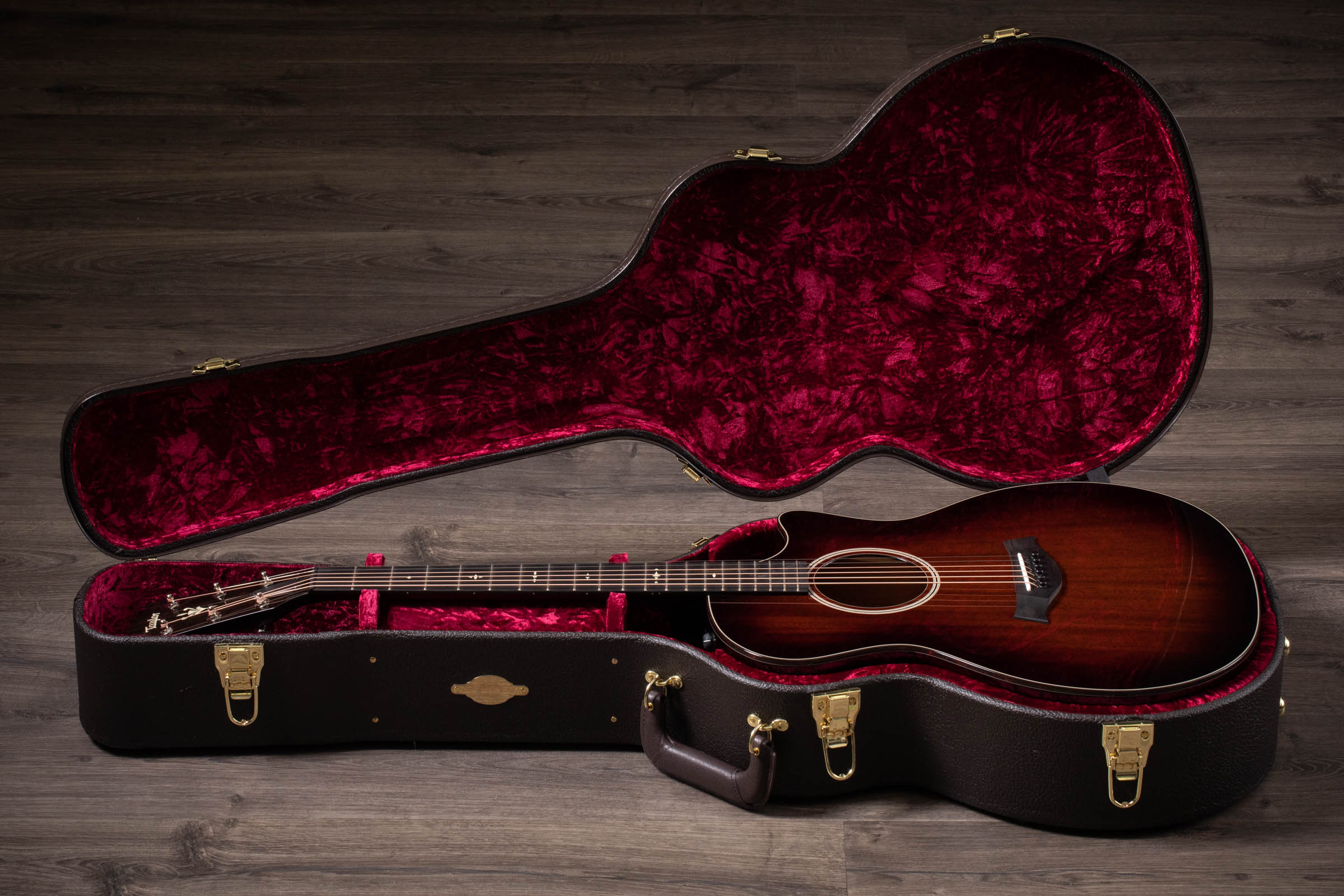 If you want to learn more about what really goes into a Taylor acoustic guitar, head on over to https://www.taylorguitars.com/guitars/acoustic/features.
Usability
There were no surprises regarding the quality of this guitar when we first picked it up. The workmanship was flawless, and the cutaway allowed for good access to the upper frets. The action was not too low and not too high, and the guitar stayed well in tune for days.
The Expression System 2 was straightforward to use and the guitar sounded best through a good acoustic amp or a DI box into a PA system (if you're spending for a premium acoustic guitar, please do it justice and don't try to plug it into an electric guitar amp).
The bass and treble knobs have a center position which is "flat" or "off" mode. For a scooped midrange sound all we had to do was turn both the bass and treble knobs up and for an increase in midrange all we had to do was turn them both down a bit with a little boost in the volume knob. A new battery should provide ~50hrs of playing.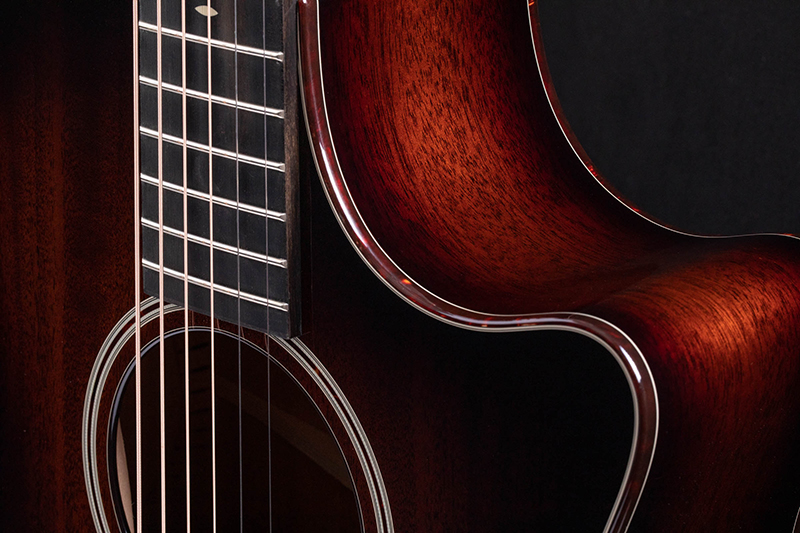 Sound
The first strum of the 524ce guitar was like drinking a fine wine on the California coast with the wind blowing in your hair and waves crashing on the rocks. Pure bliss, and classic Taylor tone. It had fantastic sustain and clarity. The grand auditorium body shape produced a full, rich sound while the single cutaway provided that upper fret access we desired for some lead work and fills. We felt the supplied Elixir phosphor bronze strings were well matched to this guitar but of course, different strings will complement the tonal characteristics of the guitar in different ways. Like the 914ce Grand Auditorium we reviewed a few years ago, we were once again impressed by the presence and piano string-like sparkle of the guitar. The guitar evoked a very balanced sound that was full yet crystal clear, and with fantastic sustain.
Next it was time to hear how it sounded plugged in. No pickup system on an acoustic is going to perfectly capture every nuance of the acoustic sound of the guitar, but we felt that the onboard Taylor Expression system delivered some very realistic acoustic tones and less of that Piezo sound you may find irritating on some other acoustic guitars. Depending on whether you're playing in a live setting with a band or solo will greatly affect how much of these frequencies you will hear anyway. But no one wants an expensive acoustic plugged in to only get a mediocre sound.
The guitar sounded great through an acoustic amp as well as through an acoustic DI into a PA system (which we slightly prefer). Although one could skip the acoustic DI and just go straight to the board, a good acoustic guitar DI (like our favorite LR Baggs Para Acoustic DI) definitely provides that magic sauce to get the most realistic acoustic tones. There was no muddiness on lower notes or harshness on higher notes. And most importantly, there was no significant feedback. As we have stated previously on Taylor acoustics with this pickup system, there is no need for an acoustic sound hole cover. And if we needed to, we always have the option of engaging the phase switch to reduce low end frequency feedback. We found the
As with other Taylor acoustics we have reviewed, this guitar is going to serve well for many different genres from pop to rock to jazz to country, not necessarily in that order of course.
Documentation and Product Support
There was minimal documentation included in the case which is common nowadays with easy access to the Internet. Taylor has a fantastic website with embedded links to more information on many aspects of their guitars (including guitar care).
Given the dry climate of Arizona where this guitar will reside, we recommend keeping the guitar in its case with a good humidification system when not in use.
Price
The Taylor 524ce acoustic sells for $2,999. This is a fair price for a premium, USA-made acoustic guitar that is an all-around star performer for stage or studio use.
Contact Information
Taylor Guitars
www.taylorguitars.com